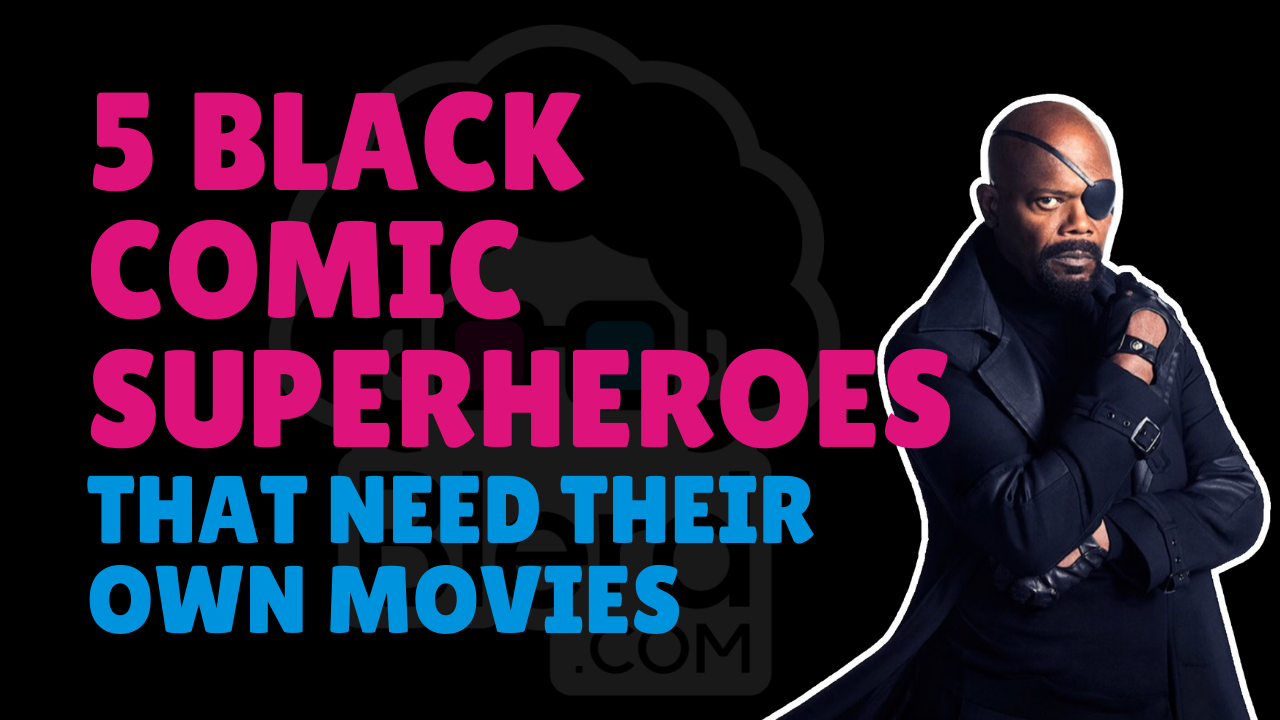 5 Black Comic Superheroes That Need Their Own Movie
When we saw the appearance of T'challa in Captain America Civil War , we all loved his look. What we did not know was; Marvel had a huge surprise in the works for us, they had the Black Panther Movie, and when it was released, we were overjoyed.
The representation meant a lot to the black community, and throughout the world, praises for the movie resounded. Almost everyone saw it more than once at the cinema, people could not help themselves, how could they? The movie was simply amazing. We all suddenly wanted Wakanda to be a real country we could visit and have a taste of Afrofuturism and African culture.
The Wakanda forever hands-across-chest sign became a form of greeting amongst black people all over the world, it was made into dance moves in Nigeria, and was repeated all over America, even in a basketball game which Chadwick Boseman- the actor who played the T'challa character- attended. A player even wore the Black Panther mask, walked up to Chadwick and greeted him, Wakanda style, to which he replied in like-manner, it was beautiful.
But, like Oliver Twist, we want more. We are aching for more black comic superheroes, because representation and inclusion matters to us. While we are happy that we have black comic superheroes featured in movies where there are other superheroes, there is no denying that some of these awesome characters deserve their own movie, something based on them, something to get both the black community and the world at large talking again.
Not just solely because representation is important, because it always is, but because these black superheroes are awesome on their own right, and we would like to know more about them. We would like to see a stories based on them alone and to be able to more closely relate with their characters.

So, here is a list of 5 comic superheroes who should definitely have a movie based on them alone:
The Falcon
We all know this guy, as we have seen him in Ant-Man and in the Avengers, both movies that were not about him. He sort of just "appears" in the MCU.
While Falcon isn't the stronger hero, his backstory is simply awesome and he does have some cool abilities. He does not need binoculars to see the sky, as he can see through the eyes of birds in the sky, he can fly via his wing harness, he can control birds, and although limited, he fights pretty well too.
When he was younger, he loved birds and loved to train and feed them. He was pretty happy guy until he became a teenager and began to face racism. This messed with his usual happy state and left him world-weary, as anyone would be.
The world continued to wear on him, which ultimately sent him into the streets. One of the catalysts to this was his father's death, which was followed by his mother's murder two years later.
While on the street, he finds and makes friends with a falcon called redwing, and from there, events play out, involving Captain America, that makes him the Falcon.
Falcon is an awesome character we certainly won't mind seeing on our screens in a solo movie. Especially since Captain America sees him as worthy of wielding his shield at the end of the Avengers Endgame.
Icon
Icon is basically comparable to Superman, but has a black cultural lens to the world (even somewhat controversial conservative politics). Icon can fly, is extremely strong, and he is invulnerable. He is a DC comic superhero (most is this list is Marvel….hmmmm….) who should have had his own movie way before now. Just like Superman, he is not from earth, he is from a planet called Terminus.
While Superman was immediately adopted by a loving family, Icon was adopted by a slave woman when his ship crash-landed in South America. When he landed, his ship changed his DNA to make him look like the nearest life-form it could detect, and that life-form was a slave woman called Miriam Freeman.
Everything Superman can do, Icon can do better, and what better movie plot than that of a slave turned superhero is there? None.
Spectrum
A few fun facts, Monica Rambeau originally first used the Captain Marvel name and her look was modeled after Pam Grier. Monica Rambeau also known as Spectrum, was a cop who was on a mission to disrupt the creation of a lethal weapon. When she was exposed to an extra-dimensional energy she gained her powers. This made it possible for her to make a conversion of her body, into energy.
There is already a Captain Marvel, and we love her, but would it hurt to have a black, female superhero star in a film.
Another name maybe?
Storm
The lady who has power over the weather! When she was six months old, Storm was involved in an accident which killed both her parents and left her traumatized and with a bad case of claustrophobia.
Storm discovered her power as a teenager during a drought of her village. She inadvertently ended up causing drought in neighboring villages. She was worshipped as the goddess of rain for a while before finally becoming a superhero. Storm may quite possibly be the most iconic black superhero ever, as many of us grew up watching her during the 90's X-Men animated series (which is also coming to Disney Plus hype!)
Yet another killer movie, if given to us. Great back story, awesome powers, and a black female!
Nick Fury
This would be such a cool movie and could be almost like a black James Bond film! We have gotten bits and pieces of the Nick Fur story in the Avengers and in Agents of Shield, but we have never gotten the full story.
His spy adventures would make a such a good story, especially if he sticks to the business of catching bad guys with powers they should be using for good, and locking them in a super prison created by the avengers.
I also like the idea of a superhero movie without the character having a ton of alien embedded superpowers. Just him, his weapons, and his badass martial arts skills. While Samuel L Jackson may be getting a bit up there in age, Nick Fury is definitely due for a solo movie. The reverse aging effects used in Captain Marvel weren't terrible and I think it could be pulled off effectively.
There you go, five black comic superheroes who should have their own movie. We hope they do in coming times. What black comic heroes would you like to see get the spotlight? Let us know in the comments below.
Like Blerd content like this? Support Blerd by buying a Blerd T-Shirt in The Blerd Shop