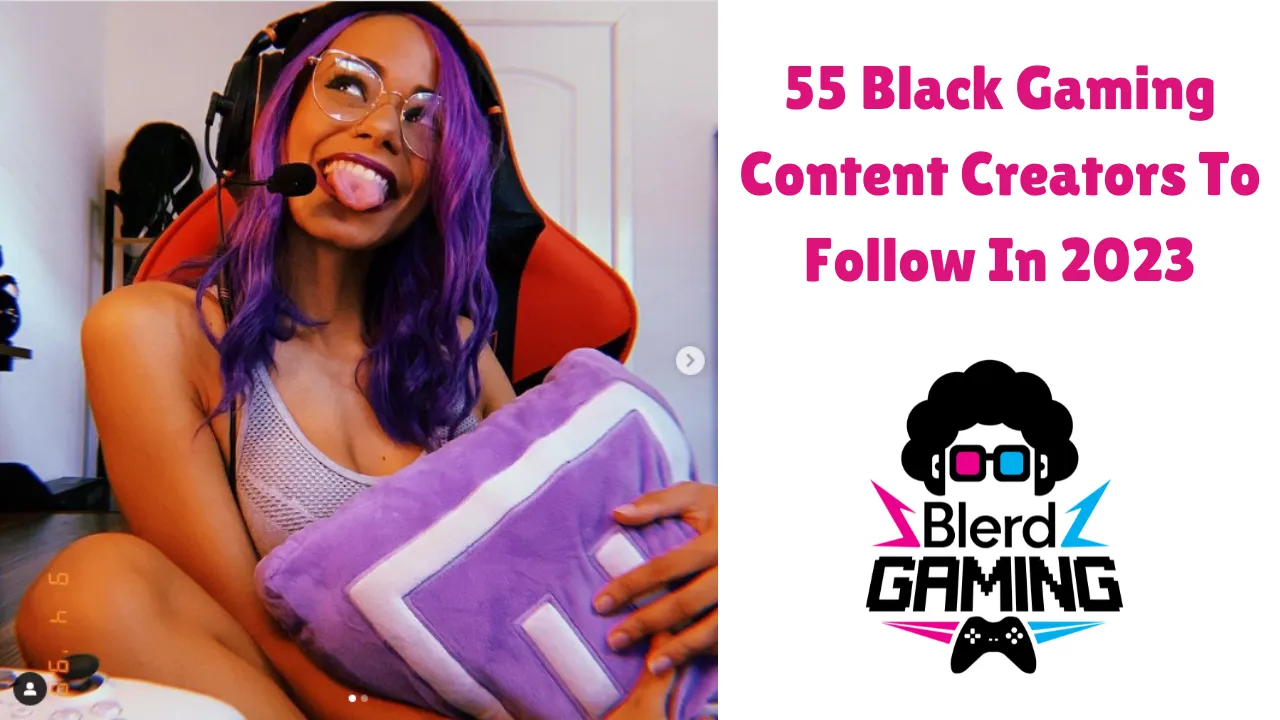 55 Black Gaming Content Creators To Follow In 2023
The popularity of video games is at an all-time high. Whether playing on a console, PC, or even handheld or mobile device, people of all backgrounds and ages have found themselves enthralled with the endless possibilities of these virtual experiences. Surprisingly, fans of the gaming industry are not just interested in playing. In fact, watching video games played by others is also becoming more mainstream.
The video game industry is now larger than Hollywood and the music industry combined. It is a form of entertainment that only gets bigger as the years pass. To encourage the growing diversity of the industry, here are 55 Black Gaming Content Creators to follow in 2023.
In alphabetical order:
ActionJaxon is a variety streamer and techie. He's collaborated with several big streamers and even runs a podcast called May Contain Action. As a family man, his streams are welcoming to all ages and backgrounds. He currently has 152k followers on Twitch and another 20k subscribers on YouTube.
AfroSenju is a variety streamer focused primarily on fighting games and difficult single-player action-adventure games. His hilarious personality makes his trials and tribulations with Souls-type gameplay that much more enjoyable. AfroSenju has 1.75M subscribers on YouTube.
Source: AfroSenju's Twitter
Annoying provides a variety of streaming content for 650k followers on Twitch and 530k subscribers on Youtube. Though he focuses his gaming content primarily on Grand Theft Auto Online, he also plays NBA 2K and produces non-gaming content.
Aphromoo is a professional League of Legends player and streamer. As the support member of his team FlyQuest, he won the 2018 Spring Split MVP award. When not playing LoL he will also play popular games like Apex Legends. In 20 Between Twitch and YouTube, Aphromoo has over 1M followers and subscribers.
Arsenal is a 19-year-old streamer from PA who is a Rocket League professional. His team Spacestation Gaming recently placed 9th in the Rocket League Championship Series hosted in Dickies Arena in Dallas, Texas. He has 240k followers on Twitch.
AverageJae is primarily a Black Fortnite streamer that you can find creating comedic content live on Tik Tok. He is very interactive with his community and is a rising star. You can normally catch a stream from 10AM-12PM.
Berleezy is one of the largest Black content creators today. Originally growing his base through some of his cartoon react videos, he eventually pivoted his channel toward variety gaming. Berleezy's videos thrive because of his contagious joy and big personality. This really is apparent in his single-player gameplay. Berleezy has amassed over 2M subscribers on YouTube.
Source: Berleezy's YouTube
Based out of Tampa, Florida, BigCheese provides his nearly 60k followers with dynamic streams. Playing a variety of games, he has put a lot of work into the stream's presentation. He incorporates music and visuals, which is a nod to another streamer you'll see later in this list.
BlackKrystel is a variety streamer that plays games such as Dead or Alive Xtreme 2, Multiversus, and Mass Effect. You can also catch her on Twitch "Just Chatting" often and interacting with her community. She currently has about 15k followers on Twitch.
Listing BlackGirlGamers as just one entry is doing a bit of a disservice to the channel. Not only do you get game variety, you also get streamer variety! There is power in numbers as this large group of Black women aims to utilize gaming to bring attention and equity to many social causes. Join the team of 40k followers to support the Black girl magic.
Chris Smoove is a long-time streamer who got notoriety for his catchy rhymes and sayings while playing the NBA 2K series on YouTube. He would put together well-edited sports videos accompanied by music and him rapping alongside the video content. While he only has 160k followers on Twitch, he has over 5M on YouTube.
Cory Kenshin is uber famous on YouTube with his 14M subscribers! While Cory would be the first to admit that his consistency in putting out content can sometimes suffer, his magnetic personality more than makes up for any gaps. He is one of the biggest variety gamers and has partnered with plenty of other huge streamers. Additionally, he is not afraid to speak up on mental health and social justice issues as well as advocate for equality in the gaming and streaming space.
Source: CoryxKenshin YouTube
Cupahnoodle is a Southern California gamer girl who loves music, anime, and life. While she is a variety game streamer, she typically finds herself playing story-driven single player games and horror-focused games like Dead by Daylight. Cupahnoodle has 54k followers on Twitch.
DaGamer2323 blew up many years ago when the original The Last of Us game released on the PS3. His contagious excitement and laughter were put on display as he unboxed the iconic game. Since then he has been putting out variety gaming content. He has 110k subscribers on YouTube and 27k followers on Twitch.
DeejayKnight has some of the biggest accolades outside of gaming on this list. As a USAF Veteran and former educator in coding and game design, his streams have an extra umph to them. He shares his knowledge and experience in space and science-fiction during his streams and really preaches positivity. Join him and his 90k followers on Twitch to see for yourself!
If you didn't know Snoop Dogg was a gamer and streamer, now you know. Yes, the legendary west-coast rapper has a Twitch account and goes live to hang out and spread good vibes. A lot of his recent streams have been centered around Madden, but you really never know what you are going to get when Uncle Snoop goes live. Snoop currently has 787k followers on Twitch.
Source: EarlyGame
Drunkn Buddah is more than just a gamer; he's also a cook! He loves story-driven action-adventure games and loves sharing the joy of food and games with the world. Join him and his 8k followers on Twitch or 500k subscribers on YouTube to improve your gaming and culinary sense.
Dwayne King is half of what may become one of your favorite gamer couples, Dwayne and Jazz. He is a variety streamer who is down to play any of the popular current titles. He's streamed Fall Guys, MultiVersus, Overwatch 2, and even Uno recently. No matter the game, Dwayne is about creating a positive experience for his 26k followers on Twitch, 180k followers on his Youtube, and 2.43M followers on Dwayne N Jazz Youtube.
Ebonix is a black girl gamer and variety streamer who especially enjoys simulation and story-based games. Based in London, she can be found playing The Sims, Animal Crossing, or even GTA V. The first rule to her streams are good vibes only. So join her 31k followers to brighten your day.
Flight23White is a variety streamer on Twitch with nearly 2M followers. He has another 4.83M subscribers on YouTube. His content has a heavy sports influence as he plays both NBA 2K and Madden. However, he also jumps into popular games like Fortnite and Fall Guys to keep things fresh. Give him a follow for, as he describes, "exciting energetic entertainment"!
As the name implies, Chas is a girl gamer from Memphis who currently lives in Tampa. She is a popular variety game streamer. She plays all of the major games including GTA V, Fortnite, Among Us, Fall Guys, and League of Legends. GirlGamerChas has 227k followers. 
If looking for a welcoming stream, look no further than iAM_iKandi. Proud to be a black girl gamer her streams are also LGBT friendly. She plays everything from Apex Legends to Among Us and many titles in between. Check her and her 32k followers out for a crazy stream.
Dontai is another member of the 1M+ follower club on Twitch. With another 700k subscribers on his gaming YouTube and nearly 3M on his main YouTube, Dontai is famous in the black content creator space. Extremely funny and personable, Dontai makes his streams enjoyable for everyone.
Source: ImDontain Twitter
Javion is a growing streamer with a preference for competitive first-person shooters. Because of this, you'll often see Javion entertaining his 23k followers with Apex Legends content. If you are a fellow lover of Anime, hop-hop and positive vibes, check out Javion.
JazzyGuns is half of the famous gaming couple Dwayne and Jazz. While their joint YouTube channel has 2.43M subscribers, JazzyGuns has 547k subscribers on her gaming channel. She is a variety streamer whose personality and competitiveness bring her watchers back. In the past month, she's played Mafia III, Fall Guys, Fortnite, MultiVersus, and more.
Source: JazzyGuns Instagram
JordanFisher is not just a big-time game streamer. He's also an actor, producer, and recording artist. Because of this amount of talent, you can expect his streams to be highly entertaining. When gaming, he has played Apex Legends, Valorant, MultiVersus, and Fortnite recently. Join his 466k followers on Twitch or 400k subscribers on YouTube for more.
Jordan aka JSmoothHD is a variety streamer focusing on popular titles like Call of Duty, GTA, and 2K. He has been a part of FaZe Clan since March 2021 so expect high level gameplay when you check him out. JSmoothHD has nearly 200k followers on Twitch.
KaiCenat describes themselves as "A Lit Content Creator" on Twitter creating a variety of different types of content. Much of KaiCenat's content is comedic and animated. With over 2.2 Million followers on Twitch they have amassed quite the community.
KarimCheese is a Boston-based streamer who plays a variety of games including Apex, Destiny, and Gundam Evolution. He's also a fan of anime and futbol (soccer). Introduce yourself to his growing 19k followers on Twitch and join the fun!
For a very welcoming variety streamer, look no further than keekeexbabyy. Besides video games, she is a fan of anime and cosplaying. On top of being a proud Black girl gamer, she is also an aspiring biochemist. Her streams are a beacon of positivity for her 28k followers on Twitch.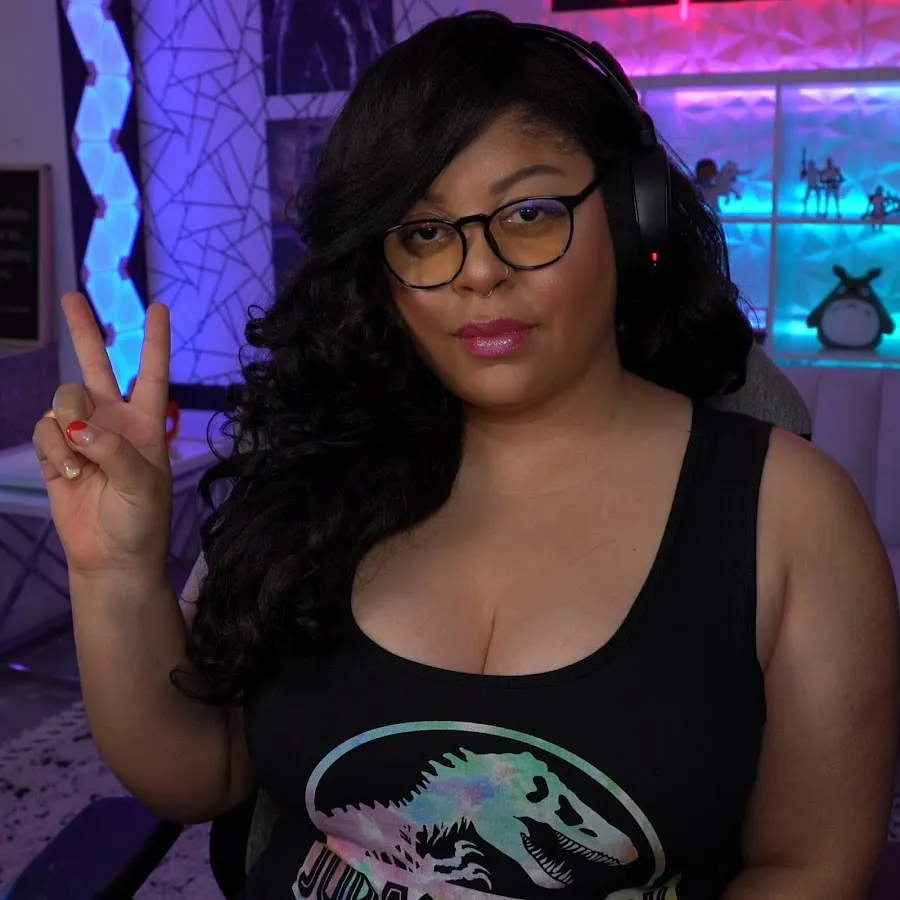 KleopatrahJones is a self-proclaimed variety broadcaster. She not only plays an assortment of titles, but she also likes covering gaming news. More recently she was playing the newly released Saints Row. Otherwise, she loves action-adventure and story based games. Check her out alongside her 7k followers on Twitch.
Krystalogy is a part of the 100k followers club on Twitch. As a variety streamer, you can catch her playing anything from the popular games to some lesser known indies. Her streams are always a good time and she will often collab with other content creators for some multiplayer havoc. On YouTube, Krystalogy has another 150k subscribers.
Leanandcuisine is a gamer, comedian and actor who plays a variety of games including Dragon Ball Xenoverse 2, Ghost Recon, Call of Duty & Smash Bros. Leanandcuisine currently has about 52K followers on Twitch, 305k on Twitter, and 501k on Youtube.
Without condoning violence, despite probably being one of the smaller streamers on the list, there is no doubt MightyGaming would win a fight against everyone else. That would be because MightyGaming is none other than former undisputed UFC champion and current ONE Flyweight Champion, Demetrious "Mighty Mouse" Johnson. MightyGaming's schedule is affected a bit by his training camps and defending championships but he currently has 172k followers on Twitch. If you are interested in seeing how a professional fighter fares in video games, check him out!
Photo Source: Game Informer
Back in the golden age of Fortnite, there were two titans – Ninja and Myth. Since this rise to fame, Myth has accumulated 7.4 million followers on Twitch and another 4.56 million on YouTube! He no longer only streams Fortnite, though. Myth has blossomed into one of the biggest variety streamers by any measure. Check him out if you are interested in what a big time stream looks and feels like.
Source: Myth Twitter
Ninjayla is a variety streamer with a heavy focus currently on Apex Legends. If not climbing the ranked ladder by herself, she will team up with friends and wreak havoc on the rest of the lobby.  She has also been streaming MultiVersus lately. Join her 142k followers on Twitch and find out more about Ninjayla.
PeachFPS is a variety streamer. As you might guess, she's played a ton of shooters. You can also catch her on titles like Valorant and The Mortuary Assistant, but more than likely she will be climbing out of Diamond in ranked Apex Legends! Jump into a stream with her 26k followers and you might learn a thing or two.
PikaChulita seemingly plays everything under the sun! Recently she's played RumbleVerse, Fall Guys, and Among Us but enjoys platformers, action-adventure, simulation, and horror games. She is a proud Black girl gamer and loves spreading joy through her streams. Check her and her 16k followers out on Twitch.
If you've ever seen a POiiSED video, you'll know he has one of the most memorable screams of all time. A frequent player of horror games, he likes to keep the laughs and screams coming in as he traverses the scary levels. While his 66k followers on Twitch are nothing to sneeze at, he has over 2 million subscribers on YouTube. Check him out on either if you can bear the shrieks!
RDCgaming is technically a group of friends and gamers. They are most famous for their comic- and anime-related skits that they put together on YouTube but have also seen a ton of success in gaming as well. The gaming channel currently has 491k followers on Twitch. Every stream is a new experience as you could get a combination of the young men playing. Sometimes, the unofficial leader of RDC, Mark will be at the helm. Join them for guaranteed laughs and entertainment.
Source: RDCWorld1.com
RicoTheGiant is a variety streamer who is friends with a few other entries on this list. Though you won't always notice it while he's in a gaming chair, as the name implies RicoTheGiant is quite tall. He loves to give his 80k followers on Twitch and 824k subscribers on YouTube lots of reasons to laugh and brighten up their day.
Son of the late and great actor John Witherspoon, runJDrun is a successful YouTube content creator and comedian. He is very much a variety streamer and leans on his personality to produce entertaining content for his 540k subscribers. He likes to put together playlists of games and has recently returned to Def Jam Fight for NY. In between Def Jam sessions he has played more current games like MultiVersus and Fall Guys.
Source: jdwitherspoon Twitter
Samora is a Dutch variety streamer looking to spread positivity in the gaming community through her growing 35k followers on Twitch. As her profile encourages, "be you to the fullest, be YOU the FULL, BEAUTIFUL." She currently is playing Apex Legends, Elden Ring, and Final Fantasy II, but also enjoys just chatting with her followers.
ScumTk is a variety streamer with over 200k followers on Twitch and another 74k on YouTube. When he's not playing some of the current popular titles like Fortnite, Valorant, MultiVersus, he's chilling with his chat discussing music, videos, and other content on the internet. If you are looking for a spot to vibe with like minded gamers, check out ScumTk's streams.
Shofu is a big variety streamer with 262k followers on Twitch and 684k subscribers on YouTube. His streams incorporate a lot of high-caliber video edits and music. Right now, he's playing through Pokemon FireRed IronMon challenge. He'll also host vibing streams like talent shows where his followers submit content for everyone to experience.
As he puts it, Somjuu is out here just trying to make his mom and grandma proud. He is a variety streamer who enjoys shooters like Apex Legends, Overwatch, and Valorant. Since his first stream in 2019, he's nearly amassed 60k followers on Twitch. Check him out so he can keep making them proud!
SpawnOnMe is a bit of a change of pace for this listing. His stream consists mostly of a podcast where he covers news in the gaming industry. In other streams, he will enjoy a variety of games from RumbleVerse to PGA Tour Golf. Currently, his followers total 9.4k followers on Twitch. Check him out to grow his base if you are interested in gaming news!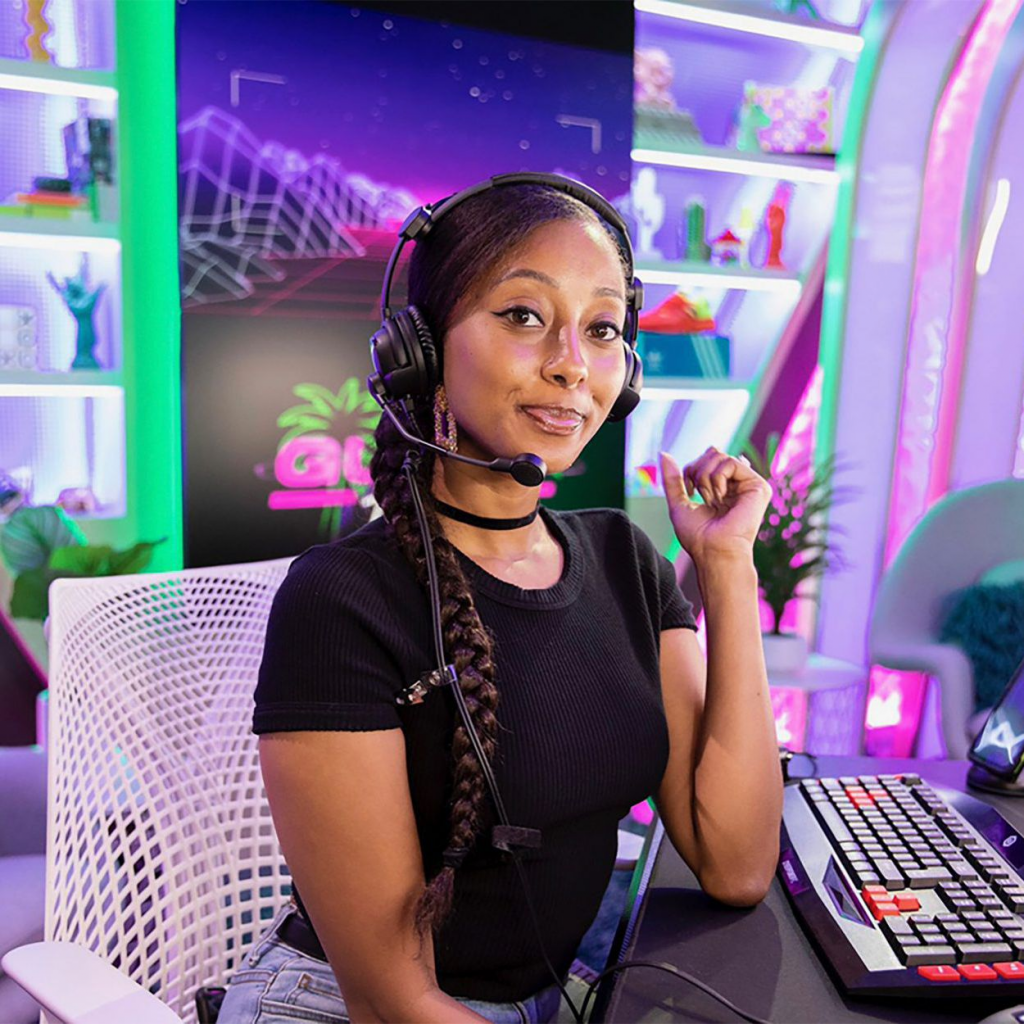 Storymodebae is a high-energy, super-positive variety streamer. From single-player playthroughs to enjoying some of the popular multiplayer games, she covers it all. She got her start in video games via Crash Bandicoot so you know her taste is good. Check her out and help grow her following from 37k followers.
Swagg is a professional Call of Duty streamer for FaZe Clan. He has 2.1 million followers on Twitch and another 2.54 million subscribers on YoutTube. If you are looking for the highest level of COD gameplay and even some tournament play, look no further than Swagg.
Sydeon is a content creator and streamer with a large following. Her 311k followers on Twitch and 107k subscribers on YouTube tune in to watch her play a variety of games. She plays new titles like PlateUp and has appeared in streams with fellow big streamers like Pokimane during the Among Us boom. She's a Cali-based nerd who loves superheroes, magic, and sci-fi.
Source: Sydeon's Twitter
TattedPoodle is a Black girl gamer and all-around nerd who loves anime and cosplay. Her streams are very welcoming with a variety of gameplay but a heavy focus on FPS, especially Apex Legends where she may be liable to rage here and there. Check her out as she closes in on 20k followers on Twitch.
If you can watch an intro to a T-Pain stream and not be absolutely pumped to continue watching him, you might want to check your pulse. The rapper, singer, songwriter, and record producer has opened another avenue of success with his gaming streams. He plays a ton of different games and brings the same energy that many loved about his musical career into his gaming presence.
Source: T-Pain Instagram
Tourva is a heavy Call of Duty streamer. He currently has 341k followers on Twitch and over 1.1 million subscribers on YoutTube. Tune into one of his weekly streams to enjoy some COD dubs and high-kill gameplay. If you don't have time for an entire stream, his YouTube channel releases videos consisting of a concentration of his highlights.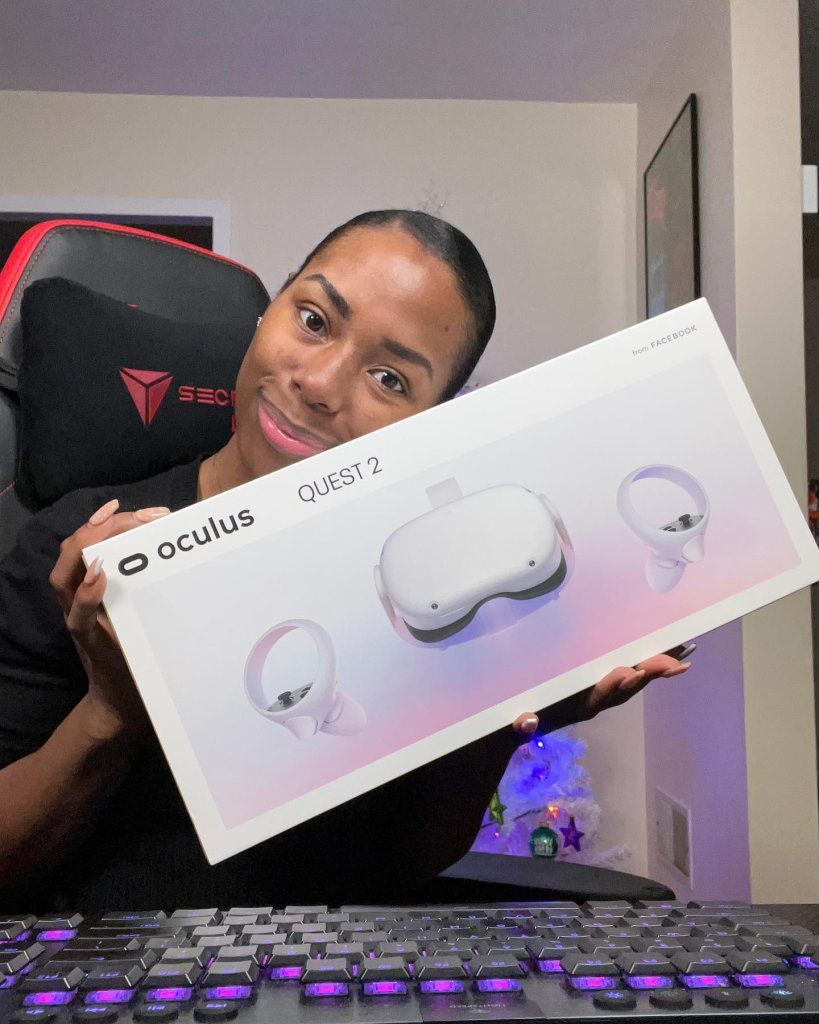 Source: MsFunSiz3 Facebook
LilChaos loves Pokemon and cosplay. She is a Facebook Gaming partner with 11k followers. She love to dance and to interact with her community.
MsFunSiz3 primarily streams shooters including Apex Legends, PUBG, and COD. She currently has 18k followers on Facebook Gaming as a partner. She has been streaming for over 5 years and advocates for Black gamers on her platforms.
In addition to the streamers listed about, also check out some of the Blerd Gaming creators! Make sure to also join Blerd Gaming on Discord.
BlerdRell is the founder of Blerd and a variety streamer, primarily playing shooters and RPGs. You will normally catch him playing Rogue Company or Fortnite. Gaming is one of his major passions which in part led to the creation of Blerd.
MsPinky313 is a variety streamer and Facebook Gaming Partner! She most frequently plays Call of Duty, Madden, Fortnite and the Sims and is known for her upbeat personality and
BlerdyB also known as Brendon of the BlerdUp podcast is now streaming! If you enjoyed the show make sure to catch some of his streams.
Make sure to subscribe to all of these Black Gaming Content Creators and show your support. Who is your favorite Black Gamer? Let us know on our social medias @blerdofficial