8 More of The Best Black-Owned Anime Streetwear Brands

One of the best parts of con season is being able to check out all of the new merch released by vendors, especially streetwear. It's one thing to see streetwear online and another to see it in person. Blerds absolutely love of anime shows not only in content created and consume but also in the fashion that they choose to wear. This of course leads to many Black-Owned anime streetwear brands being created. I always have either purchased items from the companies listed or at least have touched the merchandise in person, so this list is an official co-sign. If you missed part 1 you can see 8 Of The Best Black-Owned Streetwear Brands Here. Why do I choose the number 8? Because the 8-ball is black.
Oyasumi Designs
Oyasumi Designs is one of the first vendors I purchased from at the last Dreamcon. The company was established in 2020 by twin brothers who are anime enthusiasts. Oyasumi's most popular merch is t-shirts with large retro prints featuring notable anime characters. If you are looking for anime streetwear that isn't just a basic graphic tee they offer designs with nice features such as puff printing and distressing.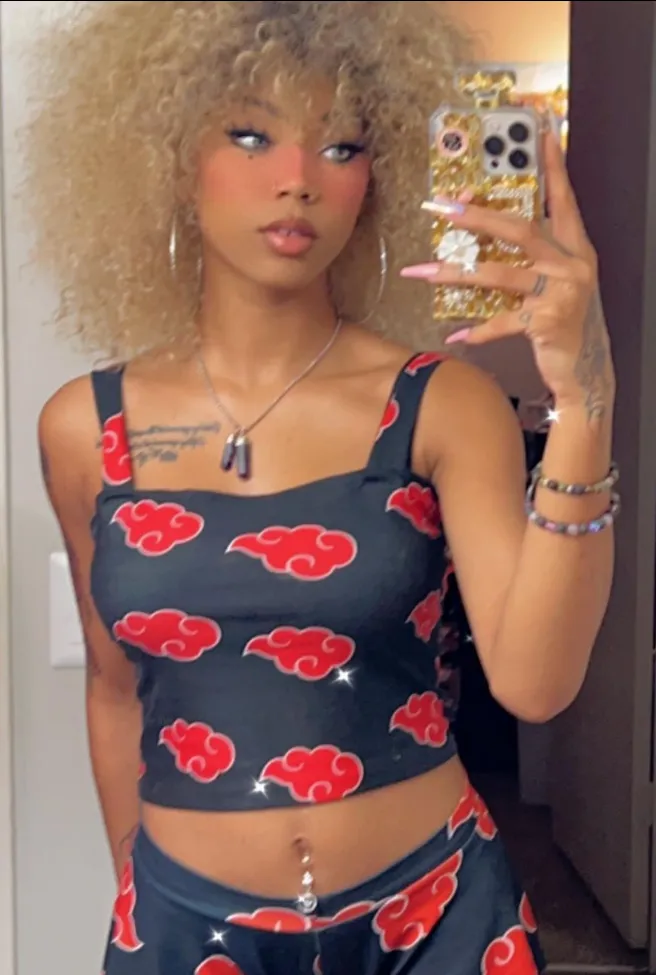 GOLDN
GOLDN is a brand by two Black entrepreneurs based in Atlanta. GOLDN offers high-quality loungewear inspired by some of your favorite anime fandoms. They offer a variety of items such as shorties (most likely their most popular pieces), crop tops, lounge shorts, short shorts, skirties, scrunchies, and sweaters. The pieces are hand cut and sewn so you aren't going to get as much of that mass-produced feel with their products.
Boomslank
Boomslank is a completely original anime brand created by brothers. Most anime brands either license or are heavily inspired by a major property, but Boomslank took a different path. Their shirts and accessories feature characters created by themselves, but with anime aesthetics. I am a huge RPG/JRPG fan so their "Side Quest" tee design turned me into a customer. Outside of anime t-shirts and hoodies, Boomslank also offers interesting accessories such as phone cases, sketchbooks and banners.
Bastet x Loves
Bastet x Loves is a brand primarily focused on bodysuits and bikinis. The owner of the brand is conscious of creating outfits for optimal coverage and "thicc cuties" in mind. What I like about Bastet x Loves is that many of the pieces have subtle branding that could make good closet cosplay pieces.
Lovers over Losers
Lovers over Losers is responsible for one of my most complimented pieces of last fall – A Demon Slayer inspired Tanjiro denim jacket. They are best known for their custom painted denim jackets and shirts. With fall finally here, now is the perfect time to pick up one of their jackets.
Where Da Waifu
Where Da Waifu aka Waifuwear may be one of the more whimsical brands on this list, but definitely one of my favorites. Their most popular designs are simplistic and just asking "Where Da Waifu?" If you ever get a chance to go to one of their "Waifu Wars" panels, make sure to pop in for a good laugh. I am always a fan when brands inject their own fun and personality into their merch.
Chyari
Chyari had one of my favorite t-shirts of 2022 called "Shiro & The Pit Stop Boyz" Chyari is an artist-owned company inspired by Japanese pop culture. While I purchased a shirt (it's hot in the south), I definitely think Chyari's jackets are the marquee of the brand. Chyari also offers items such as fanny packs and prints.
Blerd
I'm not great at self-promotion, but it made sense to include Blerd. While we at Blerd are not exclusively an anime brand, but we do put out anime pieces. Blerd anime merch is a mixture of original anime art created by Black artists, pieces inspired by major anime properties, and of course inspired by Black anime cosplayers. The Blerd Team is mostly millennials that grew up watching anime in the 90s and 2000's and our high-quality pieces are inspired by our love of the genre.
8 Of The Best Black-Owned Streetwear Brands was one of our most popular posts of 2021, so I had to bring you 8 more in 2022. What are some of your favorite Black-Owned Anime Streetwear brands? Let us know on our social media @blerdofficial