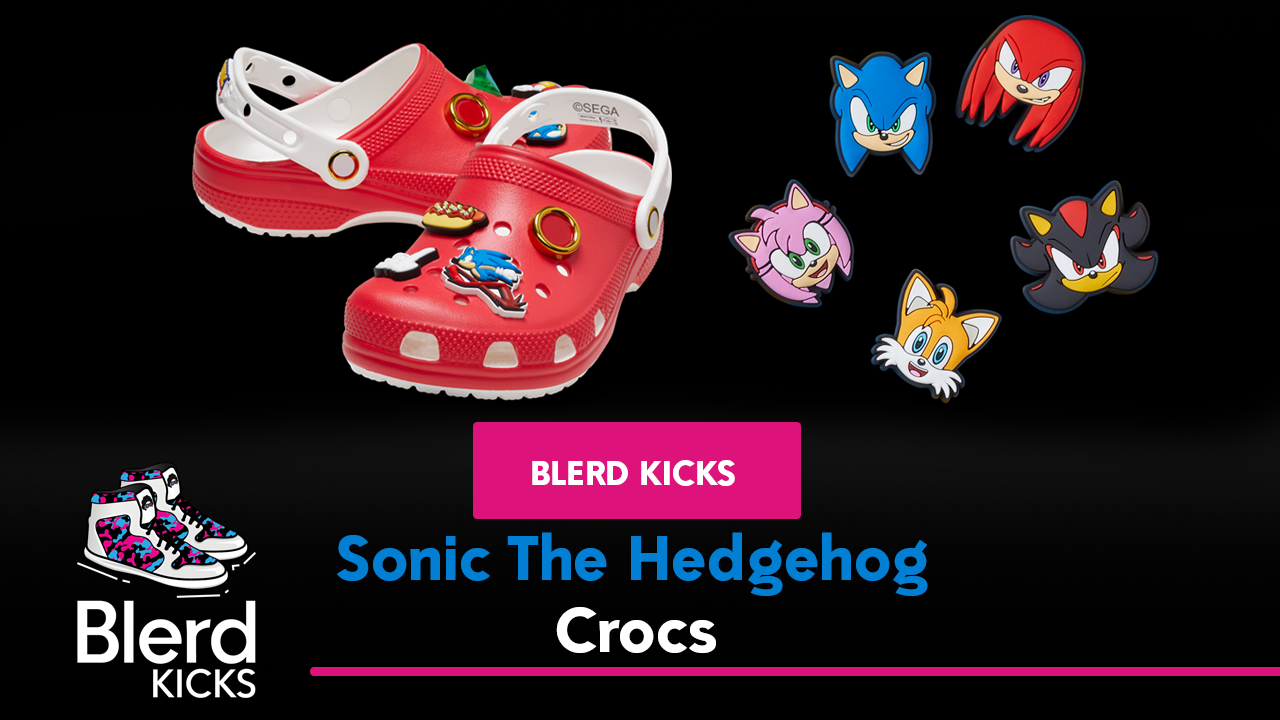 Activate Sonic Speed Sport Mode With Sonic The Hedgehog Crocs: Blerd Kicks
Blerd Kicks is your online hub for nerdy and fresh shoe releases, so get ready to speed up with the Sonic The Hedgehog Crocs collaboration; sport mode is necessary. With this release we get the legendary Sonic The Hedgehog and crew gracing the ever-popular Cros silhouette. That's correct, the Sonic The Hedgehog Crocs are here, offering an exclusive mix of convenience, flair, and a touch of retro gaming fandom.
Crocs, renowned for their unorthodox design and unmatched comfort, are venturing into the realm of pop culture nostalgia with their most recent release – the Sonic-themed Crocs. These shoes are designed to appeal to the kid at heart, the video game aficionado, and the avant-garde sneaker fan all at once.
Delving into the design specifics, these shoes present a stunning display that honors classic Sonic motifs. The exterior of the shoe bursts with energetic graphics of our preferred blue hedgehog in motion, set against a vibrant blue background. The color palette pays homage to Sonic's classic image, with deep blues and stark whites, creating a standout, lively look.
Of course, we can't overlook the charm of the Crocs' signature Jibbitz™ Charms decorations. For this special edition, the brand has gone above and beyond. The Sonic Crocs come with specially crafted charms featuring familiar faces and icons from the franchise including Sonic, Tails, Knuckles (Knuckles is Black!), Shadow and Amy. This allows you to customize your Crocs and chase after those essential golden rings.
Yet, these Crocs' allure doesn't stop at their visual appeal. As per Crocs' standard, these shoes promise unparalleled comfort. Sporting the iconic Crocs Comfort™ foam cushioning, these shoes guarantee comfortable wear throughout the day, whether you're out and about or hot on the heels of Doctor Eggman.
So, who stands to benefit from these shoes? In truth, anyone who appreciates the harmony of comfort, aesthetics, and a dash of nostalgic charm. They're an ideal match for gaming buffs, Sonic devotees, Crocs fans, and anyone in between.
Wrappring up the Sonic The Hedgehog Crocs stoke that millennial nostalgia with this partnership. If you're keen on reliving your video game heydays, making a sartorial statement, or simply basking in the comfort of Crocs with a pop-culture twist, these shoes are worth checking out.
The Sonic The Hedgehog Crocs are available now on the Crocs website in Adult, Kids, and Toddler sizes.
Stay connected to Blerd Kicks for the latest updates on shoe releases, in-depth reviews, and all things footwear-related. Until our next rendezvous, happy shoe shopping!
Follow this link to check out the Sonic The Hedgehog Crocs
Like Blerd content like this? Support Blerd by making a purchase in The Blerd Shop