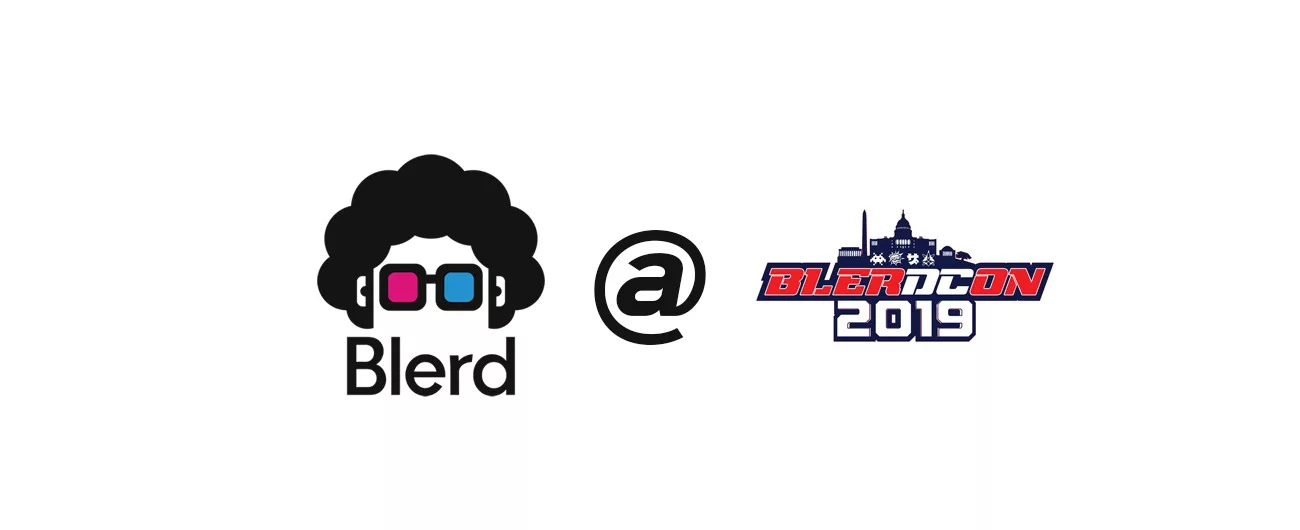 Blerdcon 2019 Review Mega Post
First, let me say that Blerdcon 2019 was my first Blerdcon and one of the best events that I have ever been to.  The Blerdcon team (we are not affiliated) was gracious enough to have us attend their event.  It was a three day event masterfully put together in Arlington, VA (DC area).  
Upon entering the event at the Hyatt Crystal City, you could immediately feel the aura of black excellence. From the organization of the conference, the highly intellectual influencers, vendors, and even the food and movie selection; everything had its place and seemed to flow in perfect harmony.
Before we dive any further, allow me to humanize myself for a second. I am a low key blerd. I am mostly into video games and mainstream anime more than anything else. I am also extremely urban, wearing mostly jeans, sneakers, and a blerd tee the entire weekend. I am not a photographer and also just got the Canon M50; I did not practice enough beforehand, so some of the pictures are blurry haha.
If you look at the about us section, you will notice that we currently are a male dominant website. We came to gather knowledge from others that do not necessarily share our same points of view, as we are attempting to be as inclusive of a site as possible. While we could not attend every panel (there were over 100 total panels and to keep it real we got there a bit late being on CPT), we tried to hear from as many of the panelists as possible. Here is our megareview of the event:
Women of Color in Sci Fi Television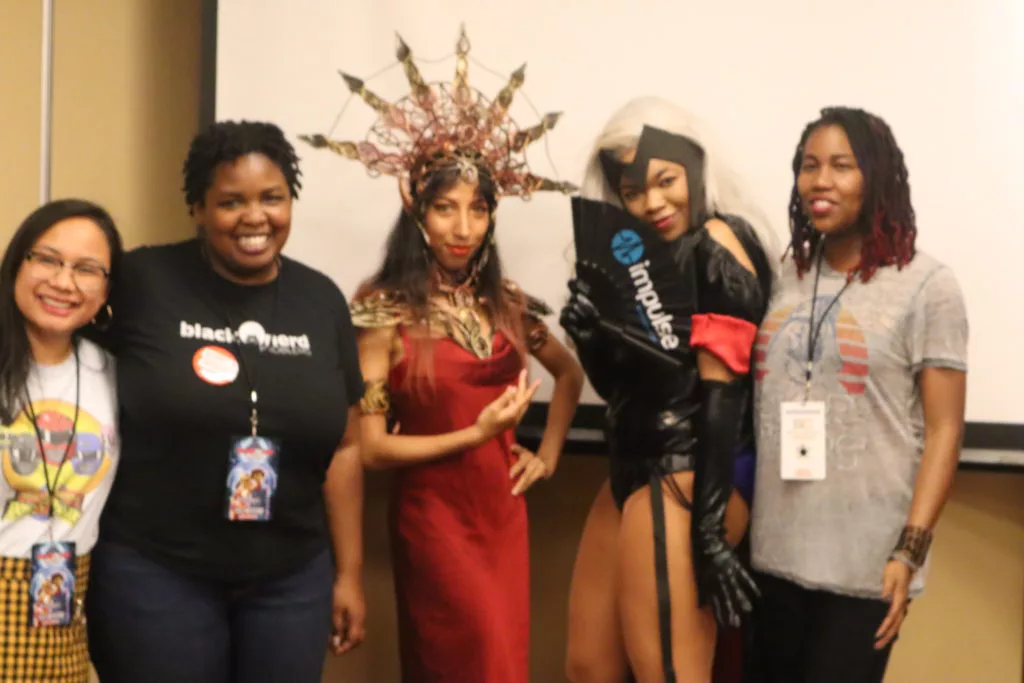 Our first panel started off with a bang by being one of the more thought provoking panels of the con. Getting perspective from women was a key goal of ours in attending this event. They opened up the panel speaking to how influential Nichelle Nichols (you may know her as Uhura from Star Trek) was as not only an African American female on television, but also as someone who helped recruit minority astronauts to NASA (Mae Jemison has cited her as an influence also). She was also an empowering role model for Whoopi Goldberg. The panel also discussed the influence of other women in Sci Fi, but we do not want to steal all of their thunder. For additional information reach out to the panelists on twitter at:
Where Da Waifu Wars
We did not know what to expect based on the title of this one. This panel was much more whimsical than the previous one. This was a very high energy meetup. It was based crowd participation who were pitted 1 on 1 to defend their Waifu ( fandom slang: A fictional character from non-live-action visual media (typically an anime, manga, or video game via yourdictionary.com) that one is attracted to and considers a significant other.) against each other. It was absolutely hilarious and took many left turns that we did not expect. You can find Where Da Waifu online at waifuwear.com
Sneakerheads 101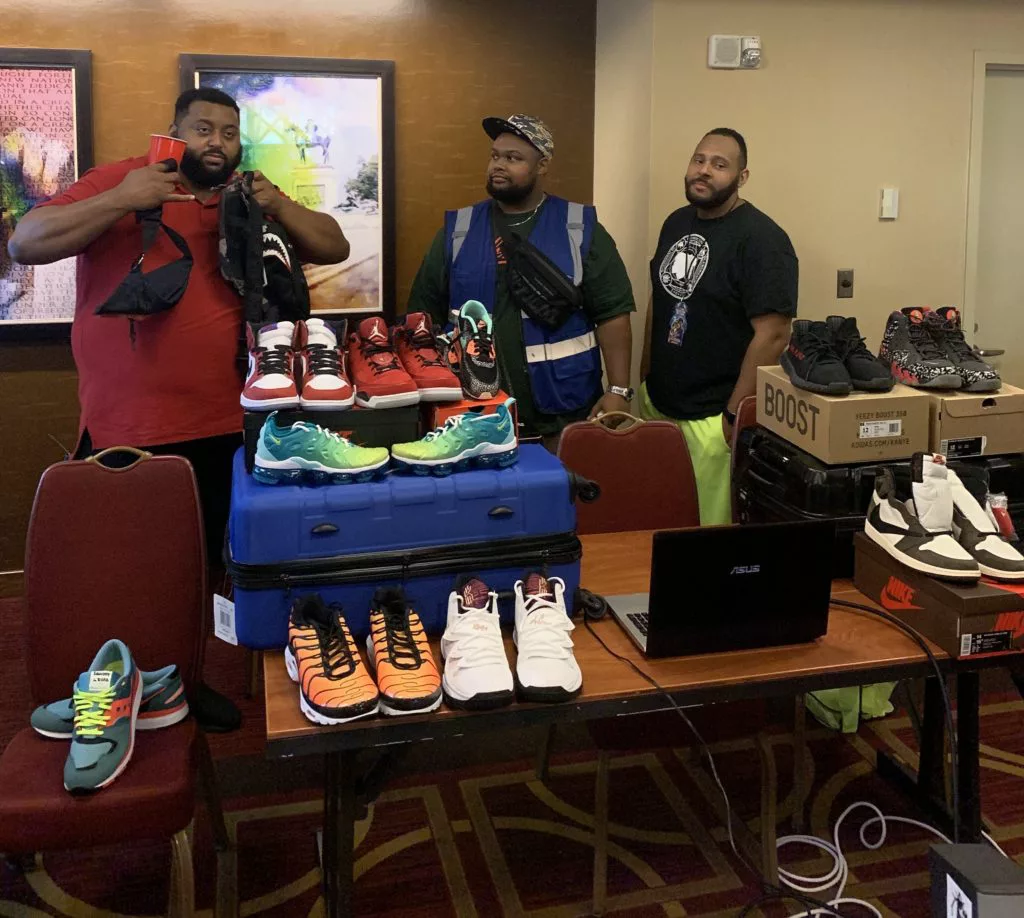 We woke up early for this one. You guys probably don't know this about us yet, but sneakers are very near and dear to our hearts. Rell, Cmoney, and I all worked for Finish Line for a number of years. That is actually how we met way back in 2005. This was a great introduction to sneakers for Blerds who may not have been in the know about the culture. If you are into kicks make sure to check out:
GymLeaderBrock (<- How did this man get this dope IG handle!)
Representation Matters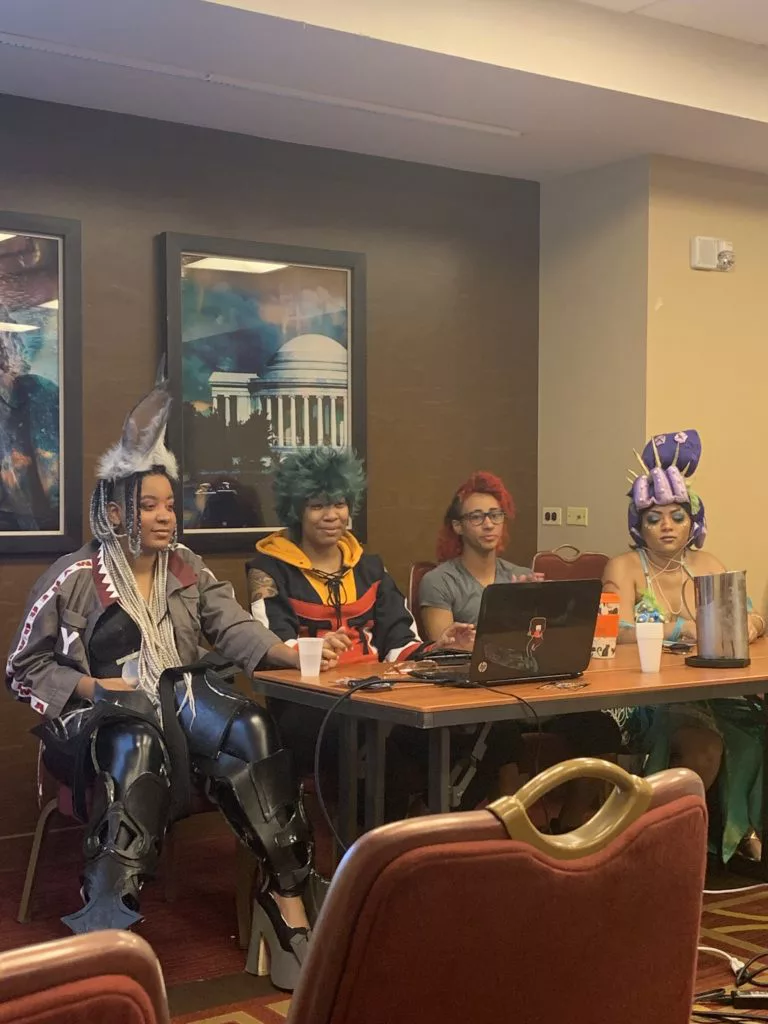 This one opened our eyes to a world we did not know existed. Rell and I would not consider ourselves cosplayers, so we came with intent to learn more about the community. This panel gave us insight into the issues the cosplayers of color live with. They spoke on topics like erasure of people of color in the cosplay industry, blackface, and getting paid in the industry. We would definitely recommend following the experts on the panel and checking out their awesome pictures on their IG's at:
Cosplay Your Way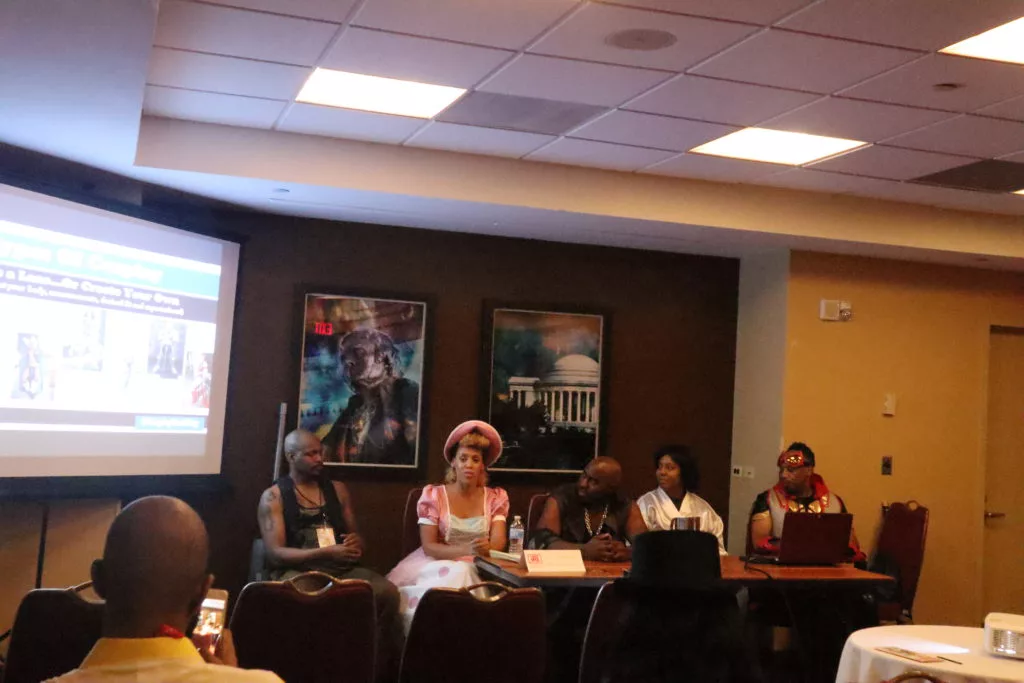 With our intrigue into cosplay, we decided to go to another panel about the subject. This panel was more about putting your own personal style into cosplay. We learned that cosplay does not have to be exact if you do not want it to be. You can have fun with it and put your own touch on your character regardless of your race, gender, size or anything else. For more information check out:
#outofcosplay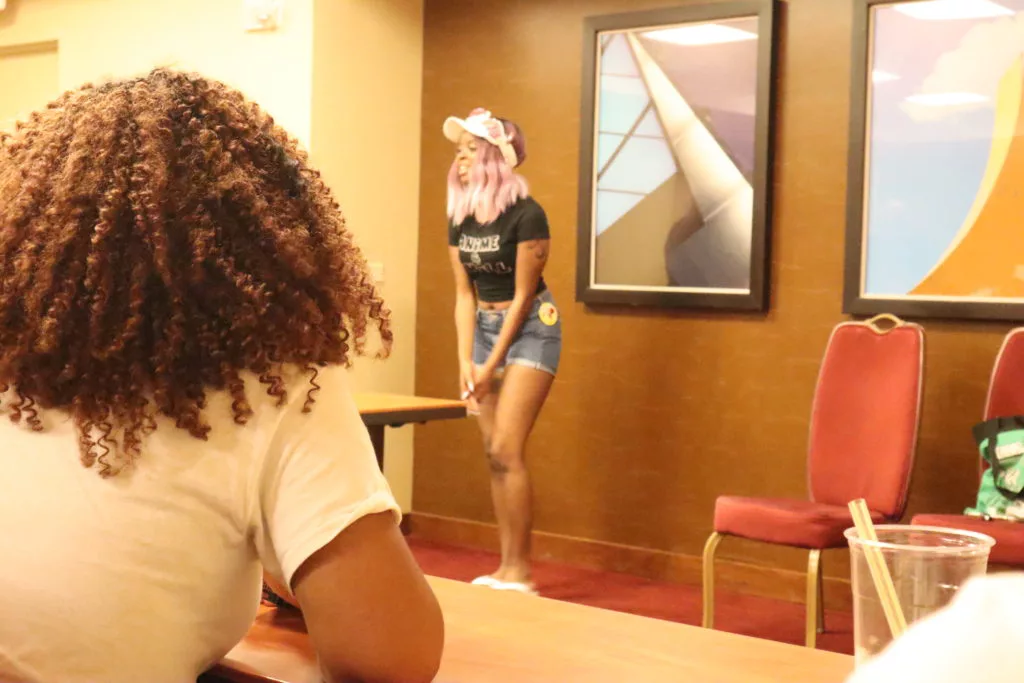 This panel was run by @Chibithot a professional cosplayer and fashion stylist. This was her first time doing a panel, which revolved around around developing your personal style when not cosplaying and establishing your personal brand. She gave tips & tricks to discover your personal style, staying on budget, incorporating blerd style into everyday wear, and how to reach out to companies for sponsorships.
Hustle and Flow: Real Talk on Making It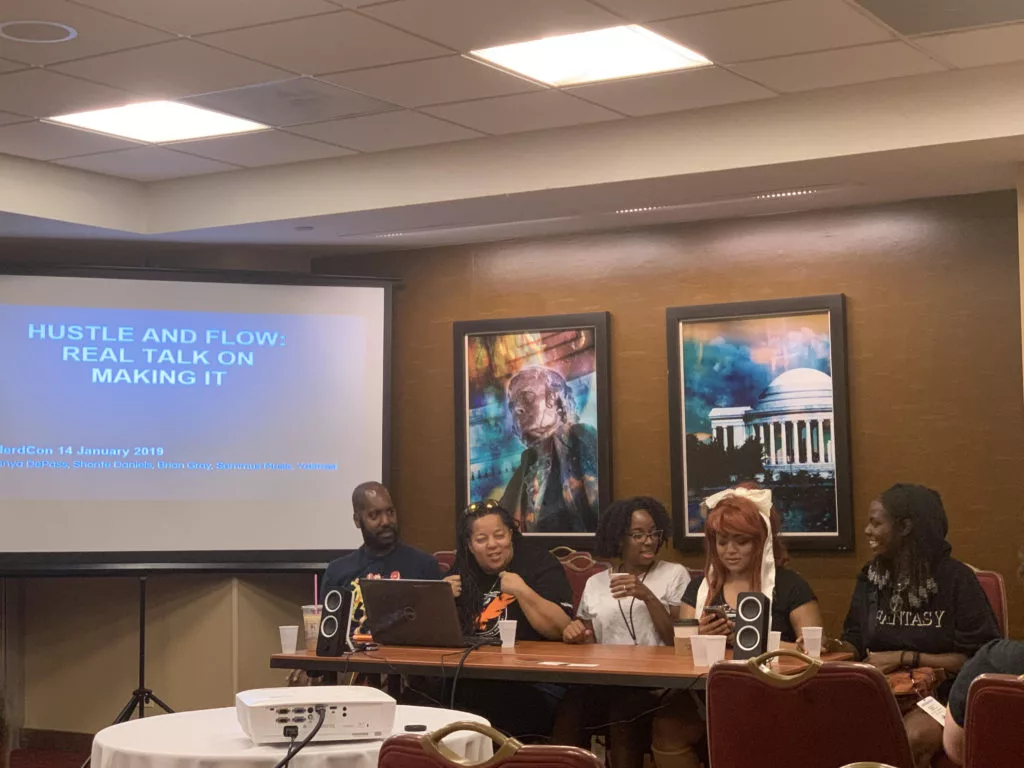 We stayed for this one right before he decided to head back to NC. This panel revolved around all of the hard work it actually takes to become an influencer. The panelists spoke to all of the hard work it took to get to the point they are at, how followers do not actually equal dollars, and the reality of success. If you want to check out what was said during the panel, it was actually streamed on Twitch as well. Check out the panelists at: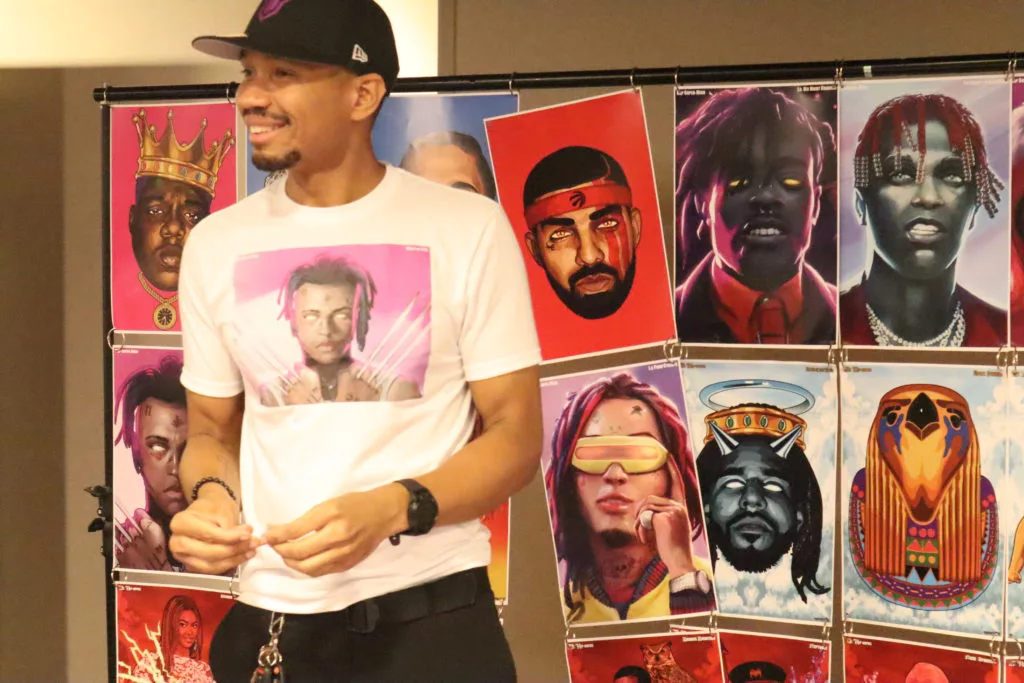 Our overview of the panels was intentionally left somewhat vague, as we want our viewers to experience this conference for themselves. It was an amazing conference and you couldn't leave it without becoming more knowledgeable or getting perspectives different than your own.
Blerdcon was more than just panels though. There was gaming (tournaments and casual), amazing vendors and artists, partying (like our friend @LilaBobina said: Blerds like to get out and party!), and just an overall sense of belonging with people like you.
We won't get too much into this, but know the turn up was real too. You will have to check out Blerdcon next year to experience it for yourself. If you attended this year, let us know what you thought in the comments.