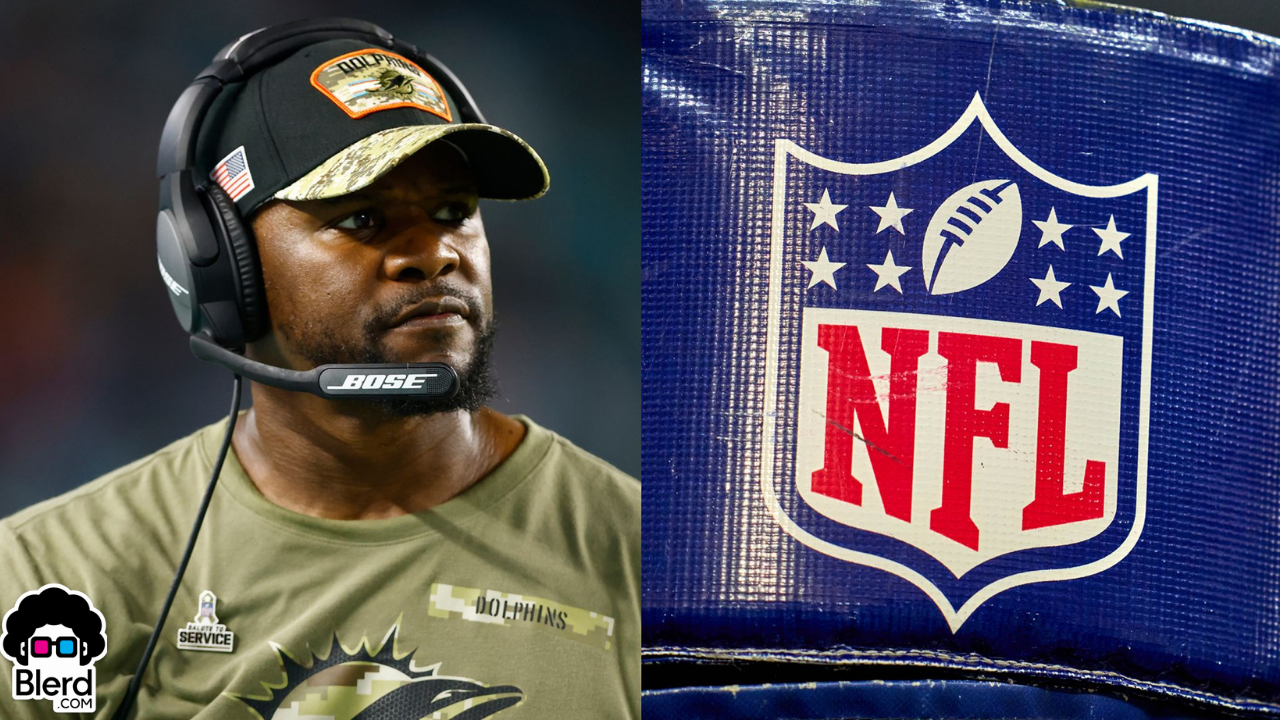 Did Brian Flores expose the NFL Owners?
At the end of the regular season, the underperforming teams begin trimming their rosters with the idea of finding different players to fit the system and change the outcome next year.  The worst teams often fire their head coach.  This is often an exercise in futility since most of the teams at the top have a consistent group of players and coaches.  A team rarely fires a coach in one off-season then becomes a SuperBowl winning team the next.
In recent history, the Miami Dolphins have been a team that has been a bottom feeder in the NFL rankings.  They almost always end up picking in the top 10 of the NFL draft.  To put the Dolphins franchise success in perspective, over the last 21 seasons the Miami Dolphins record is 157-180 with 3 playoff appearances(all ended up in a loss).  In that same amount of time, they have had 9 different head coaches.  They have only had 12 head coaches in the history of the franchise(since 1966).  No coach has lasted more than 3 seasons in the last 21 years.
Enter the Dolphins' most recent head coach Brian Flores.  Being a former Defensive Coordinator for the New England Patriots, he had to earn a bit of trust from arguably the best coach in NFL history, Bill Belichick.  Bill has been the third-winningest coach in NFL history and has five Super Bowl wins, the most of any head coach ever(link). Belichick is also the only head coach in NFL history to win three Super Bowl championships in four years. So an endorsement from him carries a lot of weight in becoming the head coach of an NFL franchise.
Flores was introduced as the 12th Head Coach of the Miami Dolphins after winning Super Bowl LIII in 2019.  He went 5-11 in his first season.  In his second season as head coach, he managed to lead the Dolphins to a 10-6 record coming within a win of making the playoffs.  I would step in to say that considering the challenges of covid, any new coach should've struggled; he didn't. In the 2021 season, Flores led the Dolphins to 9-8 and became the only Dolphins coach to have back-to-back seasons with winning records since 2004….18 years…Due to some issues with the ownership and wanting to have more control of their coach, they informed Coach Flores that he would not be returning to the team as their head coach the day after their season ended with a victory.
There has always been a perception of the NFL Front Offices being less progressive, a good old boys club, and a barrier to true progress for the NFL because of the lack of minority leadership.  Out of 32 owners in the NFL, there are just two people of color among the principal owners. They are Jacksonville Jaguars owner Shahid Khan, who is Pakistani American, and Kim Pegula, who is Asian American and co-owns the Buffalo Bills.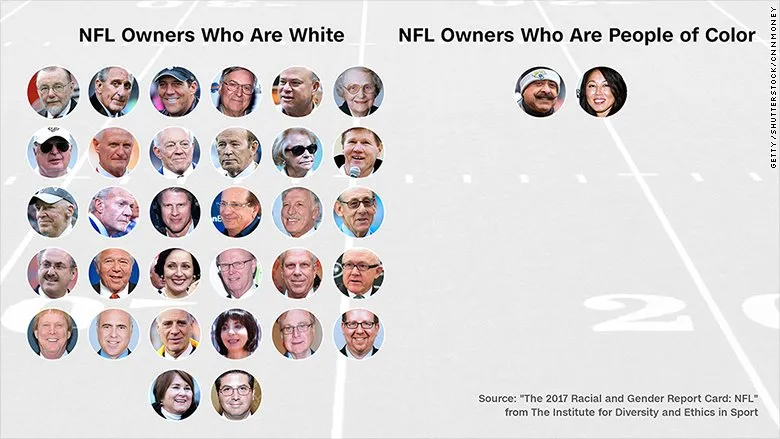 The NFL INCLUSION AND DIVERSITY REPORT in 2021 stated that Black players make up about 70% of team rosters but the league had only three Black head coaches, while it had eight in 2011; Black coaches who fail in their first try in the jobs get fewer second and third chances than their white counterparts.  This statistic just reiterated what we all have been saying for years.  
The Rooney Rule was created in 2003.  This rule mandated teams to interview minority candidates to increase their exposure to head coaching and coordinator positions.  While the rule was noble, it didn't lead to exact change and was too vague.  Honestly, owners looked at it as a formality rather than giving a minority candidate a fair shot at the job.  This led to additional amendments to the rule. 
In November 2020, an amendment was passed to reward teams that lost a minority executive or coach to another team with a 3rd round draft pick for 2 years.  If a team lost both a coach and personnel member, it would receive a third-round compensatory pick for three years. This was a bit more progressive because it rewarded teams giving minorities a job and not just a chance.
In 2021, the NFL approved changes requiring every team to interview at least two external minority candidates for open head coaching positions and at least one external minority candidate for a coordinator job before finalizing a decision on their hire. Additionally, at least one minority and/or female candidate must be interviewed for senior-level positions (e.g., club president and senior executives). An additional amendment mandated that these meetings be held in person rather than over the phone or video conference.
With this background information, we proceed to the meat and potatoes of the story…
As fans of the NFL, the first day of Black History Month is usually Super Bowl prep.  We check the fan sites for rumors and we track potential free agents joining our team to create the newest super team. On February 1, 2022, we got one of the biggest bomb drops by any NFL player or coach since Colin Kaepernick.  Immediately after being fired as the Head Coach of the Dolphins, Brian Flores was considered the hottest coaching candidate in the market.  It was expected that one of the 8 open head coaching positions would be filled by Coach Flores.  As he made his rounds through the teams looking for their next head coach, he had meetings scheduled with the New York Giants, New Orleans Saints, and the Houston Texans.  After meeting with the New York Giants, Flores alleged he spoke with the Giants on Jan. 18 via Zoom, before the team hired back-to-back former Buffalo Bills assistant general manager Joe Schoen as its GM on Jan. 23. He said that the next day Schoen finalized his interview date for Jan. 27, and Giants co-director of player personnel Tim McDonnell texted Flores, saying he hoped he would "come in and win the job.  Soon after, a text message came out from his former mentor, Bill Belichick mistakenly congratulating him on getting the New York Giants job.  It was a mistake because Bill Belichick is a very informed coach, and with his pull, I am sure he hears and knows a lot that goes on behind the scenes.  He sent the text message below:
The above message is a mistaken conversation from Bill congratulating the wrong Brian for the Giants' job.  Brian Daboll, a white man, and the defensive coordinator for the Buffalo Bills was also a lead candidate for the Giants job.  The problem with this text message conversation is that Bill Belichick sent the message with the knowledge from the Bills and the Giants that they made their decision on January 24th.  This was 2 days before they were supposed to meet with Brian Flores, the minority candidate.  
After receiving this message, Coach Flores had the ammunition he needed to file a lawsuit against the NFL owners for discriminatory hiring practices. But, there was more…
According to Brian Flores' lawsuit, he alleges that he was pushed to lose games to improve their draft position.  As it currently stands, the worse the team's record, the higher the draft pick the team gets.  During the 2019 season, he led the team to a 5-11 record, winning three of their last five games. Flores alleges that team owner Stephen Ross wanted him to intentionally lose games, even offering a bounty of $100,000 per game for losses — then was told by GM Chris Grier that Ross was angry for him winning.  Another Black Coach, Hue Jackson was the coach for the Cleveland Browns, echoed this accusation.  He said that he was offered money to lose games.
There is more to the 58-page lawsuit but my thoughts are similar to Shannon Sharpe's below.
We see the slogans that NFL teams have begun to put in the end zone and on the back of helmets in response to the fiery social justice summer of Covid 2020.  All of these gestures are just gestures.  They don't have any weight and these owners find loopholes to the rule.  Giving the teams an extra draft pick to hire a black or minority candidate is not enough to move the needle.  Unfortunately, Coach Flores will likely be shunned just as Kaepernick was after refusing to conform to the status quo.  Most people from the outside looking in will say, "Brian Flores is being a diva", "He is being selfish", etc.  But in actuality, the lawsuit is asking for the following: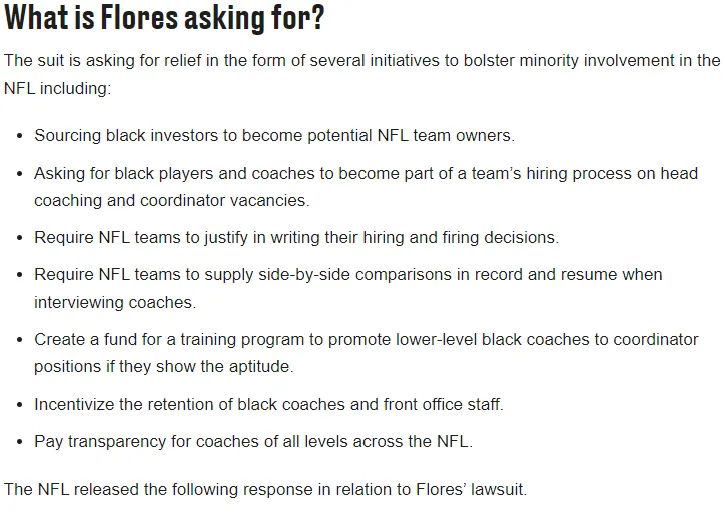 As it stands right now, there is only 1 black head coach in the NFL, Mike Tomlin of the Pittsburgh Steelers. When will we stop being the token interview?  When will our talents be noticed as an owner, leaders of an organization?  Do we have to band together to allow our talents to get their rightful recognition?  While I am a fan of this sport, I do not mind watching massive change being enacted.  What are your thoughts on all of this?