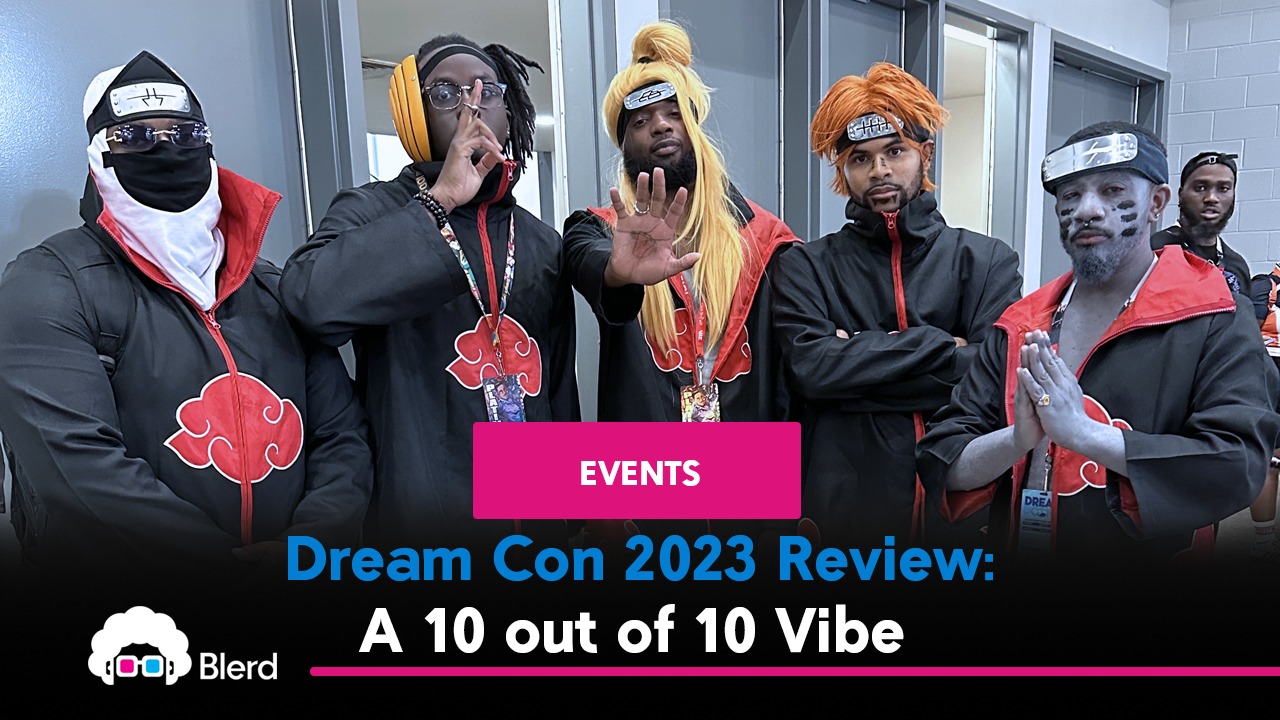 Dream Con 2023 Review: A 10 out of 10 Vibe
Dream Con 2023 Review
The Venue - 9
Event Schedule - 8.5
Special Guest & Vendors - 9
Wait Times - 6
Vibe - 10
8.5
Dream Con does it bigger and better than ever before in 2023. With an impressive guest list, programming and an immaculate vibe Dream Con is set to grow. Wait Times are up, but more of a minor annoyance for the level of fun provided.
*editors note: Blerd LLC was a sponsor and vendor at Dream Con 2023. We try our best to not let that bias the opinions in our articles*
Dream Con 2023 was the convention with the most hype behind it in the blerd community, and RDCWorld did not disappoint. Dream Con set the bar in 2021 and then topped that again at Dream Con 2022. I heard early what attendance numbers were looking like, so I knew 2023 would be quite different than the previous two years. If you are a blerd, Dream Con has an unmatched vibe and energy that you can't get anywhere else. There were some growing pains with attendance up so much from the previous convention, but the team overall handled the challenges very well and threw an amazing event. For the review this year, I will be going back to our standard convention rating system. The criteria cover the most important parts of any convention: The Venue, Event Schedule, Vendors & Special Guests, Wait Times, and Overall Vibe. Scores of 10 mean near perfection and are going to be especially hard to obtain. Here is what I thought of Dream Con 2023:
The Dream Con 2023 Venue
Dream Con 2023 was held in a new location this year at the Austin Convention Center in downtown Austin, Texas. Attendance jumped from about 6,000 attendees in 2022 to about 22,000 attendees in 2023, which made a change to a bigger venue necessary. While I was a big fan of the Esports Stadium of the previous year, the crowd would have been crushing in the much smaller hallways of that venue. The Austin Convention Center is conveniently located next to many hotels in the downtown area, was spacious enough to fit the crowd, had adequate air conditioning, and has great lighting for photo ops. The Dream Con team did a great job setting up the ambiance inside with additional displays and lighting. Signage was displayed well and it was pretty straightforward how to get from place to place.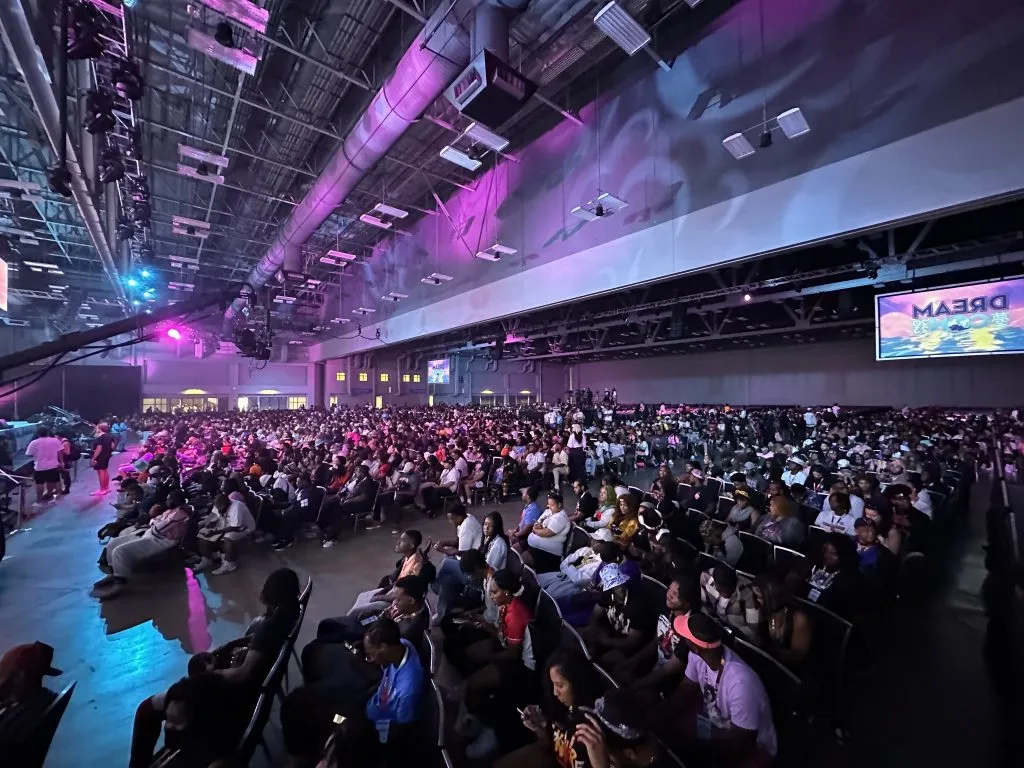 The Dream Con 2023 Event Schedule
Dream Con 2023 had an even better event schedule than 2022 and it showed by the turnout, especially to key panels. One of the best (and Blackest) additions to Dream Con in 2023 was the open gym where you could literally go shoot around or play dodgeball. That is not something you would see at most nerd conventions and it was a very nice touch! The event schedule included cosplay meetups, a dodgeball tournament, a basketball game, business & how-to panels, meet & greets, and plenty of silly just-for-fun panels. The event schedule was fairly easy to navigate on the Dream Con app and you could add individual events you wanted to attend to your personalized schedule. Some events were platinum and VIP only, so when buying a badge make sure to spring for a bit extra if there is something you really want to attend.
The Dream Con 2023 Special Guests & Vendors
The Dream Con team has a special edge in getting special guests to attend due to building up their popular media and online following. What is unique to Dream Con is that the special guests not only show up, but also interact with the crowd too. At many conventions celebrity guests just sit behind tables with long lines that you have to pay to get to meet. At Dream Con the guests will be walking around and actively partaking in the events which adds more fun to the event. I hope as Dream Con continues to grow that this isn't lost. Some of your favorite creators will also just randomly show up even if they aren't featured guests also which makes the event special as well. Here are some of the special guests from Dream Con 2023: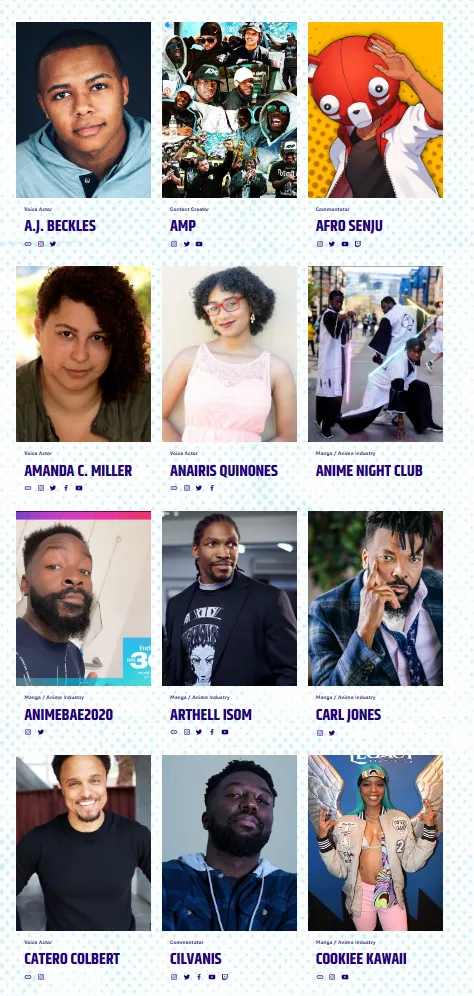 Dream Con understands that part of being a blerd is the style that comes along with it. Many of your favorite Black anime streetwear brands were in attendance as vendors so you could meet the owners and skip the shipping costs. There were many talented artists and comic/manga vendors as well. The vendor hall continued to improve with an even more diverse set of vendors with all different types of merch. Dream Con managed to pull in some major sponsors this year like Nintendo and State Farm who also created some cool (and free) experiences at the event.
The Dream Con 2023 Wait Times
The bane of every convention…the wait times. When early news broke of how many more attendees were going to be at Dream Con in 2023, I knew this was going to be a growing pain. Wait times were way up from last year, panels were packed (you had to show up very early to get a chance for some of them), and some of the elevators got shut down as well. Parties would sell out quickly also. Once inside the building waiting isn't the worse ever, but outside that Texas heat can be brutal. If you are going to Dream Con, make sure that if there are things that are a must-attend, that you plan out accordingly. While down a couple of points in our rankings, Dream Con wait times still aren't nearly as bad as some of the mega conventions I've attended. Dream Con can improve in these areas by making improvements to their technology and hiring additional staff/volunteers.
The Dream Con 2023 Vibe
While the wait times could be tough, the vibe at Dream Con 2023 was immaculate. I believe this is the first 10 I've ever given out and it is well deserved. The combination of the attendees, special guests and city gave Dream Con 2023 a special feeling that I will remember for years. You honestly could have skipped all of the special events and just been outside or in the hallways and had a ton of fun. I don't know how the Dream Con team will be able to improve here, but I am excited to see what they pull off in 2024.
Dream Con 2023 Photos