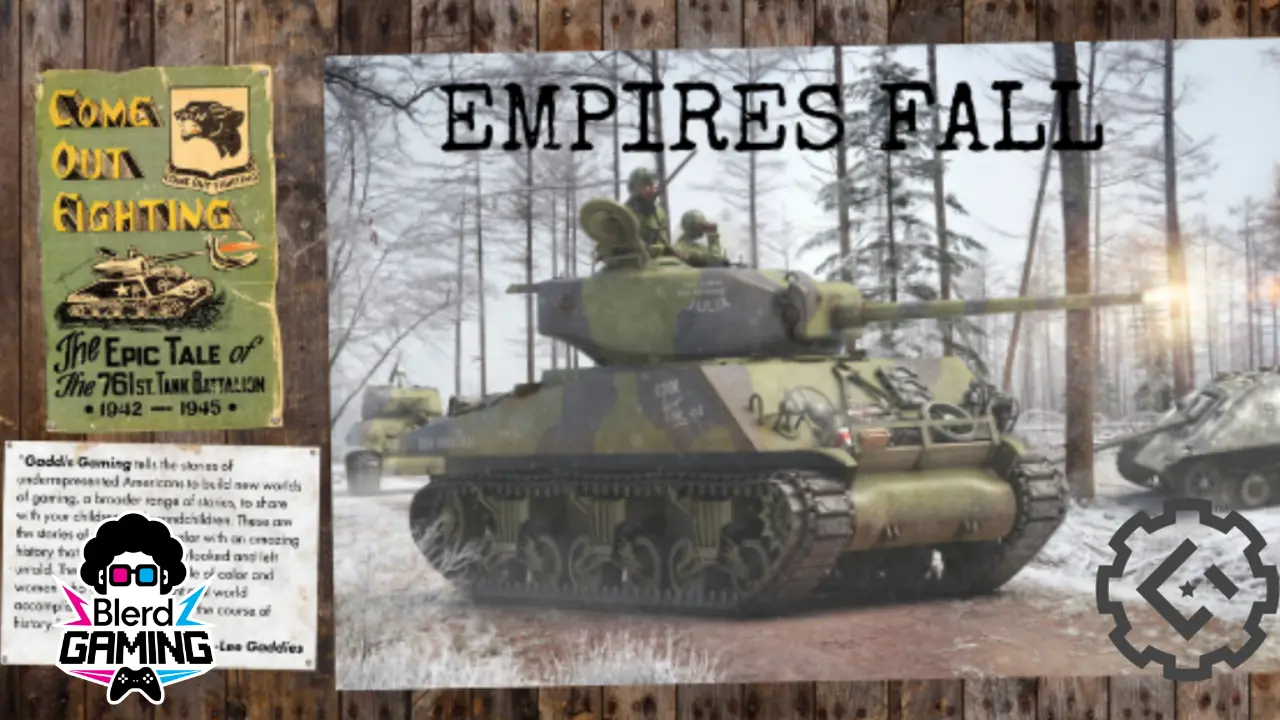 Empires Fall: Forgotten Black Heroes of WWII Heads to Kickstarter
Empires Fall Kickstarter
On November 10th Detroit-based Gaddis Gaming will launch a crowdfunding campaign for the first game that puts forgotten Black heroes of the 20th century back in action on your tabletop.
"Empires Fall" showcases the 761st Tank Battalion (aka "The Black Panthers") the first
all-Black U.S. tank unit inside an alt-World War Two landscape. Although some history has
shifted, gamers can bring these overlooked African-American heroes to their tabletop and take the motto of the 761st, "Come Out Fighting", to heart. Backers of this Kickstarter not only receive an exceptional game loaded with custom dice and miniatures but real history that has been forgotten for far too long. Let's meet some of the real playable heroes in the explosive new game:
Sergeant Ruben Rivers – During WWII Rivers fought with every measure of his being to break the Nazi lines in tanks and on foot. For his valor Rivers was honored with a posthumous Medal of Honor by President Clinton in 1997.
Sergeant Warren Crecy – Known as the "Baddest Man in the 761st" received that title because when Nazis destroyed his tank Crecy attacked enemy positions armed with only a 30-caliber machine gun.
The brave men in 761st , along with the all-Black 555th Paratroopers (aka "The Triple Nickel")
also playable in "Empires Fall", liberated people from Hitler's death camps and fought to further the cause of freedom for all in the fight against fascism. But these brave men are often unmentioned in popular history of WWII due to America's shameful legacy of racism.

Gaddis Gaming is a Black-owned business based in Detroit, Michigan. The company's mission is to create games featuring underrepresented people and overlooked heroes to tabletops worldwide. The fighting men in "Empires Fall" made significant real world
accomplishments that changed the course of history. Now is the time to hear their stories,
play these heroes, and create a place where their history is fully remembered and rightly celebrated. Blerd asked Lee Gaddis why this project was important:
#1 – The story of Black soldiers that fought during World War II is being erased from American history books and as we lose more and more of those people their stories will be lost in time so it's important to capture and remember and never forget those that came before us that allow us to have what we have today.

#2 – I am a game designer and I think a great way to tell the story and not have it in a history book is through narrative play. It gives people a chance to tell their own stories about the contributions of African Americans and to learn the history and to feel connected to their ancestors that may have serves during World War II. My grandfather served during World War II and never talked about his service to any of us, so the legacy of those soldiers that fought and served may not be widely known in the African American community. There's some stories that should not be forgotten. This is deeply personal to me to be able to honor his sacrifice and the sacrifice and valor of all of those service men and women that allow us to enjoy the freedoms that we have today.

#3 – By doing it in a game format, it helps us improve the analytical thinking skills of young people as they learn to take a limited amount of resources to achieve a goal. This game is based on a chess model, it's just that the pieces represent us. It's a niche edutainment where you can educate people and entertain them at the same time and I think if I put the same information that you would get from a history into a game you get to learn the content, but also you will play the game over and over again and maybe go deeper into the subject matter. That is my goal.

Lee Gaddis – Gaddis Gaming

Gaddis Gaming is also proud to announce that "Empires Fall" is MADE IN THE USA since all the materials in each set is sourced in the United States. Gaddis Gaming also has a successful line of miniatures and other accessories for tabletop gamers.
Preview Empires Fall at https://www.kickstarter.com/projects/gaddisgaming/empires-fall
More about Gaddis Gaming at https://www.gaddisgaming.com/