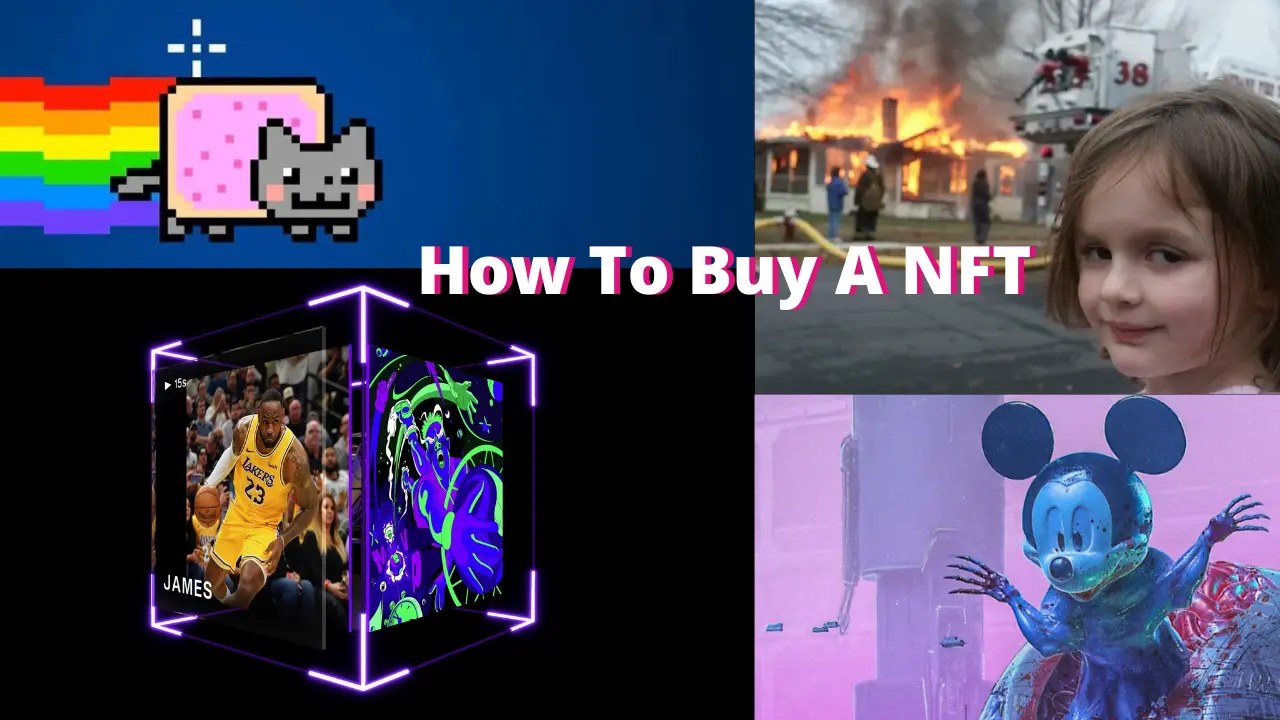 How To Buy A NFT – The Complete Guide
How To Buy A NFT – The Complete Guide
Editors Note: This article is sponsored by New York Live Arts and the Altered-Worlds: Black Utopia and the Age of Acceleration Afrofuturism event. This article may contain links that Blerd LLC gets a commission on.
This is not financial advice whatsoever; please reach out to a professional for financial questions.
So you've finally bought into the crypto hype and want to know how to buy a NFT or Non Fungible Token. Maybe you heard about NFTs from some of the crazy prices they are selling for, from following your favorite athlete, or even seeing news about your favorite meme. Whether the NFT craze has merely piqued your interest or you want to splurge some of those Dogecoin gains, this is the guide for you.
What Is An NFT?
Before we get too far you need to know what a NFT is. NFT's or Non Fungible Tokens are digital art based on blockchain technology. The non-fungible piece means that they can't be replaced or are unique. Smart contracts are created with customized tokens which art is attached to. The digital art is a "real" piece because the artist (or organization; more on that later) says it is real when they digitally sign it and place it on the immutable blockchain. NFT's themselves are not cryptocurrency, but cryptocurrency technology is used to create and acquire NFTs.
Getting Started With NFTs
A couple of first steps I would take if you are seriously interested in diving in:
Get a VPN – A lot of NFT marketplaces are new and this technology is the wild west. Protect yourself first by encrypting your network connection. I suggest this as a general best practice when dealing with sensitive information on the internet anyway. I use Private Internet Access, but just about any VPN will work. VPN's are easy to use and you want to connect to your VPN before you start dealing with crypto or NFTs.
Download Google Chrome and the MetaMask plugin. You will need MetaMask to connect your crypto wallet to most of the NFT marketplaces (some do allow you to pay with a credit card though). This is super important: when setting up Metamask you will be given a seed phrase. Physically write this down (do not save as a text file or screenshot) and put this somewhere very very safe. If you get locked out or somehow lose one of your devices, you can use the seed phrase to recover your digital assets.
Buy Ethereum. Ethereum is the cryptocurrency used to buy NFTs, so you'll need to buy some. There are many exchanges to buy Ethereum on. Your easiest options if you are starting out are going to be on Coinbase or Paypal. Ethereum can also be bought on other exchanges such as Kraken, Binance, or Bittrex. Some platforms will let you use your credit/debit card to buy NFTs, but being able to utilize Ethereum is going to open up your options immensly.
Where Can I Buy NFTs?
There are many different marketplaces to buy NFTs. Here are some of the NFT sites that I have checked out and my overall impression of them:
Opensea: Opensea is one of the bigger marketplaces that operates on Ethereum. Opensea is going to utilize the MetaMask wallet that I mentioned earlier. Opensea does a good job of curating interesting NFTs at the top of their site and there is huge variety of digital collectibles here. However, I find the filtering and searching functionality to be a bit lacking and I have noticed that sellers seem to sit on bids longer in this marketplace
SuperRare: I like the layout of SuperRare much more than Opensea. It has a cleaner interface and the collection of NFTs on sale are generally higher quality. The search and tagging functionality is cleaner and overall the site feels less cluttered. That does come with a cost as the NFTs found here will be more expensive than other marketplaces.
NBA Top Shot: Currently the best sports NFT marketplace. NBA Top Shot has more of an air of excitement to it; which makes sense since these are sports collectibles. NBA Top Shot allows you to buy NFTs from your favorite players and even own NFTs of some of the top moments in NBA history.
Rarible: Rarible is probably my overall favorite NFT marketball. It has the variety of OpenSea, but with a bit better filtering system. I find their verification system to be easier to understand (verified accounts have a yellow check mark) and you can easily lookup artist's IG accounts. Artists on Rarible tend to accept bids quicker than OpenSea.
Nifty Gateway: Nifty Gateway is going to be another more curated NFT site like SuperRare. You'll see "drops" from major artists, musicians and brands on Nifty Gateway. A couple of nice features of Nifty are that you can sign up for alerts for releases. There is also a drop schedule that lets you know when releases are happening.
Bitski: Bitsky has become one of my favorite NFT marketplaces due to the quality of art on the site, ease of use, and somewhat reasonable pricing. It is easy to lookup the artists Instagram pages and Bitski already prescreens artist for you. Jay-Z and MrBeast are recent investors in Bitski.
What Is The Best NFT to Buy?
Now you are setup and know where to buy NFTs. What are the best NFT's to buy though? This is highly subjective, as art is in general. Here are the a few standout categories in my opinion:
Sports NFTs – Trading cards have been a staple of sports memorabilia, and collectibles translate easily to NFT technology. What puts sports NFT's a step above physical trading cards is that highlights can be digitized and replayed which is impossible on paper trading cards. Owning "moments" in sports history has never truly been possible for consumers until now.
Big Brand NFTs – Owning official NFTs from big brands that own major pop culture intellectual property is going to be huge. Imagine Pokémon or Magic cards that do not need sleeves, do not get scratched or bent, and do not get lost. While I know we all hate play to win, I can see video games in the future where you need the NFT to have the card/character/power up in some sort of VR or augmented reality world. We have already seen that society will adopt augmented reality with Pokemon Go.
Music NFTs – In the same light as sports NFTs, music memorabilia has stood the test of time. You will be able to get portions of music or entire albums as NFTs. Kings of Leon were one of the first major bands to release an album as an NFT.
How To Find The Best NFTs?
At this point you are probably asking, how do I find the best NFTs? To be completely honest with you, there are a lot of garbage NFTs out there as there is no barrier to entry. If you are looking at NFT's as an investment vehicle, you need to have an extreme tolerance for risk.
Personally, I am looking at NFTs from a technologist standpoint and having fun learning. I also want to open up a NFT art gallery in a digital world. Yes, I am serious. There are entire art galleries set inside of the Metaverse created by owners of digital land. I believe that we will see Ready Player One, Sword Art Online, and Blade Runner type technology within our lifetime which makes NFTs even more relevant. Google Glass, Oculus, and Lenovo ThinkReality are already here. Apple is also rumored to be working on smart glasses.
Alright back to the point. How do you find the best NFTs? Here is my criteria for whether I will even consider buying an NFT:
Is the artist verified? The various marketplaces have systems in place to verity artists, such as checkmarks (like Twitter). Some marketplaces also are only curating work from major artists. Do you own due diligence with this as much as possible.
Popularity of the artist – Is this piece of work created by a major artist? Are they a famous athlete or musician? Do they look like an up and coming artist? Profiles on the NFT marketplaces will have links to the artists website or their Instagram profile.
Rewards and unlockable content – Does the NFT give some type of special reward? For example, Terrell Owens released sports NFTs that let you have a zoom meeting with them. Other examples of rewards are getting signed prints, access to the source files, and avatars.
Scarcity – I only buy NFTs that have low quantities, are first editions, or even 1-out-of-1. If you want to get really crafty, you can even reach out to some of your favorite artist and ask them to mint (create on the blockchain) a piece of art for you.
Bidding & Buying NFT's
At this point I've explained what an NFT is, shared some NFT marketplaces, and gone through what I think the best NFTs are. Now it is time to buy one! On marketplaces such as Top Shot and Bitski you just sign up for an account and buy the NFT with your credit card, so I will not take a lot of time to explain that. The marketplaces that utilize Ethereum and bidding are going to be a bit more complex. Here is the basic process(I am using Rarible as an example here, but it is the same basic process everywhere else) :
Find the NFT you want. You can either buy them for asking price or place a bid if it is on auction.
Bids are normally going to utilize Wrapped Ether (WETH), which allows the exchange between ether and ERC-20 tokens without a third-party and avoiding transaction errors (reduces the risk of your money evaporating into the "ether" pun intended). You may have to swap your Ethereum for Wrapped Ether. To do this, just click on the blue swap icon in MetaMask (the MetaMask Icon is always in the top right corner of your browser). From there select ETH for your "Swap From" and WETH as your "Swap To" then hit "Review Swap." Continue on from there and your Ethereum will be swapped into an equal amount of Wrapped Ether.
Next, after you hit checkout you will be asked to confirm the transaction. Click "Accept" or "Proceed to Payment" depending on which platform you are using. Then hit Start to purchase.
MetaMask will pop up showing the total price of the transaction. You can reject if this is incorrect or confirm if you want to proceed. If you confirm, the transaction will start and you will either buy or bid on the NFT.
Once accepted by the artist, you will now own the NFT. It will "live" in your MetaMask wallet and now you can utilize the NFT (sell it, put it on auction, transfer it to someone else, or even burn it *gasp*)
Here are some tips when buying NFTs:
Make sure that you have enough Ethereum to cover the purchase price or bid & the transaction fee. Purchasing NFT's on these networks utilizes GAS (fees required to conduct transactions on the Ethereum blockchain) which can be very expensive right now. Watch out for this very carefully. You probably do not want to pay $150 in GAS/transaction fees for a $200 NFT
Actually place bids instead of always buying at asking price. Now this may be a controversial statement, but a lot of this art is overpriced. If you find an NFT you like that doesn't necessarily meet all of your criteria, but you still want it, try throwing out a reasonable bid.
NFTs that meet many or all of the criteria I set above for the "best NFTs" are going to most likely going to be more expensive. At the same time, I believe NFTs with these criteria are more likely to hold their value. Do not just throw away money buying certain NFTs because they are cheap.
Resist getting in bidding wards.
What To Watch Out For When Buying NFTs
In addition to the tips above here are a few things to watch out for when buying NFTs:
Watch out for fakes – Just like there is fake physical art, there are fake NFTs. With anything involving large amounts of money there will be scammers. Conduct due diligence and look at wallet transactions from the seller on Etherscan.
Buy from reputable marketplaces – Going along with watching out for fakes, buying from reputable marketplaces is going to make the process easier and more enjoyable.
Check the URLs – make sure that you are not getting phished and the correct URL is in the search bar
Airdrops – just completely avoid airdrops in general. The benefit is not worth the risk of getting your crypto or NFT stolen.
Here is a good resource on avoiding NFT scams.
Why Are NFTs Worth Anything?
You may have seen news such as artist Beeple selling an NFT for $69 million or the Disaster Girl meme (shoutout to Zoë Roth who is attending my alma mater UNC – Chapel Hill) selling for $500k. The simple answer to the question "are NFT's worth anything?" is simple – because people say they are. The art of value is always subjective and NFTs are no different in that regard.
Are NFTs A Good Investment?
From an investment perspective, I would put NFTs in the extremely risky category. However, I do think as technology evolves and augmented reality and virtual reality become more commonplace, the value of NFTs will increase immensely. I believe that just like cryptocurrency, we are at the very beginning of this technology. Most of the NFTs are probably worthless with a few truly standing out as the winners.
The TL;DR: Probably not at the moment
How To Showcase NFTs?
You have made it through the process of buying a NFT, so now you want to showcase it. Here is how!
If you want to be basic:
Just share the image / gif – This is digital art, so literally just copy and paste it
Print it – literally print the NFT out like anything else
If you need something a bit…fancier
Buy an Infinite Object Frame – Infinite Objects allows you to upload a MP4 or MOV file and place it in a physical frame. You cannot switch out the file from the frame. This is 1 piece of art almost like how you do not change the art on a canvas.
Buy a Qonos Frame – Qonos is a new company that is going to allow you to curate NFT playlists, so the art can change while hung on your wall depending on your mood. These are pretty pricey frame starting at $1,000 and normally sold out.
Flawnt – Flawnt will allow you to connect your MetaMask wallet and create a public or featured gallery.
Wrap Up
This article will update as the technology evolves and new innovations happen in NFT land. What you think about NFTs? What did I miss or what would you add? Will you be buying any NFTs? If you enjoyed the article please check out our partner New York Live Arts and the Altered-Worlds: Black Utopia and the Age of Acceleration Afrofuturism.
Like Blerd content like this? Support Blerd by buying a Blerd T-Shirt in The Blerd Shop