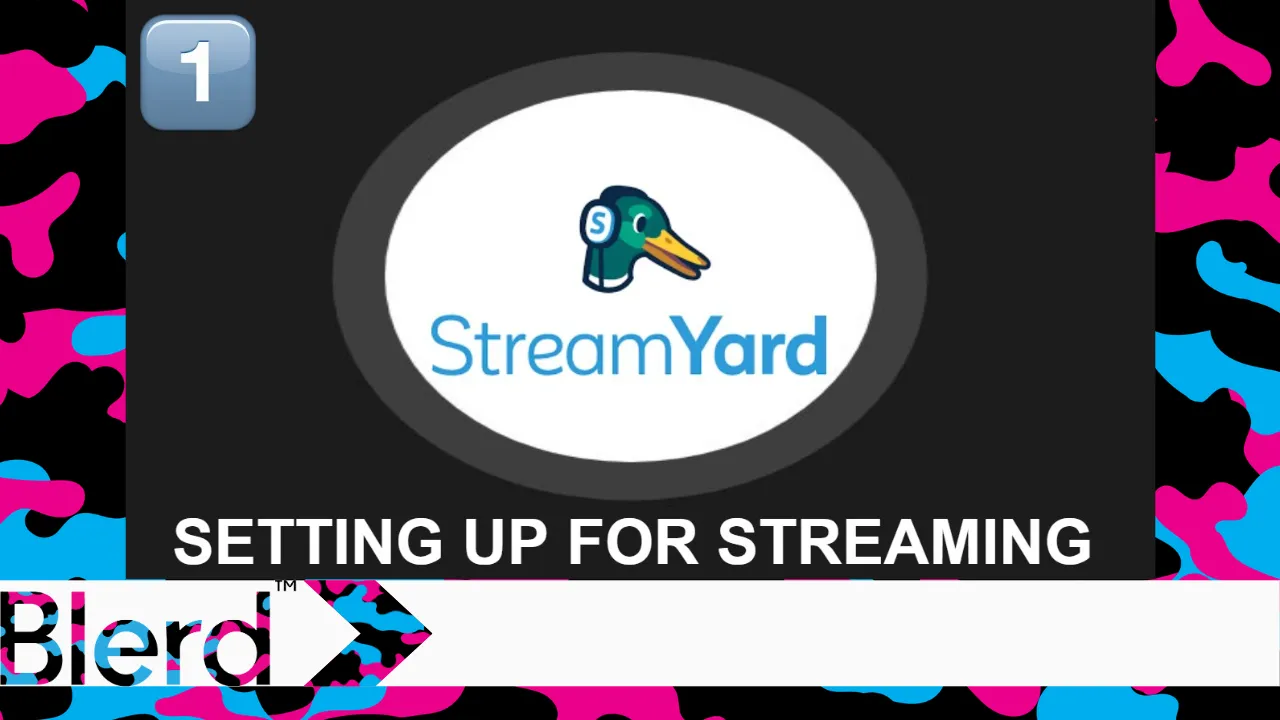 How to Game Stream with Streamyard
Yo, fellow gamers! Are you ready to level up your streaming game? Look no further than Streamyard.com! This comprehensive guide will have you streaming your gaming adventures like a pro in no time. Get ready to slay those views and dominate the streaming world. Let's do this!
Introduction:
In this era of technological advancement, the art of video game streaming has taken the world by storm, captivating audiences and fostering a vibrant virtual society. Attention all gamers, whether you're a budding streamer or a seasoned pro, Streamyard.com is the ultimate platform to showcase your gaming prowess to the world. Most people are only familiar with using Streamyard for live podcasts and other longform video content, but that isn't all you can do with it. Come find out more here!!!!!
Ready to level up your streaming game? Let's dive into the world of Streamyard.com and get your broadcast on fleek!
If you're looking to level up your streaming game, then you gotta get hip to the Streamyard.com scene. Familiarize yourself with their features and setup process, and you'll be streaming like a pro in no time. Engage in the following protocol:
Step into the digital realm, fellow blerd, and journey to Streamyard.com to craft your very own account using the credentials of your choosing. Let the adventure begin!
Level up your streaming game by integrating your platform of choice with Streamyard.com. Whether you're a Twitch fanatic, a YouTube connoisseur, or a Facebook Live aficionado, Streamyard.com has got you covered and then some. Level up your streaming game by syncing your preferred platform with Streamyard.com. Just follow the step-by-step instructions and you'll be streaming like a boss in no time.
Level up your streaming game by giving your channel a personalized touch! Add a dope profile picture, craft a channel description that showcases your unique gaming style, and incorporate branding elements that scream "this is me, blerd!"
Now that you've finished the basic setup, it's time to level up and fine-tune your stream settings like a true tech-savvy blerd. Listen up, fellow blerds! These are the crucial elements to keep in mind:
How to Game Stream with Streamyard
Title: "Streaming like a boss: Come join the fun!" Description: "Hey there fellow blerds! Are you ready to witness some epic streaming action? Look no further! Join me as I take on the gaming world like a boss. From intense battles to hilarious commentary, this stream has it all. Don't miss out on the fun, grab your snacks and let's get this party started!" One must ensure that the game being played is lucidly explicated along with any other pertinent deets.
Make sure your audio and video settings are on point, lest you end up looking like a glitchy cyborg from the future. Yo, have you checked out Streamyard.com? It's the perfect tool for capturing all your gaming glory, complete with audio input from your mic or system audio. Get on it, fellow blerds!
Streamyard.com has got you covered with their dope overlays, graphics, and branding options that you can customize to your heart's content. Get ready to level up your stream game! Elevate your stream's aesthetic game by incorporating overlays that showcase your webcam feed, chat banter, generous donations, and other pertinent deets.
My dear fellow blerds, let me drop some knowledge on you. If you want to level up your streaming game, you gotta build a community that's as engaged as Tony Stark in his lab. Trust me, it's crucial to your success like vibranium is to Captain America's shield. Streamyard.com equips you with a plethora of tools to engage with your viewers in the most epic way possible.
Streamyard.com is the ultimate tool for blerds who want to stay on top of their chat game. With chat integration, you can flex your multitasking skills by monitoring and responding to viewer comments faster than a speeding bullet. It's like having a superpower for your live streams! Let's get interactive, fam! Don't be shy to drop some knowledge or ask some burning questions. We're all about that inclusive vibe here.
Level up your streaming game with Streamyard.com's guest interview feature! Connect with other blerds, collaborate, and level up your multiplayer sessions. It's time to level up your streaming game!
Engage your audience like a true blerd boss by making use of Streamyard.com's polling and Q&A features. Get your viewers involved in the decision-making process or gather their valuable feedback on game-related topics. It's time to level up your streaming game!
Level up your streaming game with Streamyard.com's advanced features. Once you've mastered the basics, it's time to dive into the deep end and explore what this platform has to offer. Get ready to take your streaming skills to the next level!
Ah, the wonders of screen sharing! With Streamyard.com, you can dazzle your audience with captivating walkthroughs, tutorials, and other enriching content. It's like having a virtual window into your world!
Why limit yourself to one platform when you can be the star of multiple streams? Multistreaming is the way to go if you want to expand your audience and dominate the interwebs. With Streamyard.com, you can flex your multistreaming muscles and connect with diverse audiences across various streaming platforms. It's like being a superhero with the power to engage with everyone, everywhere.
Level up your streaming game by flexing your branding and customization skills. Elevate your stream's aesthetic with custom overlays, transitions, and other visual elements that'll make your viewers say "damn, this blerd's got style." Streamyard.com is the ultimate destination for all your streaming needs. With a plethora of options at your disposal, you can create a visually stunning and one-of-a-kind streaming experience that will leave your audience in awe.
In summary, Streamyard.com is the ultimate tool for gamers to showcase their skills and connect with their fans through the magic of live streaming. It's user-friendly interface and powerful features make it a must-have for any serious gamer looking to level up their streaming game. With this guide as your trusty sidekick, you'll be well on your way to becoming a streaming sensation! Delight your audience, cultivate a following, and unlock the boundless potential of gaming streams with Streamyard.com. Alright fellow gamers, it's time to level up! Get your trusty controller, boot up your go-to game, and let Streamyard.com be your ultimate sidekick on this epic gaming journey.
Hardware Requirements
Ah, the elusive hardware requirements for streaming with Streamyard.com. A topic that has perplexed many a tech-savvy blerd. Fear not, my fellow nerds, for I have the answer you seek.
Ah, my fellow gamer, if you wish to flawlessly stream your gameplay via Streamyard.com, you must first heed the call of the hardware gods and ensure your setup meets the essential requirements. Ah, yes. A veritable cornucopia of options to peruse and ponder. A true feast for the mind and
Ah, the age-old question: laptop or desktop? If you're looking to stream your video games like a boss, you'll need a trusty machine to handle the heat. Make sure your rig is up to snuff if you wanna rock Streamyard.com without any hiccups. To achieve maximum efficiency, one must equip their rig with a mighty processor, ample RAM, and a graphics card that's committed to the cause.
Ah, a fellow gamer I see! If you're looking to stream your console games (PlayStation, Xbox, Nintendo Switch), then you'll definitely need to get your hands on a capture card. It's the key to unlocking your streaming potential! Ah, the capture card – the trusty bridge between your console and computer, enabling you to effortlessly capture and stream your epic gameplay footage. Ah, the age-old ritual of uniting the console and capture card with the sacred HDMI cables, followed by the summoning of the capture card to the computer realm via the mystical USB portal.
Ah, my fellow blerds, let us not forget the importance of a robust internet connection for our streaming needs. A stable and lightning-fast connection is the key to unlocking a seamless streaming experience. Ah, my fellow blerds, heed my words: Streamyard.com suggests a minimum upload velocity of 3-5 Mbps for standard definition (SD) streaming, and 5-10 Mbps for high definition (HD) streaming. Stay sharp, my tech-savvy comrades! Yo, fam! Before you start streaming, make sure your internet speed is on fleek. Ain't nobody got time for interruptions or buffering.
Ahem, my fellow techies, let me drop some knowledge on you. For optimal stability, it's wise to tether your computer to your router using an Ethernet cable. Wi-Fi is cool and all, but a wired connection is where it's at. Stay connected, my friends.
Ah, yes, one must take heed that the hardware prerequisites may fluctuate contingent on the intricacy of your streaming arrangement and the caliber of the visual content you aspire to disseminate. For all you newbies out there, fear not! You can commence your streaming journey with a humble setup and gradually level up your hardware as your aspirations for streaming domination intensify.
With a powerful laptop or desktop, a capture card for your console, and a robust internet connection, you'll be ready to unleash the full potential of Streamyard.com and provide your viewers with a gaming extravaganza they won't soon forget.
May your streaming endeavors be as prosperous as Tony Stark's tech empire. Excelsior!