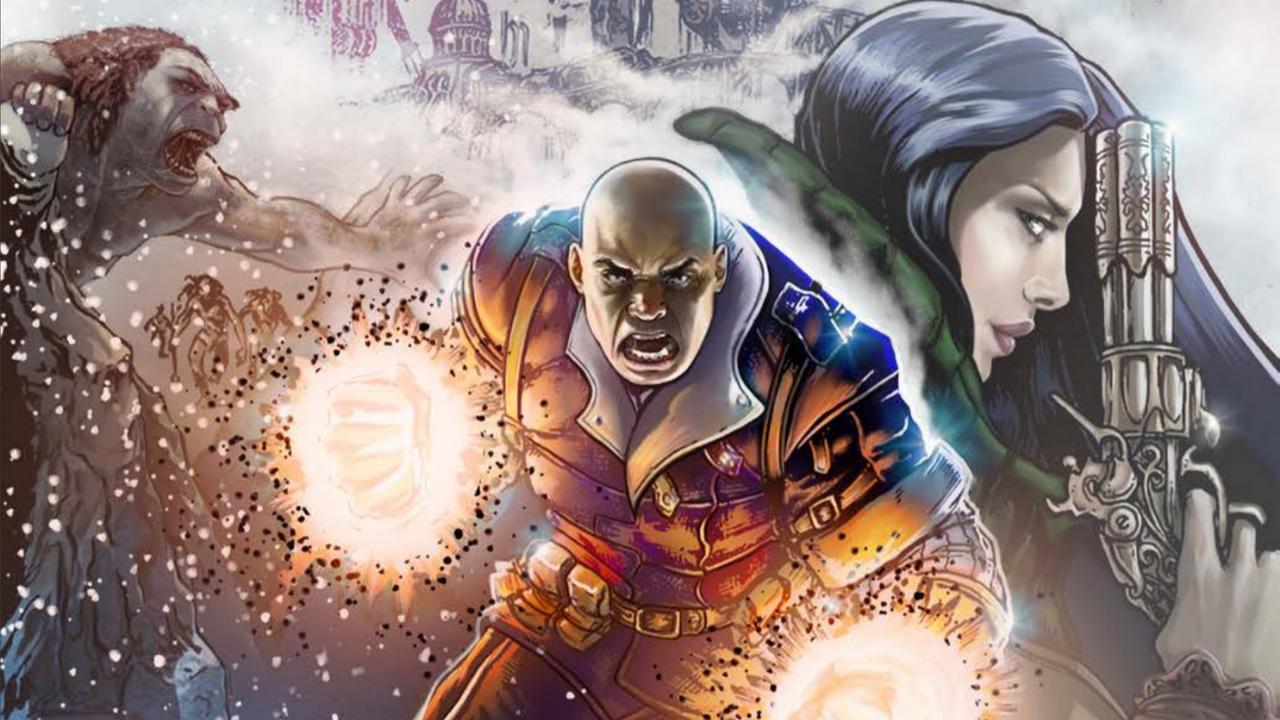 Indie Comics – Decimation Earth
This months indie comic is Decimation Earth and comes straight from creator David Rucker; who is a writer, a Marine Corps vet, and is also based in North Carolina. We have been following this project for a few months now and David was gracious enough to get us a preview copy early! Decimation Earth is a story about an ex-super solider named Gideon Morse as he tries to prevent evil forces that would awaken The Great Old Ones and threaten humanity.
Decimation Earth had a successful Kickstarter and managed to hit over their $4,500 goal to bring to life the beginning of this initial 5 book story. The promise is to tell a gripping story spanning over three different time periods (the Paleolithic, early 20th Century, and in the future around 2224). Chrono Trigger lists as one of my favorite games of all time, so I am all for a time skipping adventure.
I wanted to craft a story of heroes journey of  redemption with a character that didn't fit the stereotypical mold of black heroes in mainstream comics today. Decimation Earth is the culmination of that twenty year journey and is my homage to the greater concepts of Lovecraftian horror, the superhero mythology science fiction and steampunk. But, above all it has been an amazing experience and one that I can share with my children. To show them that if you can imagine it. You can achieve it no matter how long it takes.

-David Rucker / Creator
One of the distinguishing features of the art of Decimation Earth is the details in the eyes. Not only are they drawn extremely well, but the eyes move you and make you feel both wonder and empathy for the characters. A great example of this is early on in the story, when Professor Warren is about to open the crypt. I instantly had that black "don't do it bro" moment, but we all already know what is going to happen. Right?
I wont ruin what happens next, but you can probably guess that it was not good. The combination of the art & storyline truly shines over the next few pages. While reading through this comic, I kept thinking that a lot of the characters and iconography would look super dope as tattoos or wall prints. Certain panels are so well done that they feel like they almost pop off the screen (I read through a digital copy). The Decimation Earth production team includes:
David Rucker – Writer & Creator
Berry Newkirk – Co-Writer & Editor
Shawn Alleyne – Main Artist
Wolly McNair – Artist
Bernie Cooke – Artist
Barringer Fox Wingard III – Artist & Writer
Danny J Quick – Letter
Johndell Snead – Artist & Colorist
Our very own Blerd Without Fear got to spend some time with the creators:
I am excited to see where the rest of the Decimation Earth story goes. Make sure to support the creators on IG at DecimationEarthIX and the Decimation Studios website.