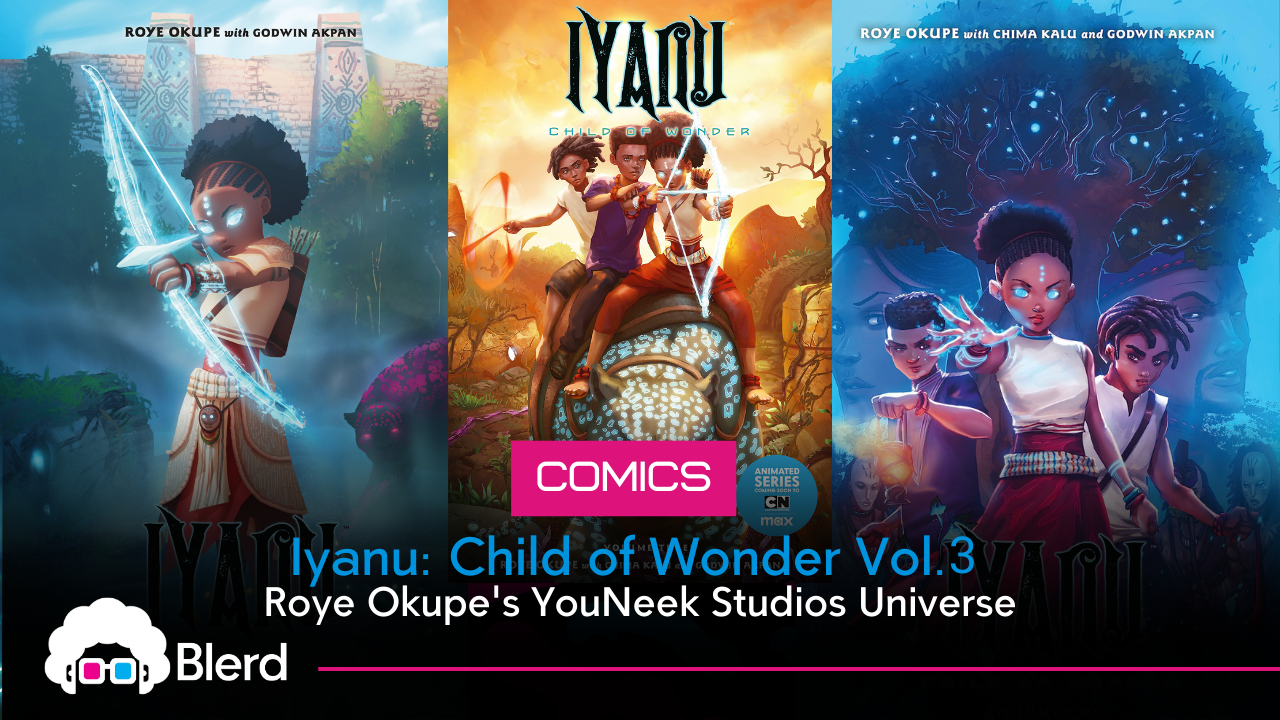 "Iyanu: Child of Wonder" Vol. 3: Unlocking the Marvels of Roye Okupe's YouNeek Studios Universe
In the ever-expanding landscape of graphic novels and comic book universes, there's a rising star that deserves your attention: Roye Okupe, the award-winning filmmaker, screenwriter, author, and founder of YouNeek Studios. Hailing from Lagos, Nigeria, Okupe has created a world of imagination and wonder that's captivating readers and viewers alike. In this article, we introduce you to the mesmerizing universe of YouNeek Studios and the enchanting "Iyanu: Child of Wonder" series. Plus, we'll encourage you to pre-order and immerse yourself in the upcoming third volume, where the adventure truly takes flight.
Introducing Roye Okupe
Roye Okupe's rise from Lagos, Nigeria, to prominence in the worlds of comics and animation is nothing short of amazing. His abilities as a director and playwright prompted him to start YouNeek Studios, where he envisioned a world where African culture and mythology would take center stage.
YouNeek Studios signed a historic 10-book publishing contract with Dark Horse Comics in 2021. This historic collaboration was then expanded to include an additional 20 novels. Okupe's aim of producing a distinct line of superhero and fantasy stories was realized as a result of this partnership. "Iyanu: Child of Wonder" stood out among these great stories and has now been greenlit as an animated series for HBO Max and Cartoon Network, with LionForge Animation at the helm and Roye serving as Executive Producer, Director, and Co-Creator.
Awards and Recognition
The contributions of Roye Okupe to the world of storytelling have not gone forgotten. In 2016, he was ranked #5 on Ventures Africa's list of 40 African innovators to watch, and he was named one of NewAfrican Magazine's 100 most influential Africans for two years in a row, in 2016 and 2017. Most significantly, Roye was nominated for the Dwayne McDuffie Award for Diversity in Comics in 2021, demonstrating his dedication to excellence and inclusivity in storytelling.
This honor piqued the interest of famed comic book publisher Dark Horse Comics, resulting in a significant partnership with YouNeek Studios in 2021. The partnership included the reprinting of YouNeek's existing catalog as well as the release of "Iyanu: Child of Wonder," which is now in its third volume. "Iyanu: Child of Wonder" won the coveted Nommo Award in 2022, solidifying its place in the pantheon of great graphic novels.
"Iyanu: Child of Wonder" – A Marvelous Journey
Let us now enter the magical realm of "Iyanu: Child of Wonder," in which ancient deities and a teenage orphan collide in a story that is both epic and engaging.
Vol 1: Discovering the Wonders
The first volume introduces readers to Iyanu, a teenage orphan who awakens to discover extraordinary skills that rival the old deities of her people's folklore. Her newly discovered abilities hold the key to rekindling a "age of wonders" and going on a journey to preserve a world on the verge of disaster. Faced with the Corrupt, cursed fauna, and celestial beasts bent on annihilating humanity, Iyanu must use her skills to avert the impending disaster.
Volume 2: Beyond the Walls
Volume 2 takes Iyanu outside the confines of her home. To save her mentor, she must swiftly adapt and collaborate with an exile and the residents of the Riverlands Settlement. Meanwhile, Chancellor Nuro devises a heinous plan to capture Iyanu, now known as the Chosen One, which threatens to wipe off Yorubaland. Dark Horse's YouNeek line extends with this great graphic novel series, delving further into the YouNeek Universe's rich lore.
Vol 3: The Power Source
In the third volume, Iyanu sets off on a mission to reach the Source and free Yorubaland from an old curse. She's not alone this time. With the help of her newfound friends—Biyi, a carefree adventurer; Toye, the bookworm; and Ekun, the magical and opinionated huge leopard—Team Chosen embarks on an epic quest that will permanently change their lives.
Order "Iyanu: Child of Wonder" Vol 3 now!
The enthusiasm and anticipation around the "Iyanu: Child of Wonder" series are tangible. This series is a must-read for fans of fantasy, superheroes, and thrilling adventures due to its deep plot, lively characters, and gorgeous artwork.
We encourage you to pre-order "Iyanu: Child of Wonder" Vol 3 and immerse yourself in Roye Okupe and YouNeek Studios' enchanting world. With each page turn, you'll go deeper into a world where wonder has no bounds and Iyanu's legacy continues to inspire.
Stay tuned for further details on the upcoming animated adaptation of "Iyanu: Child of Wonder" for HBO Max and Cartoon Network, a testimony to Roye Okupe's remarkable story. The YouNeek Universe's future is bright, and you won't want to miss a single second of it.