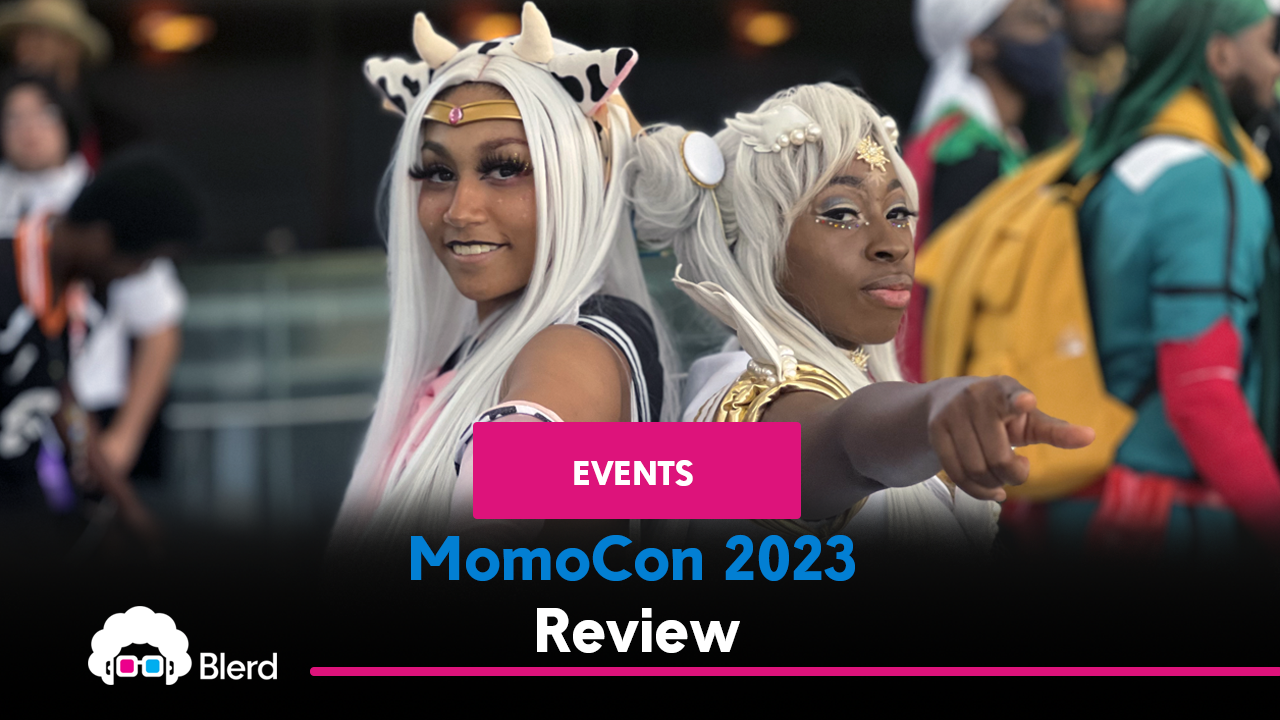 MomoCon 2023 Review: An Exceptional Blerd Hangout in Atlanta!
MomoCon 2023 Review
The Venue - 7.5
Event Schedule - 8.5
Special Guests & Vendors - 7.5
Wait Times - 8.5
Vibe - 8.5
8.1
For its exceptional handling of Event Scheduling, Wait Times, and the overall Vibe, MomoCon receives high commendation.
MomoCon 2023 was a memorable way to kick off the summer con season! This mid-sized convention strikes an excellent balance between exclusivity and scale, not too overwhelming but definitely not undersized. Attendance was up this year with almost 50,000 gamers, comic book lovers, anime, and pop-culture fans attending the event held annually at the Georgia World Congress Center in Atlanta, Georgia. Convention attendance seems to be up from MomoCon 2022 as people have become gradually more comfortable being in crowds post-covid. We will continue to use the same rating criteria that we always use for conventions which are: The Venue, Event Schedule, Vendors & Special Guest, Wait Times, and Overall Vibe. Scores of 10 mean near perfection which would be incredibly difficult to obtain.
The MomoCon 2023 Venue: The Atlanta Blerds Are Out and About!
There's no doubt about it – if there's a convention in Atlanta, the blerds will show up and show out! MomoCon 2023 was no different. The Georgia World Congress Center is a great-sized venue for the size of the crowd that attends. It isn't overly crowded, the airflow was good, and it has fantastic spots for photoshoots both inside and directly outside. The centralization of everything makes MomoCon one of the easiest mid-sized conventions to navigate. The MomoCon team did an ever better job this year of making sure lines and congestion hotspots were kept to a minimum.
The MomoCon 2023 Event Schedule
MomoCon delights with strong scheduling again in 2023. There was a massive Spider-Man meetup (they didn't break the world record, unfortunately), lots of learning panels, dancing, and much more. MomoCon does an especially good job of focusing on diversity and inclusion panels which gets high marks from us. Some of the diversity panels included: Black Animated and Nerdy, Curly Cosplay Wigs, LGBTQ+ Representation in Video Games, and of course the Black Cosplayers Photoshoot. We want to especially give a shoutout to the organizers of the photoshoot for doing such an amazing job! See below for images of The Black Cosplayers Photoshoot at Momocon 2023 along with some videos:
MomoCon 2023 Special Guests & Vendors
MomoCon 2023 brought together a unique mix of guests and vendors. From popular voice actors to emerging TikTokers, the special guests at this year's event added star power to an already impressive lineup. Some of the special guests included Catero Colbert (Killer Bee – Naruto), Don Bluth (Dragon's Lair), Colleen O'Shaughnessey (Sonic the Hedgehog 2 – Tails)Olivia Hack (Avatar: The Last Airbender & Hey Arnold), Janet Varney (The Legend of Korra), Yuri Lowenthal (Naruto, Ben 10, Spider-Man), Justin Briner (My Hero Academia) and more.
The vendors' area was equally impressive, with a good variety of merchandise that catered to everyone's nerd streak. Momocon again puts a strong emphasis on the diversity of not only owners but also the types of merchandise offered. I did control myself more than normal this year, but still picked up a few indie comics to review later on.
MomoCon 2023 Wait Times
MomoCon 2023 impressed us with its efficiency. Wait times were kept to a minimum, allowing attendees to maximize their convention experience. Whether it was joining panel discussions or meeting special guests, everything was streamlined and seamless. Low waits times always makes for a better experience!
The MomoCon 2023 Vibe: A Celebration of Cosplay and Community
Perhaps the most subjective of our rating categories, the vibe at MomoCon 2023 was electric. Whether it was the spontaneous dance-offs or random chats with fellow attendees, MomoCon offered a unique and enjoyable experience that went beyond the scheduled events. Being in Atlanta, there were lots of night events that extended into the evening including Trap Sushi, SonicBoomBox & Senpai Squad. If you attend a MomoCon make sure to stick around the outside of Georgia World Congress Center a bit at night to see all the cow costumes that break out!
MomoCon 2023 Photos
MomoCon 2023 was an amazing experience, once again proving to be a standout in the con season. Whether you're a seasoned attendee or a first-time visitor, there's no doubt that MomoCon is a must-visit event, especially if you're a blerd. Did you attend MomoCon 2023? If so let us know what you thought on our social media @blerdofficial
Like Blerd Content like this? Support Blerd by making a purchase in The Blerd Shop.