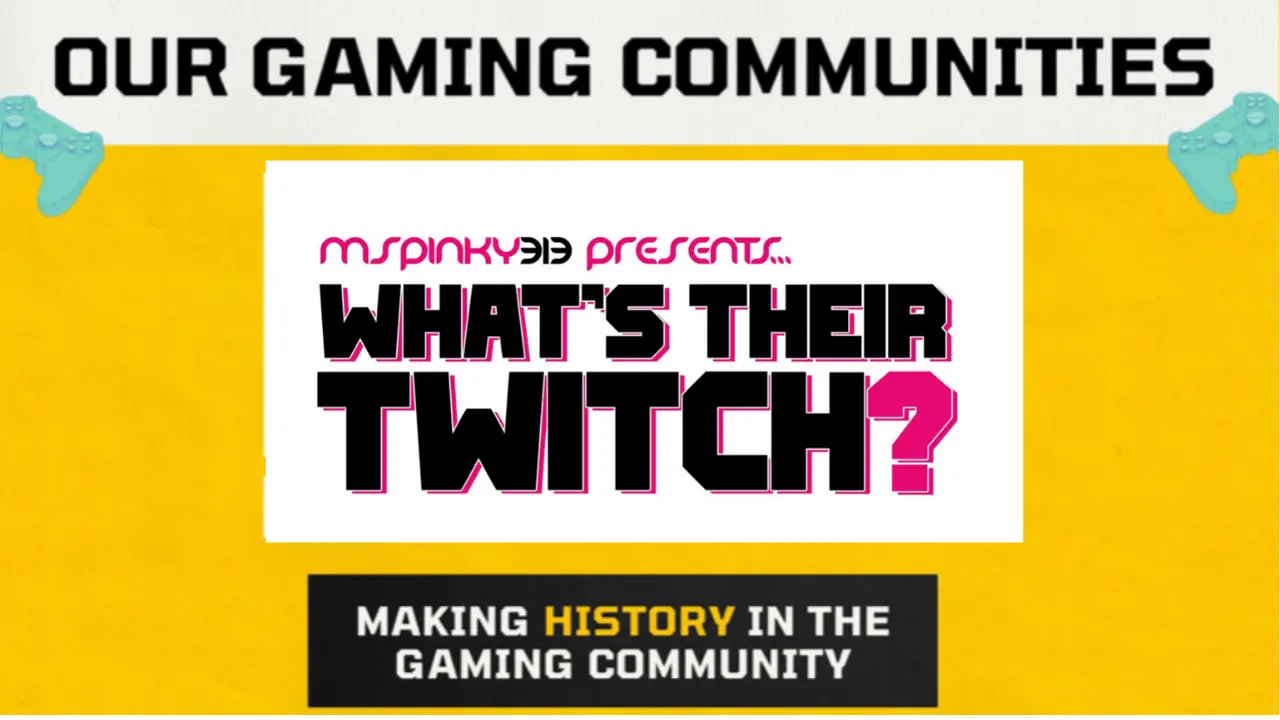 Our Gaming Communities BGGC
Hey Blerds, hey! For Black History Month I wanted to highlight and showcase gaming communities that are making big strides in the gaming industry. Next, we Brandii! She is the Founder of Brown Girl Gamer Code. Check out the Brown Girl Gamer Code team community on Twitch at www.twitch.tv/browngirlgamercode and browngirlgamercode.carrd.co/. Follow Brandii on Twitter at twitter.com/YoBrandii_.
Tell us about yourself? How did you get into the gaming industry?
My name is Brandii JaVia and I am the Founder of Brown Girl Gamer Code! I got into the industry after reflecting on the lack of representation of Black Women and Women of Color with my best friend and figuring out how I could do my part to change that. Streaming was really the gateway to me accessing other gamers who are passionate about the same things and a way for me to learn more from folks in the industry!
How would you define a gaming community?
To me, a gaming community is a group of people who come together based on their love for gaming, wanting to make friends, and support each other. Community to me goes both ways. It's a space that is meant for learning and growth and bonding, where members can work towards goals and gain access to opportunities helpful to them. It's also a space where members give back to the community by supporting events and helping each other. Gaming is amazing because it has allowed so many folks from all over the world to come together and form communities of their own and everlasting bonds. 
Tell us about your gaming community?
Brown Girl Gamer Code is a global digital community of Black women and Women of Color in gaming and tech who strive for equity and representation in both industries. I started BGGC in 2017 after reflecting with my best friend about not feeling represented often and accurately in gaming either onscreen or behind the scenes. It was really hard to do a simple google search  and find (specifically) Black and Indigenous women in the industry. It's gotten better but still pretty difficult. I wanted a space for Brown women to be able to come together and talk about our love for gaming safely and as much as we wanted, while also breaking the barriers that we face as a community. 
Since its inception. BGGC has hosted over 30+ virtual community events, and we have grown to have members all over the world from the U.S, the U.K., the Caribbean, and more! Our community consists of game designers/developers, web designers/developers, streamers and content creators, voice actresses, community managers, digital artists, cosplayers, music composers, and more! I do not run BGGC alone, my amazing admin team helps with all that goes into community management and I'm so grateful for them! We do everything as a team. To spotlight some of the work we have done in the past, we have an initiative known as "Code Chats" where I host live interviews of community members and Black and Brown women in the industry! We host charity streams, game nights, and have a weekly stream schedule featuring our Official Stream Team on Twitch. I am constantly in awe of this community. They are so supportive of each other and genuinely care about learning and growing and making the industry better! I am so excited for you all to see the things we have planned next!
What changes are you doing to make the gaming industry/community better as a whole?
One of the current biggest issues in the gaming industry/community is online harassment on social media and in online chats, especially against marginalized identities. I've recently been working on better ways to keep our communities safe and also spread awareness on the issue. A Lot of the toxicity in the industry stems from early advertising from gaming companies, and also issues such as racism, sexism, homophobia, transphobia, and anti-blackness that seeps into online gaming when it goes unchecked. Gamers are able to remain anonymous while online and dissociate their toxic behavior from their real lives and without much consequence. I've been working with survivor-centered organizations to spread awareness on these issues. I recently conducted a survey within BGGC to highlight experiences of harassment and the importance of community and presented at the National Network to end Domestic Violence Tech Summit in August 2020.
In addition to that, I also believe in doing internal community work to create change. This means providing my community with the tools and resources they need to go out there and be successful in the industry. I'm an educator at heart and really enjoy learning from them as much as I love teaching. We host nights in discord where we listen to podcasts on relative topics in the industry, host workshops related to Esports, and are currently working with gaming companies to build relationships with them and create a gateway for more opportunities. One of my biggest strengths is gathering and sharing resources! If folks are asking for help with something, 9 times out of 10, I can find resources for it lol. And if I can't, I can find someone who can help! I'd like to see more Brown women in top leadership positions as well as receiving the opportunity to get their careers started, which is another project I'm working on. 
What are some of the resources and support that you use?
For project management, I use Notion. It's been a great help in keeping me focused and organized. I also use Canva A LOT. Canva is a great resource for streaming and content creation. I have made my channels overlays and the pitch deck for BGGC in there! I honestly swear by it! In terms of support, I definitely lean on my BGGC admin team for support. You do not have to do this work alone, and nor should you anyway. Building a solid team is hella important! I also rely on my mentors.
What is the biggest lesson you've learned as being a Community Manager? What was your biggest win?
The biggest lesson I've learned is to ask for help when you need it! Do not try and do everything on your own. You'll end up burned out and hella stressed! Build a team of folks you trust and rely on them. They genuinely want to help and see the community grow and run smoothly. There are also some really dope people in the industry looking to help and support communities like ours that are trying to make a difference. Community management is way too difficult and complex to do on your own. Surround yourself with good people and people who know how to do the things you don't and can do them well!
My biggest win? I've honestly had so many with BGGC! I don't know if I have a "biggest" win but I can name a few of my favorites! Being invited to the Twitch Headquarters for Black History Month in 2020, Being nominated and a finalist for Best Gaming Community for thegameher 2020 awards, our 13 Nights of Horror event where we raised almost $1000 for Charity, Interviewing Best Selling author Brittney Morris for BGGC, and our 2020 end of the year celebration stream where we had our members submit their personal accomplishments for the year and shared them on stream. That was absolutely amazing to see!
What makes you feel inspired or your best self?
Meditating, listening to podcasts that are focused on Black women, my lovely mother who is always encouraging and supporting me, and definitely my partner who is always uplifting me, especially when I'm at my lowest. I would also say the folks in BGGC inspire me daily. They really are just so talented and so motivating and supportive. We have a channel in discord called "Motivation Station" where we post inspirational things and will also call upon the community to inspire someone that we see beating down or second guessing themselves. I am truly blessed in having an amazing support system!
If nothing was holding you back what project would you do and would you want to be known only by that project?
I've mentioned this for a while, but a mentorship program for women of color in the gaming and tech industry! I'd love for our folks to be able to sign up for a mentor that's already in the industry to help with career advice, etc., taking it a step further in what representation means for us! I wouldn't want to only be known by that project because….I have a million other ideas in my head lol!
Blerd is all things nerd and geek through a people of color culture lens. What makes you a blerd?
My love and passion for gaming and horror makes me a blerd! It's my perspective navigating this industry and community as a Black Woman and sharing experiences with others!