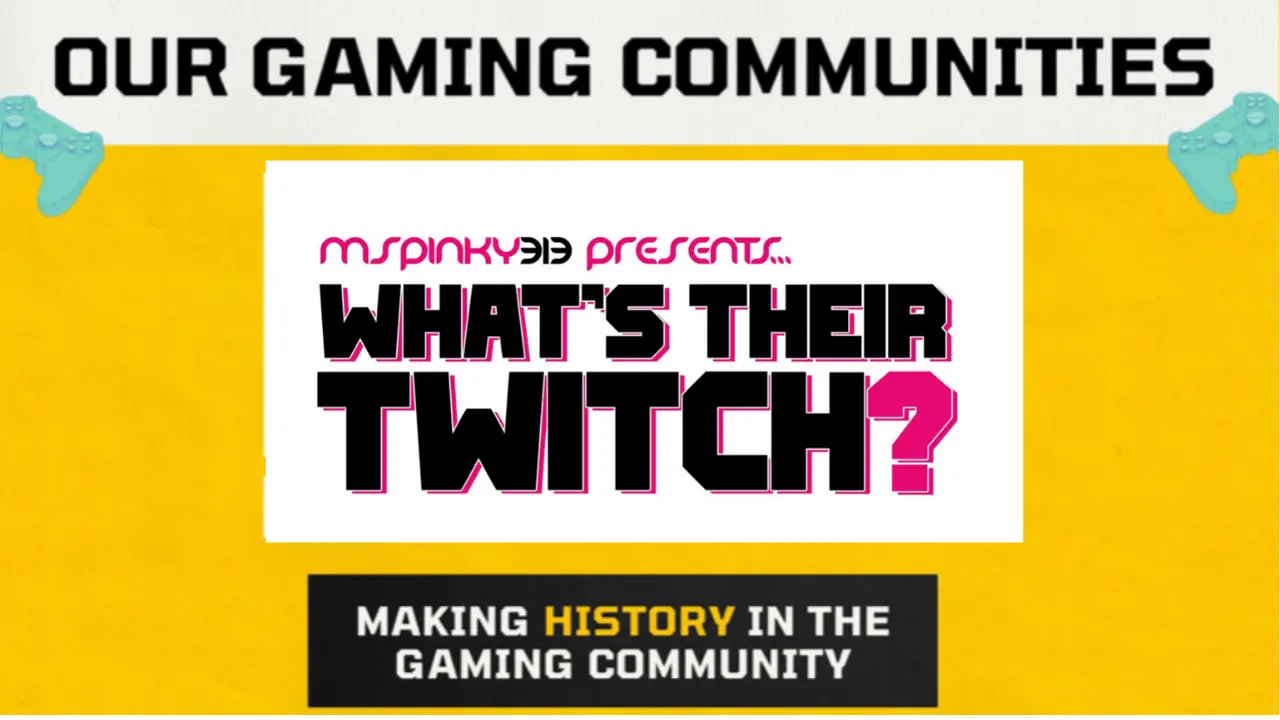 Our Gaming Communities Melanin Gaming
Hey Blerds Hey! For Black History Month I wanted to highlight and showcase gaming communities that are making big strides in the gaming industry. Next, we have Annabel! She is the Founder of Melanin Gamers. Check out the Melanin Gamers community on Twitch at www.twitch.tv/melaningamers, www.instagram.com/melaningamers, Twitter @MelaninGamers, and their YouTube channel www.youtube.com/channel/UC1BTtN8uZMUXQYKS9NmJP8g. Also, check out Melanin Gamers website www.themelaningamers.com.
Tell us about yourself? How did you get into the gaming industry?
My name is Annabel or Creativelyanzy. I'm an award-winning writer. I am also a Women in Games Ambassador and the founder of Melanin Gamers, a gaming community that promotes inclusion and diversity in the video games industry. Alongside my passion for writing and gaming; I am also an avid fundraiser and I regularly work with the Bloodfund, an Imperial Health Charity to raise awareness and funds for Sickle-Cell Anaemia.
I got into gaming because of the stories and also escapism. I spent a lot of my childhood in the hospital so I read a lot of books and when I discovered gaming it was as diverse and as rich as the books I had been reading to escape my surroundings.
I love being a gamer.
As a black woman, the story does not begin and end with merely stating that I am a gamer. The gaming industry has been both something I love and hate, simply because of this fact. There are layers to my rationale for wanting change but this fact heavily influenced my rationale from wishing for change to actually actively pursuing the change I wanted to see. I believe the reason stems from the very core of me as an advocate. An advocate is defined as someone who provides support when others need it. I am an advocate. It was one of my motivating factors for creating Melanin Gamers.
How would you define a gaming community?
A gaming community should be exactly that a community – where people can come together, talk and game and just geek out in place surrounded by people who understand them from wherever they are in the while.
Tell us about your gaming community?
Melanin Gamers is a gaming community that promotes inclusion and diversity in the video games industry, with a special focus on content creators, whiles also proving a safe space for people of color to come together and game.
What changes are you doing to make the gaming industry/community better as a whole?
Our approach to increasing diversity in the industry is threefold: Panel talks online and IRL at conventions such as EGX, MCM Comic-Con, and Insomnia gaming festival. To educate and spread our message. Gaming tournaments to grow our community and provide a place where people can come together and socialize. We engage with local youths, families, and their caretakers we have contacts in the gaming industry – we can provide paid internships. Our online presence we showcase different content creators of color. We interview and highlight industry insiders of color and content creators. The future is tech and MG is going to ensure that it is an inclusive future that includes all races, all the LGBTQI community, and all religions.
What are some of the resources and support that you use?
Melanin Gamers utilizes live streaming platforms Twitch and Facebook to deliver content directly to its community, as playing and enjoying video games as a community is the central activity of Melanin gamers, members of all levels (including its management group) frequently use these channels to stream content in order to entertain, engage directly with the community and to build further connections with its viewers. Melanin gamers also use these platforms to host tournaments, which allows direct participation from its community in games chosen by popular vote.
What is the biggest lesson you've learned as being a Community Manager?
Managing my time is probably the biggest lesson I have learned as a community manager.
What was your biggest win?
I would say my biggest win was having the courage to create Melanin Gamers in the first place and having a team that are all dedicated to one goal: increase diversity and inclusion in the gaming industry.
What makes you feel inspired or your best self?
I gather inspiration from everywhere. The MG community constantly inspires me.
If nothing was holding you back what project would you do and would you want to be known only by that project?
There is nothing I wouldn't do even if something was trying to hold me back.
Blerd is all things nerd and geek through a people of color culture lens. What makes you a blerd?
I am a blerd as I am a black woman who loves video games and all things in the nerd culture especially those of a Melaninated origin.