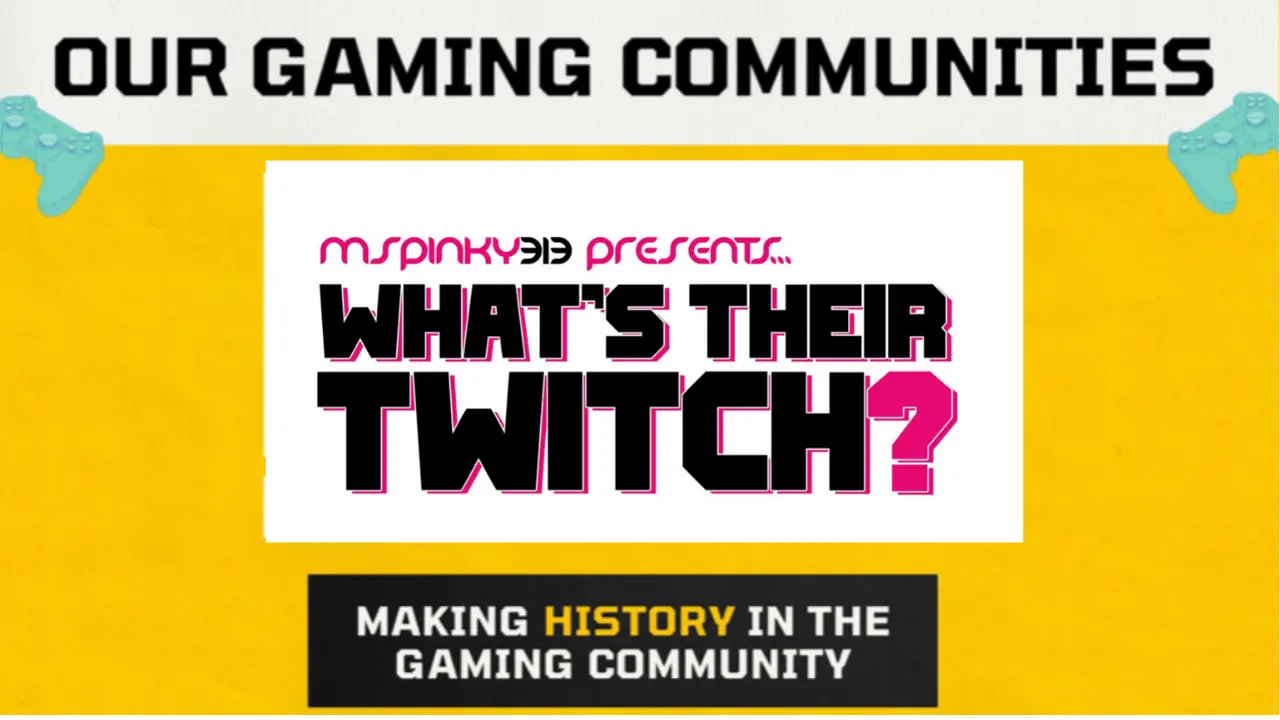 Our Gaming Communities: Real ones Gaming
Hey Blerds, hey! For Black History Month I wanted to highlight and showcase gaming communities that are making big strides in the gaming industry. First, we have Sean "Greensp" is the founder and president of RealOnesGaming. Watch RealOnesGaming on Twitch at www.twitch.tv/realonesgaming, Facebook Gaming www.fb.gg/RealOnesGaming, and YouTube RealOnesGaming. Follow RealOnesGaming on social media, Twitter @OnesGaming, Instagram @RealOnesGaming, and TikTok @RealOnesGaming.
Tell us about yourself? How did you get into the gaming industry?
Well, I am a Baltimore native and have been gaming since I can remember. My first memory in my life is me playing with an old Atari controller in the basement of a house we shared with my aunt. The Christmas my parents were able to move us into our own apartment, I remember getting the Nintendo NES. Ever since then I've been hooked. I would like to think that those memories were me getting into the industry because that's where my passion for gaming started. But If we are getting technical then I believe it was 2004. I was writing for my school newspaper and would submit gaming articles to the main editor, I was the sports editor, and I ended up meeting the owner of a local gaming store. He asked if I would like to write articles for a newsletter that he was giving away to his customers and I jumped on it. From there I started organizing gaming fan clubs, joining tournaments at my GameStop and Game crazy stores, and with social media rising at the time, I engaged in being active in the industry as much as possible. Now I am the Founder and President of RealOnesGaming, an organization that strives to uplift and showcase content creators in the gaming world. Our focus is to use our platforms to educate and inform the world of how amazing gaming is to us and to show them the many talents within our community.
How would you define a gaming community?
A gaming community, to me, is a collection of gamers who all have something in common. The love of gaming doesn't have to be that common thing though. Maybe it's a love for fighting games, or maybe a love for cosplay of gaming characters, or it could be deeper than that. In RealOnesGaming, I believe, the common thing within our community is the desire to enjoy gaming while constantly learning and getting better at our crafts. We have a lot of fun but we fun learning new ways to express our love for gaming; like streaming, cosplaying, broadcasting, video production, journalism, painting, and more.
Tell us about your gaming community?
RealOnesGaming started as just a thought, there were 3 or 4 of us that always played games and we thought about streaming. MsPinky313 was already streaming and was building her community and I always thought about it but didn't have the equipment or time to do it. I moved back to Baltimore in 2018 and started streaming that fall and the conversations that we had while I was streaming got people telling us that it was like a radio show and they loved it. So that December I asked MsPinky313 and Kingaj_15 what they thought about doing a podcast, again the name was always a thought, so instantly we knew the podcast would be "RealOnesGaming podcast." We recorded Jan 19th, 2019, and have been growing since. Later that year we created our discord channel, opened up our community, and started working with a lot of creators that had the same mindset. We had the website up by May of 2020 and again we have been building since then!
We now have a community open to any who just want to share their passion for gaming in any form, we learn from each other and pick up new skills every week. I personally have started getting more into writing and video creating and I make sure to share tools with the community. We have movie nights, community gaming nights, we take part in social protests and donate to a lot of great causes, we share opportunities in the gaming industry that people may want to partake in, and we build confidence in content creators.
What changes are you doing to make the gaming industry/community better as a whole?
Beyond the education of our members, our weekly podcast where we discuss and inform listeners of the controversial and important topics, we take part in programs and projects that inform people of the issues of the industry. For instance, we are partnered with gamers.vote which is a non-partisan organization that focuses on getting as many gamers registered to vote as possible because a lot of politicians are now targeting the gaming community without knowing what the gaming world is really about. We also take part in protests against racial injustices because the issues that happen outside the gaming world are still problems within the gaming world. Our Community is primarily black and part of the LGBTQIA community so if we know of a way to help, we jump into it asap. A large Portion (black, other minority, LGBTQIA) of Gamers voices are not being heard and we are fighting for the truth to be told and acknowledged. I am hoping our efforts help and improves the community but we will not stop until changes are made
What are some of the resources and support that you use?
We utilize social media all around. We learn so much from communicating with others on all of the platforms (Twitter, Instagram, etc.). We currently use Anchor.FM to broadcast a record Podcast which is also on Spotify, Apple Podcast, Google podcast, YouTube, and more. A lot of our support is from other communities such as Blerd, Melaningamers, DFP army, and indie development communities like Wulum.
What is the biggest lesson you've learned as being a Community Manager? What was your biggest win?
The biggest lesson has to be "be aggressive and listen to yourself." This is a recent lesson (past few weeks) that I've learned. As the Community Manager, I am a leader and I can't question decisions or ideas. Yes, I have an executive team that does a great and amazing job, however, I have to remember that I can't question myself because then I would question everything I've done so far. So I've learned to just dive into all projects and start getting more people involved with RealOnesGaming.
My biggest win? Well other than Pinky, I have another "big sis" in the industry. DafemalePhenom. I've been watching her for about 2 or more years and have had great conversations with her. We are both from Baltimore, MD so she has been someone I've looked up to the most because she knows what it's like to be from there. It's hard to be a blerd anywhere but being a blerd growing up in Baltimore and now being told that you can make a career out of it is something that seemed impossible. But I saw Phenom get past all of that and become one of the biggest names on twitch just amazes me! So I recently sent over a project idea for an article that I wanted to write up and she was excited to do it, I was nervous to even send it so the fact that she was excited was a huge weight off my shoulders, but she said in a reply that she was proud of me. Now that may not be a big deal to a lot of people but reading that from her and hearing that from other people that inspire me like MsPinky313, PushplaytheDJ, or, most recently, Munchkindoom, makes me feel a way that I've never felt. Again, coming from where I'm from, you don't hear that in regards to you doing something gaming related. So knowing that what I am doing is making such an impact that people are acknowledging and respecting it, especially people like Phenom, is probably the biggest win for me.
What makes you feel inspired or your best self?
Looking at old photos from 2 years ago and looking at where I am at now. It's only 2 years but a lot has changed in my life.
If nothing was holding you back what project would you do and would you want to be known only by that project?
I would love to have RealOnesGaming a top name so the project would probably be a tv show version of the podcast. And I wouldn't want that to be the only thing I'm known by but it would be a great "first step."
Blerd is all things nerd and geek through a people of color culture lens. What makes you a blerd?
I've been a nerd/blerd all of my life. Growing up my passions were Star Wars, Anime, and video games and that hasn't changed a bit into my adult life. I have always been "that star wars guy" and I do not see that changing ever. What makes me a blerd is my passion for the art of gaming, anime, and movies. I love the storytelling, the design, and the overall message that each project tells. I dedicate my life to these amazing communities and I enjoy interacting with everyone within the communities. I'm a blerd because I see the beauty in a culture that others don't.