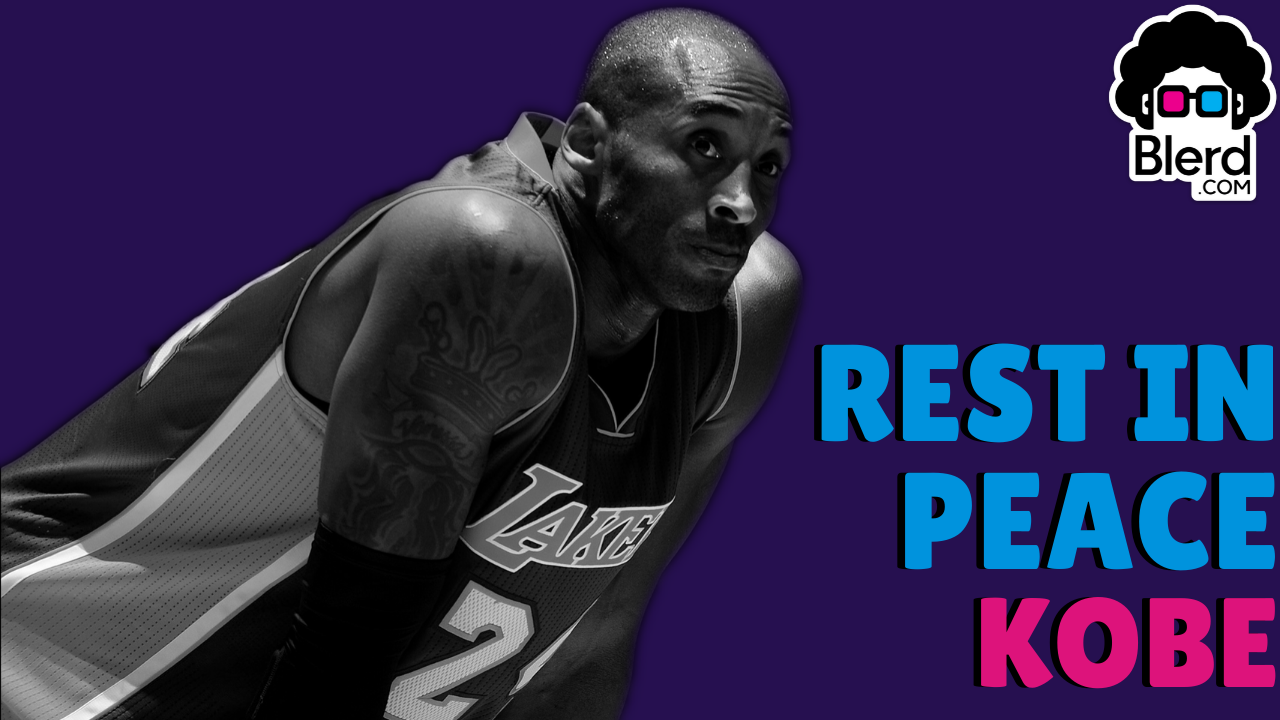 #RIPKobe – We lose the iconic #BlackMamba
News broke today that we lost the iconic Black Mamba himself and basketball legend Kobe Bryant. Kobe Bryant died at the age of 41 in a helicopter crash the morning of January 26th 2020 in Calabasas, California. Via ESPN " Kobe and his 13 year old daughter Gianna Bryant were among five people killed" This one hit close to the Blerd team as management became friends due to their love of sports, sneakers and nerd culture.
Kobe's rep has confirmed that his 13-year-old daughter Gianna Bryant was also on the helicopter when it crashed. ???? pic.twitter.com/4UOsHjPguv

— theScore (@theScore) January 26, 2020
Kobe Bryant, aka the Black Mamba, was drafted 13th in the 1996 NBA draft straight out of Lower Merion High School in Philadelphia, Pennsylvania to the Charlotte Hornets. Kobe was easily one of the greatest basketball players of all time and was a pillar of the Los Angeles Lakers (he is the all-time leading scorer in Lakers franchise history), where he spent his entire 20 year career. Kobe won 5 NBA championships (and was a NBA Finals MVP twice), a slam dunk contest in 1997 as a rookie, was an 18-time NBA All-Star and was even the 2008 NBA MVP. Kobe also won gold medals at the 2008 and 2012 Summer Olympics. Through his hard work and accomplishments Kobe Bryant taught us what Mamba Mentality meant.
The NBA family is devastated by the tragic passing of Kobe Bryant and his daughter, Gianna.
For 20 seasons, Kobe showed us what is possible when remarkable talent blends with an absolute devotion to winning. He was one of the most extraordinary players in the history of our game with accomplishments that are legendary: five NBA championships, an NBA MVP award, 18 NBA All-Star selections, and two Olympic gold medals. But he will be remembered most for inspiring people around the world to pick up a basketball and compete to the very best of their ability. He was generous with the wisdom he acquired and saw it as his mission to share it with future generation of players, taking special delight in passing down his love of the game to Gianna.
We send our heartfelt condolences to his wife, Vanessa, and their family, the Lakers organization and the entire sports world

Adam Silver – NBA Commissioner – via Shams Charania
There's no words to express the pain Im going through with this tragedy of loosing my neice Gigi & my brother @kobebryant I love u and u will be missed. My condolences goes out to the Bryant family and the families of the other passengers on board. IM SICK RIGHT NOW pic.twitter.com/pigHywq3c1

— SHAQ (@SHAQ) January 26, 2020
The Rockets and Nuggets held a moment of silence before tipoff to remember Kobe Bryant. pic.twitter.com/PAiFHze1LK

— SportsCenter (@SportsCenter) January 26, 2020
Kobe was a legend on the court and just getting started in what would have been just as meaningful a second act. To lose Gianna is even more heartbreaking to us as parents. Michelle and I send love and prayers to Vanessa and the entire Bryant family on an unthinkable day.

— Barack Obama (@BarackObama) January 26, 2020
Most people will remember Kobe as the magnificent athlete who inspired a whole generation of basketball players. But I will always remember him as a man who was much more than an athlete. pic.twitter.com/9EZuwk8wrV

— Kareem Abdul-Jabbar (@kaj33) January 26, 2020
LeBron James was emotional as the Lakers landed after the news of Kobe's death

(via @12SportsAZ)pic.twitter.com/NKk8ZDpkwW

— Bleacher Report (@BleacherReport) January 26, 2020
Michael Jordan mourns the death of Kobe Bryant pic.twitter.com/XXeicRqnuC

— Bleacher Report (@BleacherReport) January 26, 2020
Kobe was an inspiration to many and the epitome of getting results through hard work. The Black Mamba is the reason that many of us picked up a basketball in the first place, however Kobe was more than just a basketball player. Kobe was also a businessman, philanthropist, actor, author and even rapper. Quite simply, Kobe Bryant was the epitome of #BlackExcellence. We will miss you Kobe and will continue to shout "KOBE!" whenever we shoot something in wastebasket in your honor. Mamba Out. Rest in Peace Kobe.
Watching Kobe Bryant highlights will NEVER be the same ???? pic.twitter.com/i64jAbqlEK

— Kobe Bryant (@CountOn24) January 26, 2020
8 ???? 24 pic.twitter.com/jqsDiawXvn

— Bleacher Report (@BleacherReport) January 27, 2020