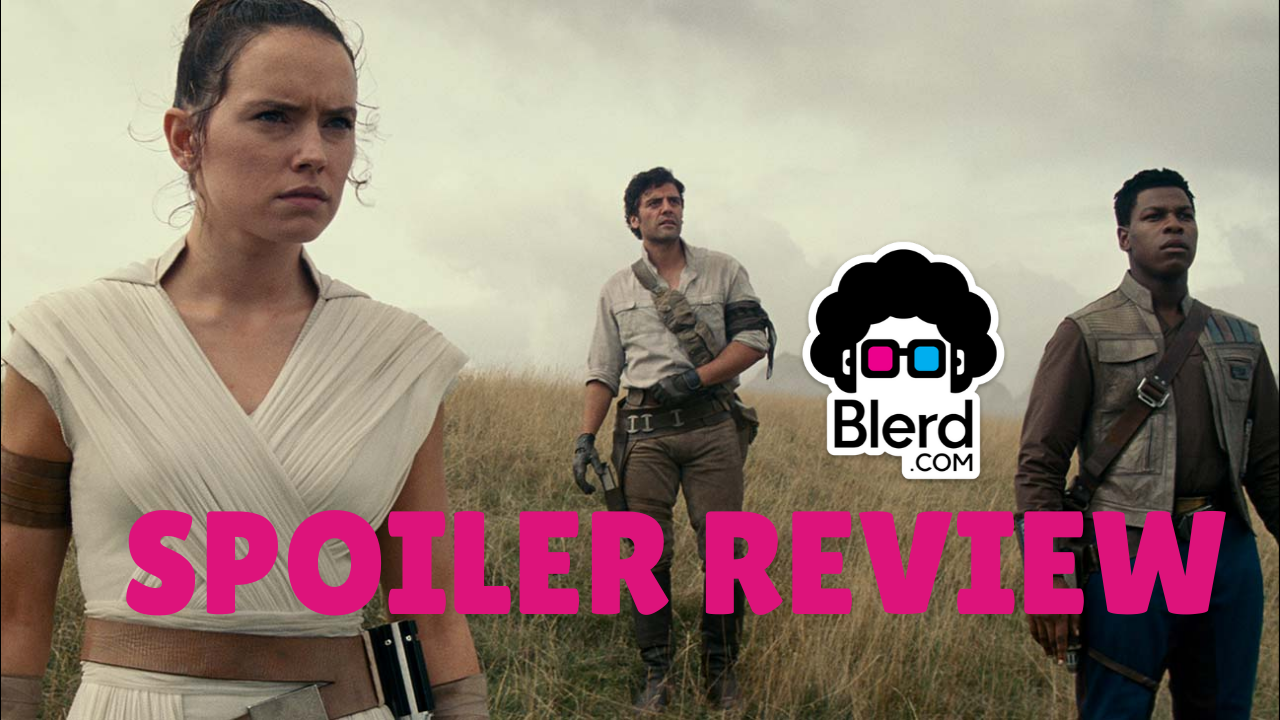 Rise of Skywalker Spoiler Review
STAR WARS: THE RISE OF SKYWALKER
Storyline - 3
Acting - 4
Cinematography - 8
Music - 9
Overall Impact - 3
5.4
Wraps up the latest Star Wars trilogy in an ok manner, will delight casual viewers and be meh to Star Wars nerds.
STAR WARS: THE RISE OF SKYWALKER
Storyline - 3
Acting - 4
Cinematography - 8
Music - 9
Overall Impact - 3
5.4
Wraps up the latest Star Wars trilogy in an ok manner, will delight casual viewers and be meh to Star Wars nerds.
Star Wars: The Rise of Skywalker will forever serve as an example as to why you should use the same director if you are going to make a trilogy. The Rise of Skywalker is a fast paced 2.5 hour sprint of director J.J. Abrams trying to erase the events of The Last Jedi while wrapping up the most recent trilogy in a coherent manner. Most fans of Star Wars will agree that The Last Jedi (directed by Rian Johnson) was towards the bottom of the rankings in regards to Star Wars movies, and The Rise of Skywalker shows that Abrams agreed.
That being said, it is a new Star Wars movie and you owe it to yourself to check it out. This is a spoiler review, so stop reading if you have not watched the movie yet:
Storyline
Star Wars: The Rise of Skywalker opens with Kylo Ren (Adam Driver) mowing down his enemies as he retrieves a Sith Wayfinder artifact to lead him to hidden Sith planet Exegol. On Exegol, Kylo Ren learns that Emperor Palpatine has been secretly manipulating him to the dark side the entire trilogy. Palpatine's goal is to have Kylo Ren strike down Rey and have The Final Order rule the universe.
On the opposite end, The Resistance is trying to prevent these events from happening. The first half of the story is an extended fetch quest where Rey, Finn, Poe, Chewbacca and the droids hunt down another Wayfinder to reach Exegol. This all happens at breakneck speed with exposition jumping from one thing to the next.
Rise of Skywalker moves extremely fast. Before you can even settle into the impact of one scene, you are immediately jumped into the next event. It feels like this movie should have stretched to 3 hours, or have been broken into two parts. I find this to be the biggest issue with the story and it affects character development. This is especially true of the POC characters, who could have been written out completely except for Lando. Finn and Poe feel completely interchangeable , Jannah was introduced unnecessarily and J.J. Abrams basically erases Rose from existence.
Star Wars: Rise of Skywalker does get points in the story for closing many of the plot holes created in the Last Jedi and The Force Awakens. One of the best parts of the storyline are the flashback sequences of Luke training Leia. Not only is this a nod to Star Wars fans, but it explains Leia being able to effectively train Rey. If this piece of the story somehow happened in the Last Jedi instead, the trilogy would have made a lot more sense. Major Spoiler: Rey being a descendant of Palpatine explains her level of power with the force, but she would still need some level of training to be adept at fighting.
While some plot holes in the new trilogy are filled, this is often done in clumsy and awkward way. For example, we are supposed to accept that Emperor Palpatine has been around the whole time, but we aren't told how he survived being thrown in the reactor shaft by Darth Vader in Return of The Jedi. It is easy to accept Rey has a strong bond to Kylo Ren / Ben, but she goes from hating him to awkwardly kissing him right before his death. We also never get any explanations on how Finn fine tuned his force sensitivity, why all of a sudden a ridiculously huge fleet appears for Lando, or how Rey developed such strong force healing.
Whenever a bold decision is made in The Rise of Skywalker, the story backtracks. One example is Rey killing Chewbacca with force lightning, but then we find out he was on another ship. This would have made Rey more interesting and gave her more reason to turn dark. Another example is C3PO's memory getting erased after getting hacked by Babu Frik, then R2D2 just going behind him and restoring it anyway. Kylo Ren tosses his lightsaber away in one scene, only to receive a new one from Rey, albeit in an awesome way through their force bond. However, he then easily defeats the "powerful" Knights of Ren that we barely see in the first place.
Ultimately the story had chances to both amend The Last Jedi and be bold with interesting story arcs, but choose to under develop new characters and play it safe with legacy Star Wars characters.
Acting
Adam Driver is by far the best actor in The Rise of Skywalker (and really the entire trilogy) and is the only character that will give you any strong emotional reaction. As Kylo Ren, he is constantly battling back and forth between his dark and light internal conflict. The way Driver is able to change his posture and facial expressions as he changes from Kylo Ren back to Ben Solo is amazing. You truly feel like a different person is on screen during the latter part of the movie.
Daisy Ridley does a fine job as Rey, but the characters writing as a Mary Sue good girl limits her ability, which makes the character extremely boring. This had a chance to be corrected multiple times with Rey's battle with her internal demons, but we simply get scenes of her overcoming the dark because she is "that good." Dark Rey would have made for a far more interesting character for Daisy to play, even if she eventually turned back to the light side. Rey's character is borderline impossible for the average person to relate to, as none of us are perfect.
John Boyega as Finn basically chases Rey the entire movie screaming out her name to be completely ignored. This is a parallel to Finn's character development in the movie. Finn went from a main protagonist in The Force Awakens, to comic relief in the Last Jedi, to irrelevant in Rise of The Skywalker. Finn is only shortly necessary for one critical battlefield decision that he makes through his force sensitivity. However the story never explains his force fine tuning, which could have made an entertaining story plotline and a chance to show off Boyega's acting skills. It also creates a plot hole as Leia would have obviously sensed Finn's force abilities and could have trained him at the same time as Rey.
Poe (Oscar Isaac) is well acted, but I really did not get a lot of emotional reaction from this character either. Poe does get an interesting backstory as a spice runner, but the sequence happens way too fast for us to see much of it. Rise of Skywalker also under commits during this scene with Kylo Ren and Rey again stealing the shine away from Poe. The bromance between Poe and Finn in the film did bring out lightheartedness, and Isaacs ability to showcase Poe hitting on Zorii without speaking was great comedic relief after the final battle sequences.
Cinematography & Music
As one would expect from a Star Wars movie, the cinematography (Dan Mindel) and music (John Williams) were fantastic. Exogul is dark and evil and gives you that "I'm about to fight the final boss, I should save" feeling. On the Moon of Endor when Rey defeats Kylo Ren in a lightsaber duel, the special effects were outstanding. The waves and water crashing over both of them was one of the most visually appealing scenes in Star Wars history. Seeing this movie in IMAX especially is a visual and audial treat for movie goers.
Overall Impact
This review is biased as all reviews are. I am a huge Star Wars fan who has watched every movie at least two or three times. With The Rise of Skywalker, I did not feel the urge to rush back to see this movie again. While it was a satisfactory ending to the trilogy, it was not an amazing ending to the trilogy.
It would be hard for any director to live up to the the expectations of the Star Wars fan base and I think J.J. Abrams did a good job bringing it to a close. Unfortunately I feel like a lot of the decisions he made was because of being boxed in by the mediocre story of The Last Jedi.
Rey continued to be overpowered and bland, Palpatine's return was underwhelming, and character development was underserved. Star Wars: The Rise of Skywalker was fun and fast paced, but ultimately doesn't send any message or make any point. There are a lot of questions left unanswered in Star Wars: The Rise of Skywalker, which I feel will lead into Disney+ spin offs.
Also: Babu Frik !