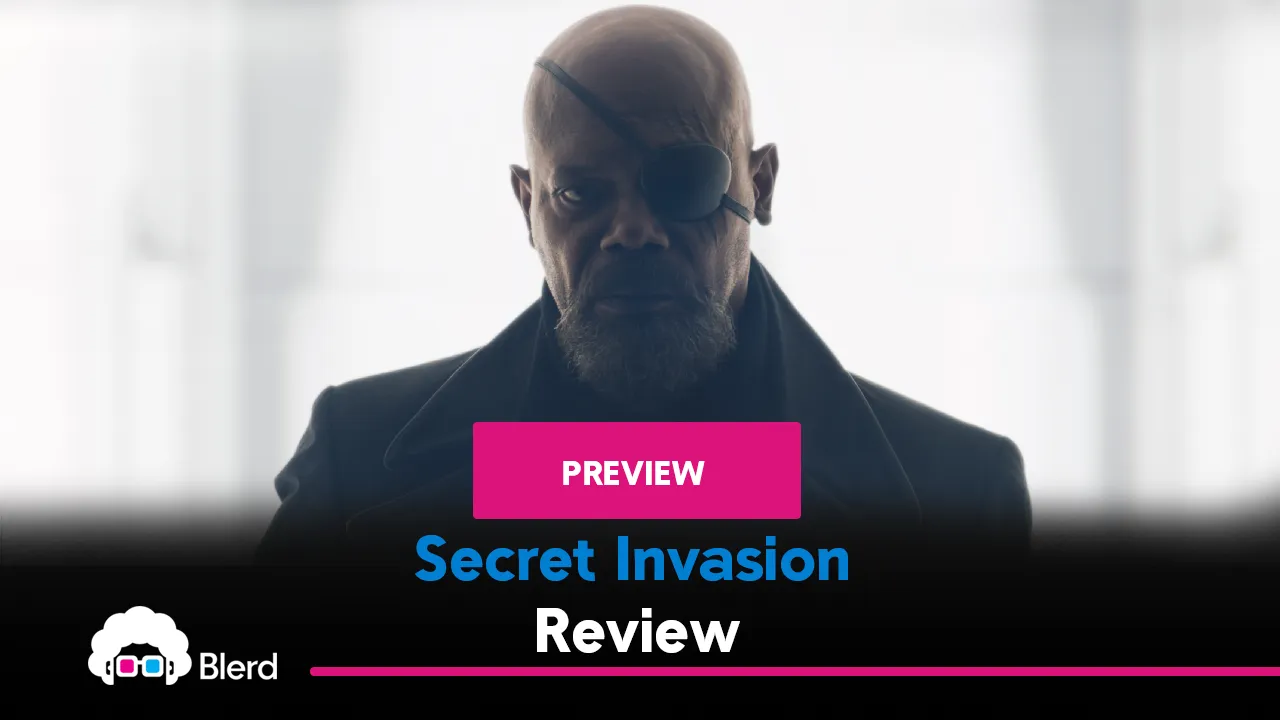 Secret Invasion Preview: Marvel is Not Playing
Secret Invasion Preview
Fantastic Frankey Flames - 8
8
Secret Invasion sets the tone with an opening scene that incites paranoia in its viewers, laying the groundwork for what is bound to be a dark ride.
Since the introduction of Scrulls in Captain Marvel (2019) fans have become obsessed with the inevitable release of Secret Invasion. The comic event challenged everything we know about the heroes we have been following. Planting a seed of doubt toward our friends and foes. After four years of waiting, we finally get to see how things play out and it does not disappoint. 
Secret invasion instantly throws us into a post-blip earth once again challenging the decision made by the Avengers to bring back half the population after 5 years. Unlike its counterpart Falcon and the Winter Solider, Secret Invasion sets the tone with an opening scene that incites paranoia in its viewers, laying the groundwork for what is bound to be a dark ride. With the strength of a super soldier and the ability to hide in plain sight, this series introduces a new secret terrorist group that is 10x more terrifying than the Flag Smashers. This enables them to rise in the ranks of world leadership and carry out their mission discreetly and efficiently. 
Nick Fury finally returns after experiencing PTSD from the Blip to a not-so-warm welcome. Samuel L Jackson shines as he processes the gravity of his actions in the 1990s. He approaches every scene embodying his signature blend of aggravation, subtly underscored with a hint of sadness. The first two episodes serve as a warning for individuals who abandon their promises. Reminding us that although our heroes are struggling they are still bound by duty. 
Don Cheadle delivers one of the the most chilling and heartbreaking monologues in MCU history, by saying the quiet part out loud. Exhausted with the pressures of being a Black face in a high position. 
Emilia Clarke shines as G'iah, a conflicted refugee searching for restitution after losing her home and family. Challenging the audience to consider all perspectives in this impending war.
Secret Invasion is a terrifying grounded installment that prepares the fans for what turns out to be a dark phase. What starts out as a slow burn quickly changes into an action thriller. The actors are all bringing their A game and the cinematography is incredible. 
Secret Invasion – The New Espionage Series Premieres Exclusively on Disney+ June 21
In Marvel Studios' new series "Secret Invasion," set in the present day MCU, Nick Fury learns of
a clandestine invasion of Earth by a faction of shapeshifting Skrulls. Fury joins his allies, including
Everett Ross, Maria Hill and the Skrull Talos, who has made a life for himself on Earth. Together
they race against time to thwart an imminent Skrull invasion and save humanity.

Marvel Studios' "Secret Invasion" stars Samuel L. Jackson, Ben Mendelsohn, Cobie Smulders,
Martin Freeman, Kingsley Ben-Adir, Charlayne Woodard, Killian Scott, Samuel Adewunmi,
Dermot Mulroney, Christopher McDonald, Katie Finneran, with Emilia Clarke and Olivia Colman,
and Don Cheadle.

Ali Selim directs the series and executive-produces, along with fellow executive producers Kevin
Feige, Jonathan Schwartz, Louis D'Esposito, Victoria Alonso, Brad Winderbaum, Samuel L.
Jackson, Ali Selim, Kyle Bradstreet and Brian Tucker. Kyle Bradstreet is also the head writer, and
Jennifer L. Booth, Allana Williams and Brant Englestein serve as co-executive producers.
Secret Invasion Trailer
Twitter: @DisneyPlus, @MarvelStudios
Instagram: @DisneyPlus, @MarvelStudios
Facebook: @DisneyPlus, @MarvelStudios
TikTok: @DisneyPlus, @Marvel
Hashtag: #DisneyPlus, #SecretInvasion
ABOUT DISNEY+
Disney+ is the dedicated streaming home for movies and shows from Disney, Pixar, Marvel, Star Wars, and National Geographic, along with The Simpsons and much more. In select international markets, it also includes the general entertainment content brand, Star. The flagship direct-to-consumer streaming service from The Walt Disney Company, Disney+ offers an ever-growing collection of exclusive originals, including feature-length films, documentaries, live-action and animated series, and short-form content. With unprecedented access to Disney's long history of incredible film and television entertainment, Disney+ is also the exclusive streaming home for the newest releases from The Walt Disney Studios. Disney+ is available as a standalone streaming service, as part of the Disney Bundle in the U.S. that gives subscribers access to Disney+, Hulu, and ESPN+, or as part of Combo+ in Latin America with Star+, the standalone general entertainment and sports streaming service in the region. For more, visit disneyplus.com, or find the Disney+ app on most mobile and connected TV devices.