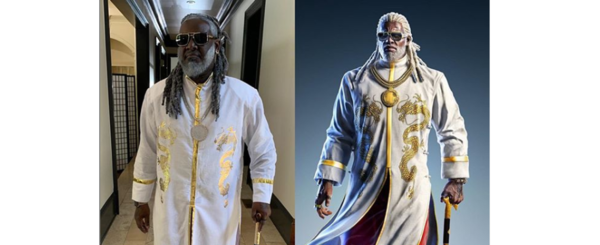 T-Pain Leroy Smith Tekken Cosplay Goes Viral
T-Pain's cosplay as the Leroy Smith Tekken character had blerds going crazy this holiday weekend. He debuted the unreleased character cosplay on Sunday at Dragoncon 2019. Cosplay is a huge staple of the blerd community, and having such a huge celebrity to embrace it shows how impactful representation can be.
As well as an accomplished "Rappa Ternt Sanga", T-Pain is actually a huge gamer as well. He has a huge Twitch following and often plays Apex Legends and Rainbow Six: Siege.
Click the Leroy Smith reveal trailer below if you aren't familiar with the character.
As a *cough* casual cosplayer, I was amazed at how spot on and accurate the cosplay was. Leroy Smith, also known as Uncle Leroy to the blerds, was revealed at EVO 2019 this year. The fact that he was able to put together that high quality of a cosplay that quickly is amazing.
You know we game hardcore at Blerd, so feel free to invite us to pick up the sticks. Tekken 7 is available on Xbox One, PS4, and even PC on Amazon.