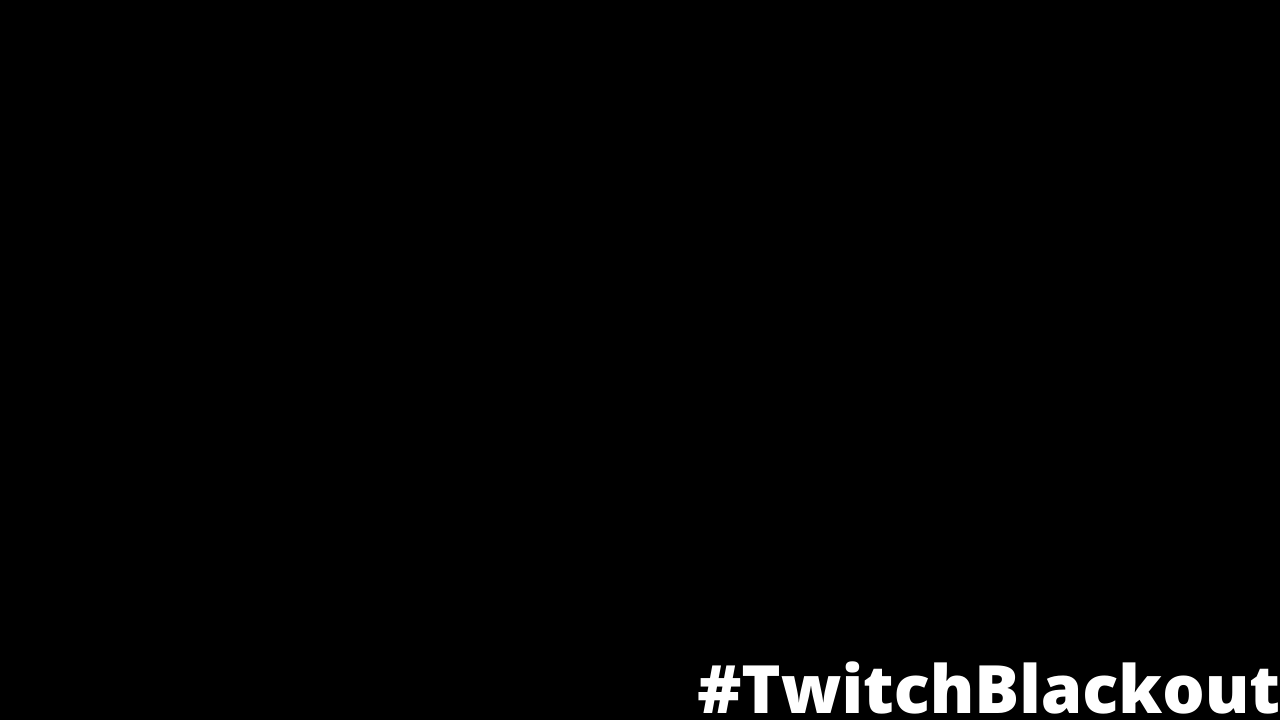 #TwitchBlackout for Black Lives Matter
Injustice and racism is unfortunately nothing new in the Black community. We can all agree that 2020 has really been a fiery can of trash. From the unjust killings by police and racist of Breonna Taylor, George Floyd, Ahmad Arbery, and many others past and present (Rest In Power Kings and Queens!). All of this has sparked outrage from the Black community and our allies all across the world. Whether it's taking to the streets protesting and/or providing resources in person and online via social media. The racism has even amplified over into the gaming community. Popular gaming and Esports platform Twitch has never really made the platform safe for POC (Black People). Twitch has provided a statement for Black Lives Matter in which they said that they're in solidarity with us, but still it's not enough. With that said i would like to inform you on an online protest on Twitch that will be held on July 4, 2020, organized and ran by ItsRubieRose and DaFemalePhenom. This protest is for continued hate on streaming platforms targeted to content creators of color. The second reason is that Donald Trump initially planned to start his campaign for his second term in his presidency on Juneteenth (June 19th, our Independence Day), starting off in Tulsa, Oklahoma, the location of the Black Wall Street Massacre.
This past Wednesday, June 24, 2020, the hashtag #TwitchBlackout and the movement was hijacked and used for another protest on Twitch for women sexually assaulted and raped in the gaming and Esports community. I asked both ladies to share their stories which to why they have come to this point to start this movement.
ItsRubieRose: "For me, it started with me accompanying my friend to a family-oriented #BlackLivesMatter protest. It was an odd experience, to say the least. The organizers had expected 50 to 100 participants. It was well over 800 people. That inspired me. But at the same time trying, we're still going through a global pandemic. I want to be out there every night and day, but I don't want to potentially bring home a virus that still doesn't have a vaccine.
I was conflicted. Less than a week later reports were coming in of black people being lynched…it was breaking my heart. And the straw that broke the camels back was the announcement that the Donald was starting his "come back" campaign on Juneteeth, in the same mass grave of Black Wall Street. If you don't see the blatant slap in the face that is I don't know what to tell you. I was mad. I was seeing red. I wanted my voice to be heard…that was when the idea struck me, some sort of virtual protest. But I wasn't sure how to go about it. The very first person that I thought would not only be down to help but have amazing ideas was DaFemalePhenom.
I got to be honest. I was nervous to approach her. I didn't want to bother her and her schedule. I thought she would think it was a dumb idea. Mannnn waiting on those dots…(I reached out to her via Twitter).
She replied right away, and we started talking and sharing ideas. Phenom created this beautiful silent video. And from there we worked on what category it should be under, title, command, a call to all streamers.
Unfortunately, we ran into our first issue. After weeks of getting the word out, we started seeing copy-cats, and recently 6/24 was a call for a #TwitchBlackOut. My first reaction was WE INSPIRED THE PEOPLE!!!!! It wasn't inspiration though, it was theft. Streamers saw what we're doing and haphazardly created an image to be shown on stream and a catchy hashtag. The one thing we didn't do. A damn hashtag. DaFemalePhenom and I were working so hard on more important details a hashtag was on the bottom of the list.
At first, I was going to join both protests, but the protest for 6/24 had a blanket message "We oppose racism, sexism, and sexual harassment." That was it. Oh and jpeg and hashtag. I chose to opt-out. DaFemalePhenom and I removed the video from our socials because people began downloading and claiming it to be there own.
We started being attacked by supporters from the other side. Accused that we did not support sexual assault victims. I found it comical. I engaged in a few trolls on Twitter and probably shouldn't have but damn it. I am a child rape survivor. But people would rather shit on you than try to learn from you. Twitter tried to change our narrative, we became the bitter black women streamers who just "couldn't get the numbers". We're not bitter, we are fighting for all black lives. We are fighting for our children. I am fighting because Black lives don't matter in the way it should! #BlackLivesMatter and Please fight for Breonna Taylor as hard as you fought for George Floyd."
DaFemalePhenom: "Activism runs in my family! My mother was a grassroots activist, a board member for many African American youth centers in our city, was affiliated with the black panthers, and volunteered for the NAACP. I knew what I have to do from watching my mom and her training growing up. I remember marching during the Freddy Gray protest here in Baltimore to speaking at police stations, talking to mayors and writing to councilmen, congress, and even the president. I remember watching CNN and saw that the president of the United States starting his campaign in Tulsa, where the black wall street massacre occurred, in the middle of writing letters and sending emails for our brothers and sisters who lives were stolen at the hands of police. While all of this is going on, I look up at my computer and see one of my favorite streamers get raided and botted from a group of racist trolls on twitch. And that's when it hit me! This NEEDS TO STOP EVERYWHERE! There is a reason why Blerdcon, The Cookout, Melanin Gamers, Brown Gamer Code, Black girl Gamers, and other organizations were created. WE DON'T FEEL SAFE! WE DON'T FEEL PROTECTED! Within 48 hours, twitch was able to enforce the DCMA policy on streamers, but racists, homophobic and sexist slurs, or account usernames are ignored.
I sat there for a while to think about what I could do, then I thought of a protest for streaming platforms, but I didn't know how I was going to do it and I didn't know if anyone would care because nobody cares unless it happens to someone other than us. Then I received a message from Rubie, and I knew it was fate, and my ancestors were sending her to me. I found out when talking to Rubie that we had the same vision but didn't know how to tackle it. I had feared, but I knew at that moment, the strength of two queens is better than one. On June 11th at 10:42 am is the minute Rubie and I started our plan of action for change. We have been planning, spreading
The message, and getting the word out since that day. What people don't understand is that I had no problem with another protest at all. My problem was that no one cared or heard our cries or heard our need for change or help until someone else posted.
By no means am I neglecting sexual assault! I am a victim of sexual assault the fact remains true in some cases, nobody gets angry, nobody wants to change, or no one wants to listen to black women until it happens to another race. Unfortunately, this protest was started for BLM and for the unprotected spaces on streaming platforms for POC, Black women, and the black LGBTQ+ community before these events occurred. I wish that we all could've worked together; I wish that I would not have received a message threatening me with mugshots and exposure of my criminal and misguided past if I didn't stop the protest or messages of how I don't care about sexual assault. However, this is the world that we live in, ALL BLACK LIVES MATTER, and our work is not done…. on or off social media, Facebook gaming, Twitch, YouTube, and our country. When I told Rubie I would help, I meant it … she is my sister for life … my partner for change and I continue to do my part for my people forever. They are trying to silence us; they are trying to ignore us, but it won't happen. Rubie and I are a queen who can conquer anything …. Even this mean and hateful world. For our people and most importantly our babies!"
I hope that this has gotten your attention. Please do not let this fall on deaf ears. This is important and needed! If you would like to be apart of this movement, please email DaFemalePhenom at [email protected] and itsRubieRose at [email protected] for more information.
Resources: https://blacklivesmatter.com/resources/ https://bailproject.org/ https://www.blackvisionsmn.org/