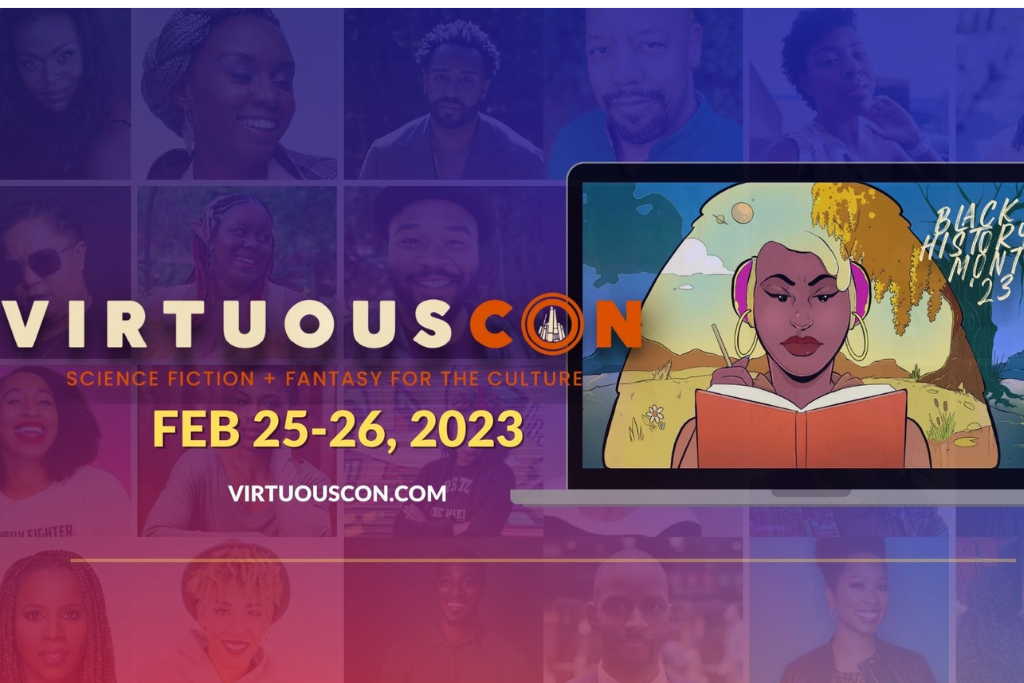 Virtuous Con 2023 returns online this weekend with an all-star lineup for Black History Month
Virtuous Con, the annual virtual creative convention founded by
Award-Winning author Cerece Rennie Murphy, is back for its 3rd Annual Black History Month
event, February 25 – 26, 2023 from 11am ET – 7pm ET . Accessible through the Virtuous Con
website, the online event's theme this year is "A New Narrative," highlighting Black creators
moving forward in the independent creative space. Indie comics publisher Best Jackett Press
and pen display and tablet company Wacom are featured sponsors of the event.

Scheduled to appear is a stellar lineup of creatives. Including award-winning actress Yetide
Badaki (American Gods), ground-breaking, award-winning film director Wanuri Kahiu (Rafiki,
Look Both Ways, PUMZI), writer, producer and actress Ihuoma Ofordire (Snowfall, Lovecraft
Country), horror film writer and producer Akela Cooper (M3GAN, Malignant) and
Award-Winning animator and storyboard artist Everett Downing, Jr. and creator of the Netflix
hit series My Dad the Bounty Hunter.

In addition, Award-winning comic book artist Alitha Martinez ("Nubia: Queen of the Amazons",
"Marvel's Voices: Wakanda Forever"), Award-Winning comic book scribe Vita Ayala (New
Mutants, Static Year One), New York Times Bestselling Author Frederick L. Joseph ("The
Black Friend", "Patriarchy Blues"), and Award-Winning Science Fiction author Shereé Renee
Thomas ("Nine Bar Blues", "Dark Matter Anthology")will appear in this year's event.

Virtuous Con: Black History Month's virtual floor show celebrates Black creatives. Four virtual
"floors" will feature Indie artists, authors and vendors dedicated to science fiction, fantasy, comic
books, anime, and more in a live interactive virtual space. Complete with virtual "booths" where
vendors interact live with attendees about their products.

As a Black woman-owned convention, Virtuous Con: Black History Month has a special
meaning for its founder. "For our third Black History Month convention, we really wanted to push
the boundaries of our panel topics beyond what you'd typically expect from a sci-fi convention."
Cerece Rennie Murphy explained.

Virtuous Con returns February 25 and 26, and tickets and program information is available
through their website at https://virtuouscon.com/

Virtuous Con | Science Fiction + Fantasy for The Culture