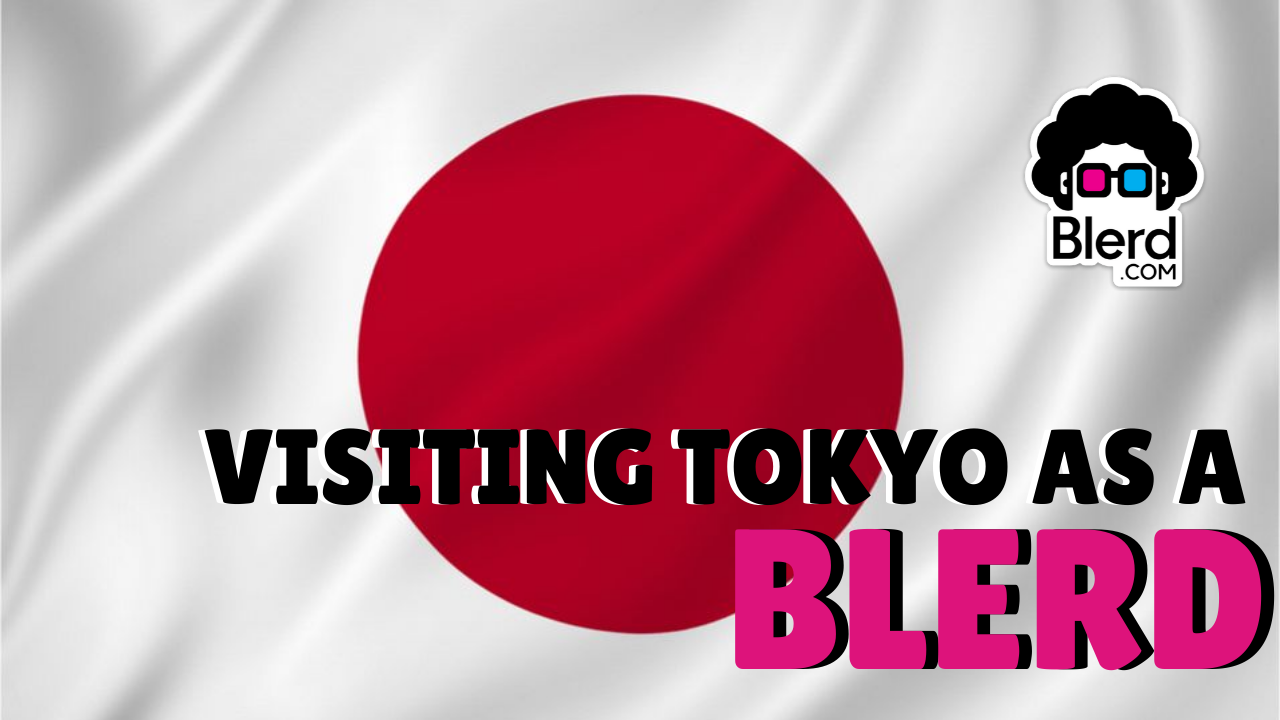 Visiting Tokyo as A Black Nerd
With the 2020 Summer Olympics coming up in Tokyo, I image that a lot of blerds will be visiting Japan for the first time. I first went Tokyo to celebrate turning 30 back in October of 2017. Being a blerd and fan of JRPG's, Tokyo was always on my bucket list of places I wanted to visit. Only being able to stay for about a week, I had to cram as much of the city in as I could in that period of time. Here are some highlights of my experience and also a few tips if you are headed that way:
Planning the Trip To Tokyo
If you aren't traveling specifically for the 2020 Olympics, and just want to go to Tokyo at some point, one of my number one travel tips is to sign up for Scott's Cheap Flights to find a deal on the airfare. I managed to get a round trip ticket from Raleigh to Tokyo for around only $600. If you like to travel a lot like I do, then I would personally recommend signing up for the premium membership.
My next tip for planning a trip to Tokyo is to stay in an Airbnb instead of a hotel. While the pricing might come in pretty close, getting to stay in an actual neighborhood to absorb the culture is way better. I would recommend trying to (1) stay at one within walking distance of a train and (2) utilizing one that gives you a free pocket wifi. I will touch on this a bit more in a minute.
In regards to where to stay, understand that Tokyo is broken up into many different districts. You most likely will not stay in your room much, so this is irrelevant to some extent. However, if you really like nightlife I would say stay in either Shinjuku or Roppongi with a slight preference for the former. The reason I say that is that the trains stop running at a certain point in the night and you do not want to be either stuck or have to pay for an Uber. The other option which I choose once is just to stay out all night!
My next tip is to withdraw your spending cash in a bank in the United States first. Wait until you get to the airport in Japan to exchange from USD to Yen. Bring a credit card with you that doesn't charge extra for international transactions (I use an Amex that stacks travel points). Bring a backpack with you to carry around your cash, pocket wifi, and any souvenirs that you pick up on the way.
Make sure you have your passport far in advance. A pro tip is to also get the passport ID card. I lock/leave my passport where I am staying and use the ID card for anything else while traveling. This prevents you from losing your passport. I also recommend getting Global Entry which automatically gives your TSA precheck. This will save you a ton of time traveling, especially when you are trying to get back into the country.
My final tip is to check out the Black Travel Movement Facebook group. There are other black people that will have tips for you and may even be traveling around the same time that you are.
Getting Around Once You Arrive:
Many of the signs in Tokyo are in both English and Japanese which will help you get around. Japanese people are some of the nicest I have ever met, so if you get lost they will definitely try to help you out. Once you get off of your super long flight (I flew from Raleigh, NC to Minneapolis to Tokyo), you need to figure out how to get to your room. If you brought a lot of luggage (if you aren't there for work, do not do this to yourself) you may want to use an Uber. However, the more fun option is to get on a bullet train.
Getting around is one of the absolute best parts of Tokyo. You absolutely do not need to user Uber or Lyft to get around Tokyo. The bullet trains in Japan are one of the most amazing things you will experience. They are organized, always on time, and will get you from one district to another in mere minutes. The maps are color coded and extremely easy to understand. Depending on how long you stay, you may want to get a JR pass to reduce travel expenses. The Hyperdia app will tell you when the trains are coming and Google Maps will help you navigate around too. I am still envious that we do not have this level of public transportation in the United States. Hopefully Elon Musk solves this for us one day.
Food and Culture Tips:
Tokyo has some of the best food I have ever had in my life. You should try to eat anything and everything you can while there. The delicious food that you see in your favorite anime series…that is all real! One thing to be aware of is that you are not going to eat "traditional" American breakfast foods while in Japan. A lot of what you will consume there will be fish, lean meats, and simple carbs. The food isn't nearly as processed as what we eat in the States. I inadvertently lost about 10 pounds during my trip because of the walking and better food.
Where exactly to eat is going to be a bit harder for me to tell you. I can honestly say that every restaurant that I ate in was good. The ramen and sushi in Japan is WAY better. If you have tried sushi in the states and did not like it, I recommend giving it a second shot while in Japan. It is also significantly cheaper than what you would spend on quality sushi in the United States. There are restaurants almost everywhere, so I would recommend just stopping in somewhere that looks interesting whenever you get hungry. It is seriously that simple.
If you are a super picky eater (I can be sometimes) McDonalds and 7-Eleven are here to save the day. The McDonalds that I ate at in Harajuku was pretty similar to that in the United States, but the restaurant itself felt more like a hangout spot for the younger crowd.
I don't know why this is the case exactly, but 7-Eleven in Tokyo is a much better experience than in the States. Convenience stores (also known as conbini chains) in general are very pleasant in Japan. If you need to get more cash use an ATM in 7-Eleven. If you have a sweet tooth there are a ton of great candy options, in particular Kit-Kats that come in various flavors such as green tea that you will not see at home.
In Tokyo there are vending machines everywhere, so you will never go thirsty. Some are even themed and advertised with your favorite anime characters. I was shocked when I first got a coffee out of a vending machine and it was actually hot! Learn from my pain. There is a drink in the vending machines that is basically canned jello. You do not want to chug that unknowingly.
Cultural things to know:
You do not tip in Tokyo, this can be seen as rude
When you cheers, smash your glass with your friends and yell Kampai! You know this weebs
As a black person, some people will stare and take pictures of you. Smile and keep it moving.
You have to take your shoes off some places, wear nice socks
This is breaking down somewhat, but tattoos are taboo. If possible you may want to cover them up. Onsens (japanese bath areas) are especially strict about this.
You walk on the left
Arigato (Thank You) and Arigato Gozaimasu (Thank You Very Much). Remember them and say it often. Also bow (30 degrees informally, 70 to someone of high esteem). Manners are a huge deal in Japan. You will mess up and do things that are weird culturally there. If you are showing that you are trying to be respectful it will be fine. They will just chuckle when you are gone.
Tokyo is one of the safest places you will ever visit. Children literally walk themselves to and from school on their own.
Places to Visit:
Tokyo is too large of a city to see everything in one trip, but there are some cool places in particular that I would recommend. There are also some tourist traps to avoid, like Tokyo Skytree which is meh. As a blerd, there is one place that you absolutely must go and that is….Akihabara aka Akiba aka Electric Town.
Akihabara is where you will see the Japanese pop culture, video games, electronics, anime, manga and computers that you are looking for. One of my favorite experiences in Akiba was going to the SEGA arcade and experiencing true virtual reality for the first time. I probably could spend an entire week in just this district as it has so many things for you to geek over. I purchased Japanese copies of Chrono Trigger and Estopolis II (Lufia II in the US) while there. This is where you are going to spend a large portion of your travel money.
As a blerd, I would put Harajuku as my second must visit area of Tokyo. You will get to see Harajuku street fashion and cosplay while in this district. The Japanese youth will be wearing some of the flyest kicks you have seen. I also found the food to be especially good in Harajuku. If you are a blerd into fashion, make sure you are in Harajuku on Saturday for new releases. The lines for popular brands such as Bape and Supreme are ridiculously long.
Personally when I travel, I put a lot of weight on having fun, but it is important to see cultural important sights as well. Make sure to check out Meiji Shrine, Senso-ji, Yoyogi Park, Shinjuku Gyoen National Garden, and Shibuya Crossing. Tsukiji Fish Market is high on many people's list, but I have a strong sense of smell and skipped that. Plus I avoid early mornings when possible.
As I mentioned earlier, there are two districts for the partiers, Shinjuku and Roppongi. Here are some things you should do in these districts:
Shinjuku: Golden Gai is one of my favorite places on earth. It is an area of narrow alleys that has over 200 bars and clubs. The world famous Robot Restaurant is one of the strangest shows you will ever see. You must experience this at least once if you visit Tokyo as a nerd.
Roppongi: There are a ridiculous amount of clubs and they are going to be more international than in most other districts. This is where you are most likely to see other Americans while out. I recommend doing the Tokyo Pub Crawl as its a fun way to bar hop and meet a bunch of people quickly.
Those are the best Tokyo travel tips as a black nerd that I can think of. Tokyo is massive so there are way too many things to talk about for one reasonable post. If you have visited Tokyo before, let us know some more tips you would have for visiting the city in the comments below.
Additional Resources: