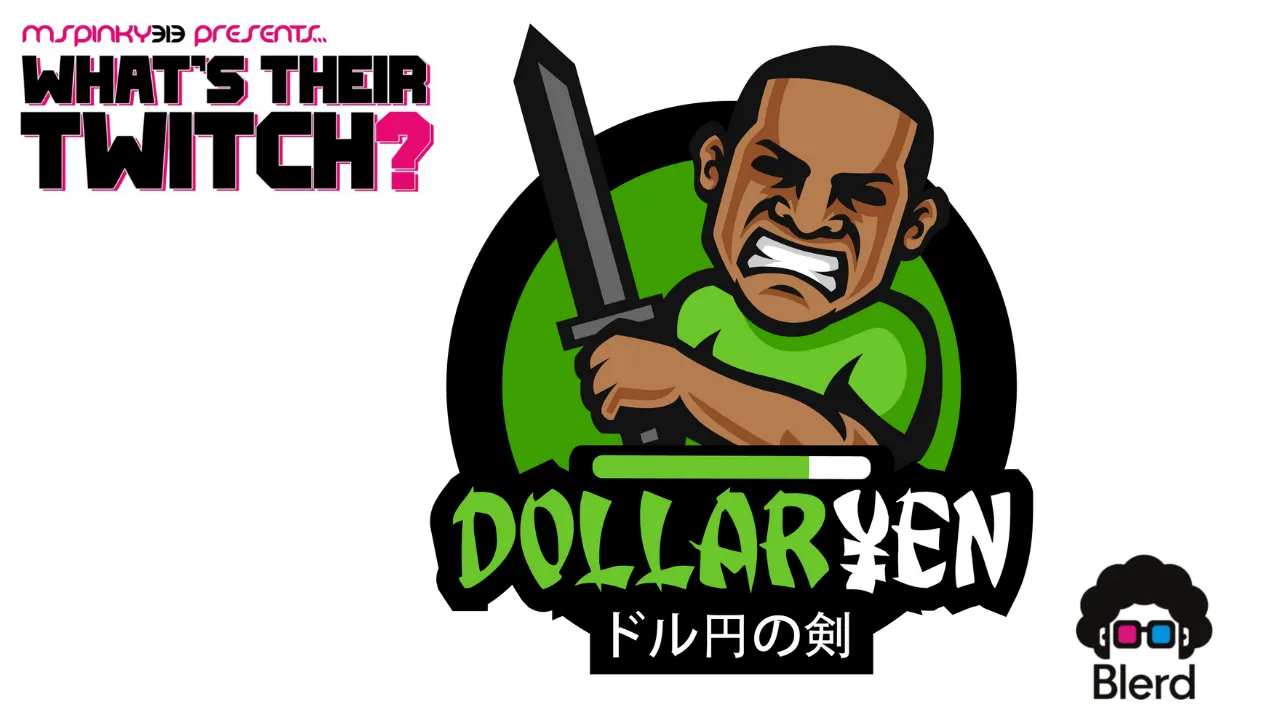 What's Their Twitch Dollar Yen
Hey Blerd Fam, hey! If you didn't know, Twitch is the platform for everything gaming-related and creativity. You can find some of the biggest names in the gaming community there. I wanted to create a spotlight for growing Twitch streamers that I know you will enjoy.
Up next, I want to introduce you to DollarYen! He plays a lot of different games from Trails Of Mana, Kingdom Hearts, and Judgment just to name a few. Fun fact about DollarYen, "In TPain's mouth once… but he couldn't pronounce my name". I wanted to share his story with you. So "What's Their Twitch?", you can find DollarYen at www.twitch.tv/dollarYen. He streams Monday, Tuesday, and Thursday starting at 8:30 pm EST and Saturdays starting at 9:00 pm EST. Follow DollarYen on his social media, Twitter @thedollaryen, Instagram @dollaryengaming, and on YouTube youtube.com/DollarYen. DollarYen also has a podcast called Two Beard Gaming. Check it out on Spotify here  http://open.spotify.com/show/2uN61FJZbN4CMJjUfCAgN6
Round 1:
Give us an introduction to who you are and the in and outs about your broadcast.
Gamer, game reviewer, podcaster on Two Beard Gaming's Top Gaming Headlines, dungeon crawler, asian calligrapher, and horrible game package box hoarder. While I do first playthroughs and viewer squad-ups, I bust jokes, and sometimes I do tricks, with my fellow pad joysticks. Coming soon would be some DnD action and redemption items such as practice joke material for my standup debut.
Share with the class about your Twitch channel and your community.
The community is called the Party Members, because life can be an RPG and party members are usually equipped with their own unique stats, special abilities, and talents, to assist them, to team up, in vanquishing our foes.
Twitch is all about games and creativity. What type of content do you stream on your channel?
I'm mostly playing RPGs from the backlog. Mostly story driven games, but also some multiplayer games in the same vein i.e. Final Fantasy XIV. No stone unturned and probably killed because they are mimics. No hidden boss encounter is too easy! No romance option too disgusting to un see! Sometimes old, sometimes new, never borrowed, and possibly Blue Dragon. 
What made you start this journey in streaming and when did you start?
Started with Metal Gear Solid V playthroughs in 2014, but didn't get serious until about 2017(I think). I used to watch a lot of video game TV shows such as Gamepro, Game Nation, Reviews On The Go, Electric Playground, Video and Arcade Top Ten, etc. etc. way back. When I heard about Twitch, I figured "maybe I can finally do this where folks can see how passionate I am about gaming?". I'd like to do more, like actually cover the news of gaming better.
What are some of the issues and challenges that you've faced on Twitch and how did you overcome them?
I niched down to stop myself from playing overly saturated games each run and to give myself more of a specific expectation. Sure, there's sometimes the odd Soul Calibur game, but it's usually the RPG mode. It's fun to also voice the characters for pre PS2 games when they're talking. 
What are some of the resources and support that you use, that's out there for creating a broadcast on Twitch?
Short answer: YouTube. 
Long answer: YouTube. It's still a gift and a curse, but at the same time, it forces you to pull a Jay Shetty on it. Each of these content creator masters have their specific niche. Gael Level has some resourceful tips that bleed into more technical aspects because of his background, for instance. Harris Heller's StreamBeats can remedy dead air and music worries, and also has incredible insight. Stream Scheme and Ashnichrist, also, but Ashni's more game heavy discussions and business sides are more open. Stream Scheme at least answers you back in almost a faster window if you have questions. 
Blerd is all things nerd and geek through a people of color culture lens. What makes you a blerd?
I check those boxes. Afro-Caribbean, for one. My folks are from St. Kitts and Nevis. I feel I'm more geek than not, so bleak? I'm into anime and serious cartoons, comic books, and of course, gaming. I do like drawn art and learning how to get into more languages so I can turn the subtitles off and be the best black Solid Snake I can be. I'm also practicing to see where I can go with fighting games such as Tekken 7 and Soul Calibur VI. I've dabbled in the local fighting game community in my area, but I acted a fool so I barely kept up. I'm writing a fan fic whenever I can. lol
Round 2:
You've only been given 3 games to play for the rest of your life, what are you playing and why?
Just three? Overwatch(PC), Phantasy Star Online 2(XBSX), Soulcalibur VI(PS4-PS5) if it was right now. These games have online play, so there's always folks to play with. PSO2 will be getting the Next Generation update, so it's literally two games in one. It gets updates for content and the battle mechanics are more satisfactory for an Online RPG. Sega is still attempting to get the game in parity with its' Japanese release.
Overwatch's support doesn't look like it's winding down and Overwatch 2 is still "coming". It's an amazing shooter at the moment. So many characters to choose from and master.
Soulcalibur VI because it's got a good community. Honestly, I would have just cheated and said Street Fighter 30th Anniversary Collection, but sometimes getting fights is a task.
Which video game character is bae?
Mai Shiranui(Fatal Fury/King of Fighters) pretty much. Girl's been in my head rent free since 1999. Capcom went with the mother figure for world's strongest back in the early 90s as their fighting game poster girl. SNK went the other route and made Mai the opposite. Fighting game's first pin-up girl. Mai's arsenal is pretty insane at this point. I find her hautyness fascinating, too. Especially in the anime. Sure, she's probably got the ability to break necks quicker, but instead, she'd rather throw clone fans at opponents and practically have clothes she can change in, tucked all in them battle gear, which she whips out for victory poses. Even though Shinikiro's illustrations of Mai are my favorite, it's interesting to see how different artists depict her. Japan even had a store that opens on her birthday(1/1) with all the merch you can want with just her. 
What's a game that you absolutely hate but everyone else might like?
I couldn't stand any Mortal Kombat until probably 11. A Lot of it was air punch and repetitive normals in the beginning. When they included run mechanics in 3, it looked a bit better and faster.
Your favorite person is making your favorite dish, who is it and what is it?
Macaroni Pie. Not sure if I met my favorite person yet. 
If you could be any superhero who would it be and why?
Tie game between Batman, Deadpool, Wolverine, Ronin, and Iron Man. If there was a gun to my head, I'd probably go with Iron Man. He solves problems through technology, so he improves the suits every time he takes a hammer to them(hints at the 90s show and comics before that). His Rogues Gallery has several classics. Man's got great taste in cars and sometimes women. Rhody is a great friend and the best wingman – literally. The West Coast Avengers roster is decent. He is human under all that. I'd want the non-shrapnel-in-my-chest one. You even got S.H.I.E.L.D. contracting him to make weapons and gadgets. Which means that I can literally shut down the most advanced government defense arm in the world if they ever decided to call me Public Enemy #1.  If there was C4 strapped to my chest: Batman, but animated series Batman. The master detective. He's always prepared, basically a ninja, and has a pretty good team of people on his side. Not just talking about the "sidekicks", but Lucious Fox, Alfred Pennyworth, Commissioner Gordon, etc. Way better than CW's "you're a hero so you get a crew" crap. I also love how he just disappears during a conversation. That used to crack me up. I mean, there he is listening to someone, and then – poof – he's gone. Right after they turn their back, too. Especially when he was dating Lois Lane. I was like, "Bruce, don't do it to Lois. She'll kill you! Anyone but… her. He did it."  Both are still human, but because of this: they have to work extra hard to show value and worth on the team when they don't have their ability-given suits. 
Round 3 Final Boss Battle:
-Playstation or Xbox?
Lightning round ain't easy. lol PlayStation all day. Better catalog and amazing history. Sony's always been about leading the curve. Even the dual sense controller is amazing! 
-Pepsi or Coke?
You got the right one, baby! Pepsi. Uh huh.
-Night or day?
Day. Too bad I can't pull an Al B Sure on this one.
-Summer or Winter?
Sum-mer. Sum-mer. Sum-mer Time. Everyone's strutting their stuff and I can let my keg pack out.
-Cat or dog?
I'm a Rabbit person, but yeah – dogs. Cats can kill you. Have you seen Tiktoks of a dog about to rip his master apart? nope.
-Nickelodeon or Cartoon Network?
I'm Canadian, so I didn't get the full power of Nickelodeon back in the 2000s. Cartoon Network because of Toonami.
-Fresh Prince or Martin?
*buzzer sound* Tough choice, Joyce. I had to live through them before you can get either of them on demand. These were literally my bedtime stories since mom would be right there telling me to go to bed after they were done. Fresh Prince because they were more relatable scenarios back then for me since I was growing up the same time as Will. Martin Lawerence and Teisha Arnold interactions made the Martin show, but Fresh Prince pre-Light Vivian pitted several characters together to pull that off i.e. Will and Carlton or Geoffry and Uncle Phil. The star power on Fresh Prince was massive. From Don Cheadle to Brad Garrett, to Malcom Jamal Warner. The Fresh Prince didn't care. Even the cheeto in charge appeared. And… Will had better women. It was Ebony/Jet Magazine All Stars Swimsuit Edition on there. Personal favorites were Garcelle Beauvais, Robin Givens, Cree Summer, and Tyra Banks, with Leela Rochan as the runner up.
-McDonald's or Burger King?
Burger King. Whopper's been outclassing the EVM single handedly for years.
-Super Mario or Sonic? 
Sonic, sadly. As much as I grew up with Nintendo, Sega's innovation steps did wonders for Sonic. I've had some of my He has better voice overs. Urkel's was the best, though.