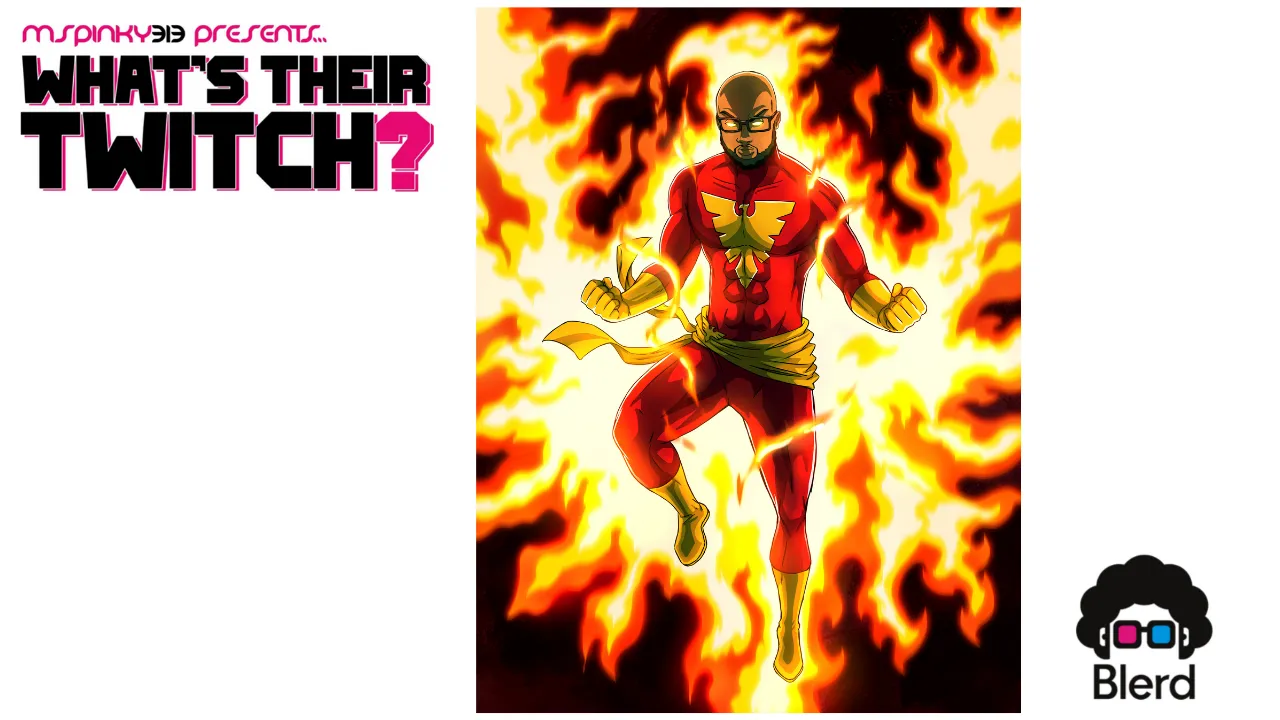 What's their Twitch HeelModePhoenix
Hey Blerd Fam, hey! If you didn't know, Twitch is the platform for everything gaming-related and creativity. You can find some of the biggest names in the gaming community there. I wanted to create a spotlight for growing Twitch streamers that I know you will enjoy.
Up next, I want to introduce you to Heelmodephoenix. He is a variety streamer . So "What's Their Twitch?", You can find Hellmedephoenix Monday to Wednesday(afternoon or evening) and Thursday to Sunday. Follow his social media Twitter at http://twitter.com/HeelmodePhoenixtikhoenix, tik tok:: heelmodephoenixyoutube, and YouTube youtube.com/heelmodephoenix

Round one:
Give us an introduction to who you are and the in and outs about your broadcast.
-Im heelmodephoenix but I'm also known as heelix, heelium, heelius, Hollywood Heel, etc I'm a variety streamer/content creator, gamer , intermediate foodie ,wrestling fan, music lover(proud Beyhive member)

Share with the class about your Twitch channel and your community.
– for both my community and channel the main goal is safety. I want to make sure that people can come into the discord or stream and feel like they're over a friends out eating great food and gaming. The best way to describe the vibes in my channel is a forever chill stream.
Twitch is all about games and creativity.
What type of content do you stream on your channel?
-I'm a variety streamer but I tend to lean towards survival and story based games. It's something about both of those genres that you can get lost in and not realize you've been playing for the last 7+ hours. I have recently start playing horror games which is way out of my wheel house however I'm enjoying it more than I thought I ever would!

What made you start this journey in streaming and when did you start?
-I started out as a youtuber and did that from 2012 to about mid 2015. I loved thinking of new videos ideas and editing them but I didn't like the delayed reactions and comments from those subscribed. Streaming gave me more of a conversation with people instead message and reply vibe. Its like waiting for response from your last text and all you see are three dots just chilling at that bottom lol I took a break due to personal matters and then got back the itch to come back after watching people like IamBrandon. Representation truly matters because seeing his streams brought that drive back create content again. I started streaming through console and haven't looked back since.

What are some of the issues and challenges that you've faced on Twitch and how did you overcome them?

-There are a couple issues I have faced and still working on at the moment but i would say one that I have conquered for the most part is comparing myself to other streamers. I would see others streams and wonder what I'm doing wrong that because I'm not getting the same results. I had to learn that my journey won't be the same as others and my successes will happen in due time.
What are some of the resources and support that you use, that's out there for creating a broadcast on Twitch?
– When it comes to resources I would say resolve and sony vegas for editing, and voice meter has been a great addition to my stream as it pertains to audio. Since my return I have been blessed to have met and befriended some of the most awesome people through this platform. They have played an extremely important and I thank them all

Blerd is all things nerd and geek through a people of color culture lens. What makes you a blerd?
-I have been into comics, wrestling, anime, and of course gaming for all my life. I get excited talking about the origin stories for Batman, talking about mythology, or even just speaking about the latest update for one of my favorite games. Before discovering the blerd community, I felt like an outcast and like I didn't fit in anywhere. I can talk about the things that I love with no judgment and I must say it's a great feeling!
Round 2:
You've only been given 3 games to play for the rest of your life, what are you playing and why?

-Batman Arkham City, Mass Effect 2 and the sims 4. Batman is really the only person that I follow in the DCU and the trilogy of games is so well done. I've put over 100 hours easily into Mass Effect and I enjoy the journey every time. and the The Sims 4 just for the fact that you can get lost for hours playing this game and the options are limitless
Which video game character is bae?

-this is tough one because I don't have one singular bae. I would say Lara Croft and Roland from Borderlands. Both of them where awesome in their own way.
What's a game that you absolutely hate but everyone else might like?

-Fortnite. I legit don't see the hype behind it
Your favorite person is making your favorite dish, who is it and what is it?
-that would have be my grandmother and the dish would be mac and cheese. She would always fix me some on my birthday and you felt the love in the dish!
If you could be any superhero who would it be and why?

-Storm. she was and is still awesome. It would be so cool to control the weather and fly around and we can't forget about Storms connection to Wakanda.
Round 3
Final Boss Battle:
-Playstation or Xbox?
xbox
-Pepsi or Coke?
coke
-Night or day?
night
-Summer or Winter?
Summer
-Cat or dog?
Dog
-Nickelodeon or Cartoon Network?
cartoon network
-Fresh Prince or Martin?
toughest one Fresh Prince
-McDonald's or Burger King?
Burger King
-Super Mario or Sonic?
I grew up on sonic so but I have to say Mario