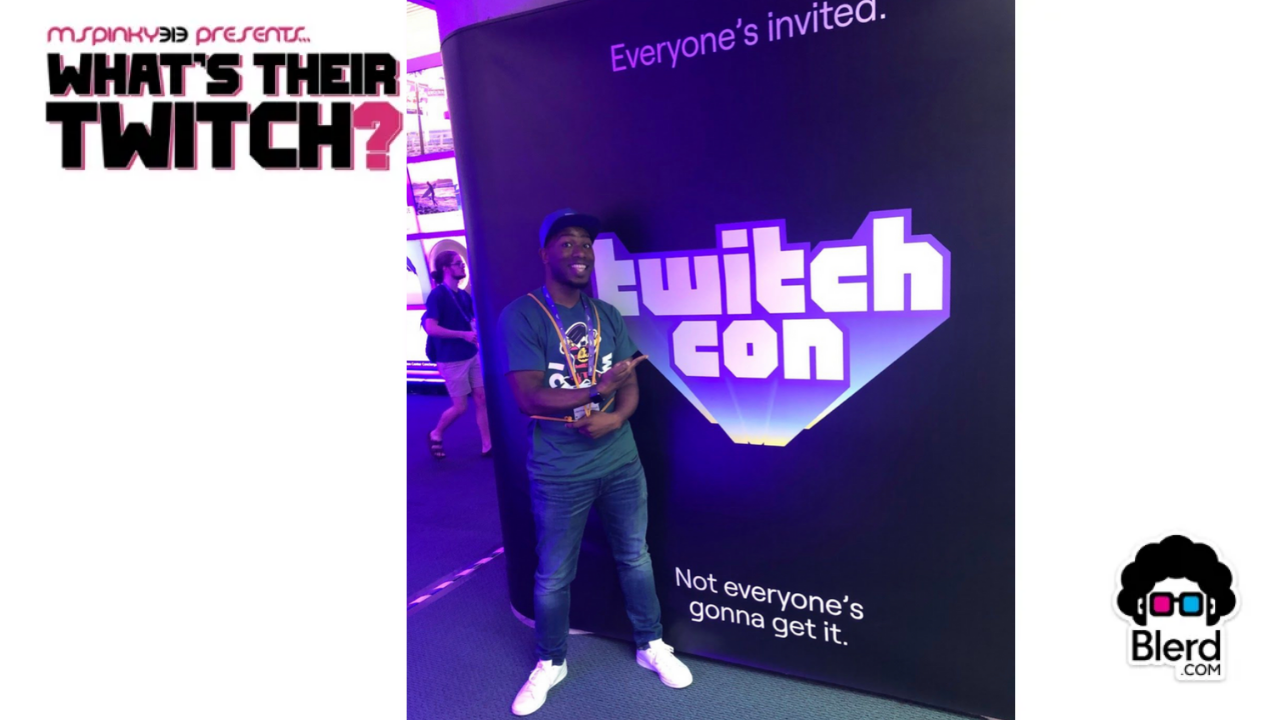 What's Their Twitch JermainePlays
Grace and Peace Blerd Fam! If you didn't know, Twitch is the platform for everything gaming related and creativity. You can find some of the biggest names in the gaming community there. I wanted to create a spotlight for growing Twitch streamers that I know you will enjoy.
Next up, I want to introduce to you JermainePlays! He's a variety streamer, a great personality, and a bunch of fun! I wanted to share his story with you. So "What's Their Twitch?", you can find him at www.twitch.tv/JermainePlays. He streams Wednesday through Sunday at 5pm est. Make sure you are following him on Twitch and his social media. You can find him on Twitter, Instagram, and Snapchat at JermainePlays.
Round 1:
Give us an introduction to who you are and the in and outs about your broadcast.
I'm an NYC based variety streamer, who loves music, gaming, Star Trek, and anything involving computers. I broadcast a variety of games on twitch via a PC I built myself.
Share with the class about your Twitch channel and your community.
Our community is called The Arcade because an arcade is a place where people gather and play games. We are an international and inter generational community brought together by our shared love of games, music, having a good time together, and creating positive vibes.
Twitch is all about games and creativity. What type of content do you stream on your channel?
I begin every stream with a just chatting portion where I shoutout and check-in with each viewer in the chat. There is also a question of the day that I ask everyone to participate in answering. This can take up to an hour or a bit more before I actually get into any gaming content.
Game-wise, I enjoy streaming shooters like Apex Legends, Overwatch, and Call of Duty Zombies, Soulsbourne games, strategy, simulation, and role-playing games. Some past games that I've streamed entirely include God of War, Sekiro: Shadows Die Twice, Dark Souls 3, Resident Evil 2.
I have also done a couple of creative streams where I work on projects in photoshop. Going forward, I would like to create some youtube content around investing.
What made you start this journey in streaming and when did you start?
I started the channel in late 2017 — one day I found myself in Best Buy buying a microphone and I've been at it ever since. I started the channel beaus I wanted to learn more about broadcasting. I was also bored and needed a creative outlet. Jokes on me because streaming provides a never-ending to-do list, but it's pretty fun to stream, meet people, and see the progress you make over time.
What are some of the issues and challenges that you've faced on Twitch and how did you overcome them?
The hardest part, in the beginning, was streaming and not being connected to any communities. There was even a point when I thought about quitting streaming entirely but soon after I was able to connect with a few groups online including The Cookout, Black Gamers Revolution and I Need Diverse Games. They taught me how to properly protect my stream from trolls as well as opportunities to meet other creators.
What are some of the resources and support that you use, that's out there for creating a broadcast on Twitch?
I use OBS studio to create my streams. I use photoshop to create overlays, adobe premiere to cut clips and create videos. I spend a lot of time promoting my stream on twitter. I have also used Canva.com in the past to create graphics specifically for social media. I use discord for community management. Anytime I want to learn anything I use youtube — that's been really helpful for learning so much about streaming from OBS tutorials to learning how to market the stream.
Blerd is all things nerd and geek through a people of color culture lens. What makes you a blerd?
My nerd fandoms include Star Trek, Star Wars, Lord of the Rings, The Matrix, and most major gaming franchises. I'm paid to be a computer geek professionally and I'm a self-professed music geek and I do all of these things while being Black. My father is also a blerd and my mom has blerd learnings. I'm proud to be part of this community that embraces these stories and universes.
Round 2:
You've only been given 3 games to play for the rest of your life, what are you playing and why?
MINECRAFT for endless creativity, elder scrolls to level up, and civ 6 to get good.
Which video game character is bae?
Reaper in Overwatch, Lifeline in Apex, Cleopatra in Civ!
What's a game that you absolutely hate but everyone else might like?
Rocket League — my best friend is lethal at that game and I never want to play with him lmao.
Your favorite person is making your favorite dish, who is it and what is it?
My grandmother is making me her sweet potato pie!
If you could be any superhero who would it be and why?
I would choose Gandalf because wizarding is very cool. Plus he's always late for that.
Round 3 Final Boss Battle:
–Playstation or Xbox?
Playstation all day.
–Pepsi or Coke?
Coke fresh from a cold can please.
–Night or day?
Night time is the right time.
–Summer or Winter?
Summer is my favorite season but I was born in the summer so maybe that's why?
–Cat or dog?
Dog — I'm hoping to get one soon.
–Nickelodeon or Cartoon Network?
Cartoon Network
–Fresh Prince or Martin?
Fresh Prince!
–McDonald's or Burger King?
This is terrible. McDonald's but I'm not happy about it.
–Super Mario or Sonic?
Growing up I always had a Sega but Mario still wins.