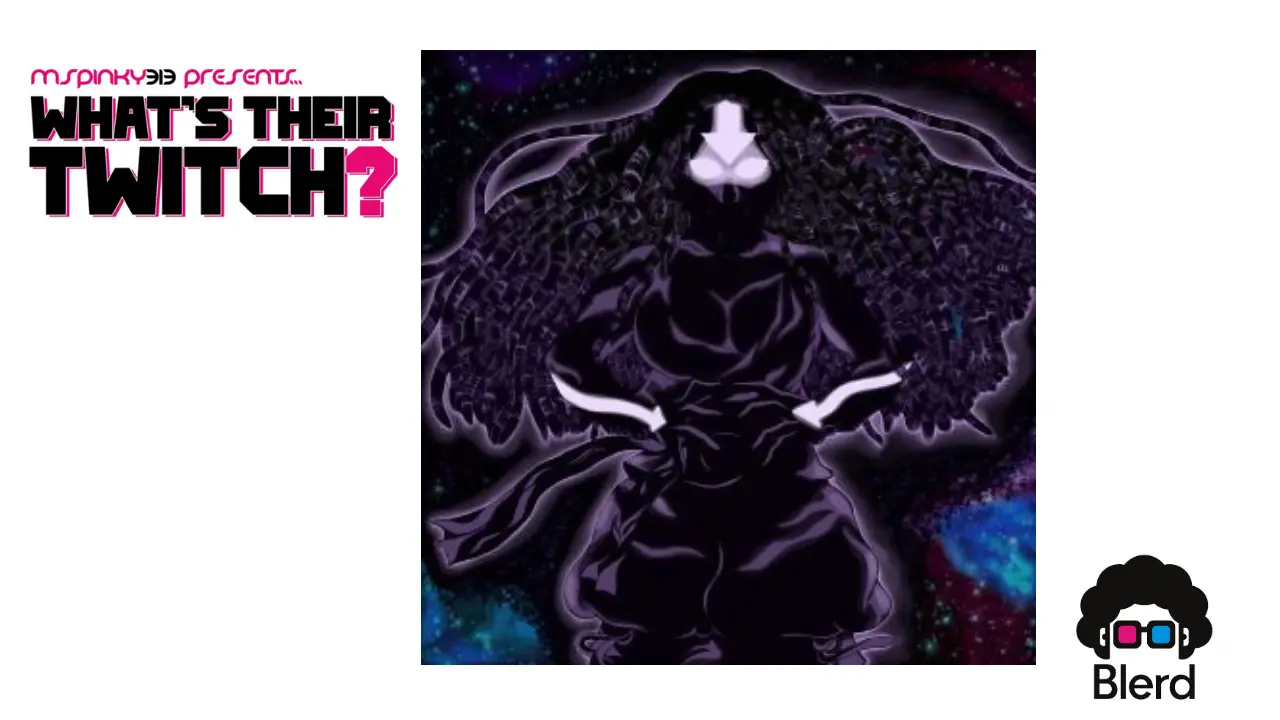 What's Their Twitch – SweetiBaer143
Grace and Peace Blerd Fam! If you didn't know, Twitch is the platform for everything gaming related and creativity. You can find some of the biggest names in the gaming community there. I wanted to create a spotlight for growing Twitch streamers that I know you will enjoy.
This round, I want to introduce to you SweetiBaer143! She's a dope variety streamer and a great broadcaster. She plays a little bit of everything, Dead By Daylight, Arise, Phasmophobia, and more! I wanted to share her story with you. So "What's Their Twitch?", you can find SweetiBaer143 at www.twitch.tv/sweetibaer143. She streams Tuesday, Thursdays, and Saturdays from 10 pm to 6 am EST. You can follow her Twitter at SBaer143 and join her Discord at https://discord.com/invite/akcv2Kq.
Round 1:
Give us an introduction to who you are and the in and outs of your broadcast.
Hello Wonderful People! I am SweetiBaer, I also go by Angie or Ang. I am a chill and laid back, all-around, down-to-earth type of gal. I enjoy talking to others and sharing stories and advice. I stream a variety of games on PC, as well as color and finalize art pieces. I am open to trying just about any games. I mostly love horror, first-person shooters, and Indie games.
Share with the class about your Twitch channel and your community.
My community is known as the Baer Cave and we are founded upon being comfortable enough to be your true self. I know I personally am a weird individual and I encourage others to let their weirdness and individuality shine. We are a family and we accept you as you are, not what you think we want you to be. It's very important for people to be real with themselves so they can be real to others. As of lately, I have been deemed as a "Wholesome Insomniac Degenerate" because I stream late at night during what is considered degenerate hours, but I do not behave like a "typical degenerate streamer", in the words of my family. It fills my heart with joy when my community members are active in chat, disappear for a few hours, then come back and say 'Good Morning! I definitely fell asleep in your stream'. To me, it means you wanted to stay to the point where you fell asleep, woke up, and still stuck around to enjoy the companionship or just watch me scream my head off from being terrified. That's a beautiful bond that I would not trade for anything. For those who may not necessarily stay the entire time, but pop in and out occasionally or drop a lurk, even those who don't say anything at all. I know the fam is there and that's all that matters. We are there for each other, and support everyone.
Our Motto: "We are here for good times that lead to long times"
Twitch is all about games and creativity. What type of content do you stream on your channel?
I stream a mixed selection of things. To help keep a flow of games, I have a list of games that have story modes to complete. In between games, or if I've had a stressful day, I'll play Apex Legends and Dead By Daylight as a breather. Every now and then I'll have art streams where I add color and tidy up projects after they have been outlined. I prefer to do the coloring portion only on stream because it allows me to be more active with chat and I get to have their input on how the creation looks, and how to change it. I love playing with members of my community, if my lobby is open I encourage anyone to come in and fill the spot no matter their experience level (as long as they are respectful to other players). I've played different games with my lovelies: Apex, Dead by Daylight, Fall Guys, Grand Theft Auto V Online, Among Us, League of Legends, and more. I take game suggestions from the community and play anything gifted to me if it is appropriate for Stream. My community can also redeem an hour of any game for me to play. I also stream for a podcast that I participate in, Raw Pog. Once a month we talk about any subject we have planned for the session, debate a fun topic, and answer questions from viewers throughout the recording.
What made you start this journey in streaming and when did you start?
I started streaming somewhere at the beginning of November 2019. I originally started to have something to do with my boyfriend since he wanted to stream. We both are heavily connected to the gaming world and he wanted to stream, so I jumped on board with him. At the time we started, we both did not quite have the proper technology to keep up with streams but they were just for fun every now and then. Around January or February 2020, my computer broke. Prior to that, I had bought a Desktop Tower for my boyfriend but it had not been delivered to him yet. Thanks to him, we decided I should keep the tower. From there, my stream blossomed to levels I could never imagine. I am grateful for the opportunity presented to me, the connections I have made, the family I have obtained, and for the gracious amount of love and support, I have received. There have been many days where life was beyond overbearing and I wanted to end my streaming journey, take a break from life and ponder a new direction. But my wonderful community encouraged otherwise. They anchor me down with love and support and remind me that it's okay to be human. That we can all be human together. We all take hits but we can get back up and stand stronger each time. I wouldn't change any part of my journey.
What are some of the issues and challenges that you've faced on Twitch and how did you overcome them?
One of the biggest challenges on Twitch, for me personally, is finding balance. There are a lot of areas where balance is key but very difficult to maintain. Finding a schedule that fits stream times and time to do important things off stream. Maintaining the conversation with chat and keeping focus in a game. Making time to participate with others, your immediate family, and have personal self-time. And, not letting negative situations outside of Twitch affect your streaming groove. I have learned that my schedule fluctuates a lot. I usually stream at night now, which means I am up all night and sleep during the day. It becomes difficult when I can fall into the habit of streaming consistently at night, then one day I have to do something during the daytime, my 'normal' sleeping hours. I either have to pull an all-nighter or push back stream a bit so I can get some sleep for a few hours. The same goes for trying to divide my time to participate in different activities with others and my immediate family. I found it best to stream every other day, for now, to help dedicate days where I don't have to stream and can do whatever needs to be done, while not worrying about being tired and not delivering 100% positive energy for my community while live on Twitch. Streaming every other day also builds up some anticipation because I don't get to see everyone every day like I used to and vice versa. It can feel like days or weeks since I have last talked to people, but in reality, it's only been a day. To help keep up with chat, I try to play a role that I know like the back of my hand so I can do things while not looking at a game, but also not worry about not contributing to my team because I was conversing with my community. If I end up in a role I am unfamiliar with, or I end up playing a game for the first time, I give a disclaimer that I will not be able to focus as much on chat and I will catch up when I can. I find this route funny because my community spams and fills up chat with conversation, knowing I go back to the very top just to read it all.
What are some of the resources and support that you use, that's out there for creating a broadcast on Twitch?
I utilize Stream Elements, Stream Avatars, and Kappamon to broadcast on Twitch. Stream Elements OBS is a great tool for broadcasting and is easy to use for those new to streaming. All of their overlays are free and they have a good variety to choose from. There are different tools and trackers that you can personalize for your stream. From videos that play on command, to special shout outs that add some spice when shouting out members in the chat, to a ticker that shows recent events. Stream Elements leaves a lot of room to customize and portray one's image in a template. I also, occasionally, use Stream Avatars to interact with chat. Stream Avatars allows chatters to run along the bottom of your stream as a character they choose. You can drop stars for them to collect, set up boss battles, or drop explosions to make the characters fly off the screen. Viewers can also make their avatars battle each other, which gives them another way to interact while you may be caught up in the heat of a game. In addition to Stream Elements and Stream Avatars, we have a community mascot named Charlie. Charlie is our cute little reindeer (yes, reindeer not bear) that greets chatters when they first type in the chat, shows gifs and pictures occasionally for humor, and shows gifs on command. He is one of the free versions from Kappamon, and is a great addition to the family.
To support the stream, I use discord big time. Discord allows me to connect with my family off-street in a further relaxed environment without Twitch TOS restrictions. If I am not streaming on Twitch, I am in a voice channel on Discord. Anyone is free to join as I stream games and movies or shows for most of the day. Being able to chill in a voice channel with amazing people feels equivalent to hanging out in someone's den. We may be doing our own things, playing games together, sharing stories, or creating memories just as if we would if we were actually all together. I am able to further interact with people and have others respond back to me (for those that have a mic), rather than having to solely read chat dialogue. I also use Discord for podcast recordings. The members of the podcast all hop into a voice channel and turn on their cameras. I can then fit their images into my overlay and we have fun making others laugh.
Blerd is all things nerd and geek through a people of color culture lens. What makes you a blerd?
My vast knowledge of gaming and comics and eclectic tastes makes me a blerd. I grew up on anime, Marvel and DC, and Street Fighters. Every morning I would watch Inyusha, Bleach, and One Piece during the Adult Swim hours right before it was time to go to school. I've spent an entire summer binging on One Piece, I got to episode 517 out of the 700 available. I've played many games throughout my years. Sega Genesis Core, Atari, GameCube were my beginner consoles during my youth. I love having discussions about different character fighting mashups, i.e. Who would win in a fight: Luffy from One Piece or Naruto Uzamaki? My favorite discussion is who became a bending master within the shortest time period: Toph or Katara.
Round 2:
You've only been given 3 games to play for the rest of your life, what are you playing and why?
Arise: A Simple Story — This is a visually appealing and heart-touching story about an elderly man revisiting all the events that happened during his lifetime. Each chapter is full of new wonders and vivid sceneries that are breath-taking. The plotline is literally as the title states, a simple story. It is similar to the game, Journey.
Skyrim — I could never get tired of playing Skyrim. Frustrated and tilted, most definitely but not tired. The ability to travel anywhere and complete tasks at my own pace while deciding my future has me playing for days on end. Restarting a cave boss battle at least five times in one day. Losing my horse and reloading the last save file at least ten times a day. Getting used to walking and crouching at a very slow pace because I have a habit of picking up everything. I can never seem to grow tired of it all, it's exhilarating.
Apex — I am not one for battle royals but Apex is a great exception. The diversity of the characters with different backgrounds and specialties are unique. I love the rush of adrenaline from dropping out of the ship and landing by myself with a full enemy squad. It is the greatest test of my speed and agility to tactfully retreat to safety (because I never from enemies, only strategically retreat from danger). I can't help but laugh when my teammates or I emit inhumane noises after being caught between two squads we had no clue that we were in such close vicinity. Apex is the second first-person shooter I have been fully successful with as far as improving on my own goes. I can queue with randoms and not worry too much about my lack of experience or skills to survive in a game if we all flow like clockwork.
Which video game character is bae?
Zafina
What's a game that you absolutely hate but everyone else might like?
Fortnite
Your favorite person is making your favorite dish, who is it and what is it?
Maya Angelou and Seafood Gumbo
If you could be any superhero who would it be and why?
If I had the opportunity to be a superhero, I would be the Green Lantern. I believe in my creative ability enough to want to fly into an open field with nothing but a full suit of spandex, a ring, and my imagination. I am very curious as to what I would create in the heat of battle
Round 3 Final Boss Battle:
-Playstation or Xbox?
Xbox
-Pepsi or Coke?
Coke
-Night or day?
Night
-Summer or Winter?
Winter
-Cat or dog?
Dog
-Nickelodeon or Cartoon Network?
Nickelodeon
-Fresh Prince or Martin?
Martin
-McDonald's or Burger King?
McDonald's
-Super Mario or Sonic?
Super Mario