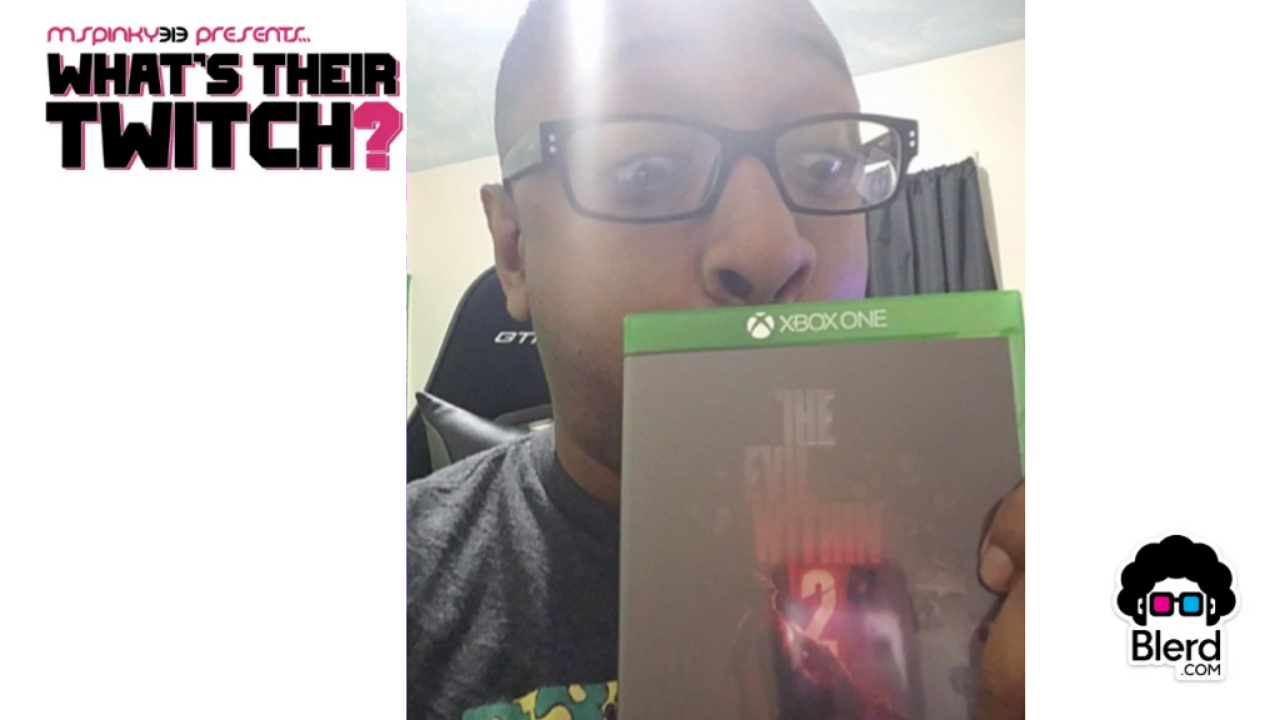 What's Their Twitch TrueSonic
Grace and Peace Blerd Fam! If you didn't know, Twitch is the platform for everything gaming related and creativity. You can find some of the biggest names in the gaming community there. I wanted to create a spotlight for growing Twitch streamers that I know you will enjoy.
Now, I want to introduce to you TrueSonic! He's a Smash Bros streamer, a great personality, and a bunch of fun! I wanted to share his story with you. So "What's Their Twitch?", you can find him at www.twitch.tv/TrueSonic. He streams Monday through Friday at 9 pm est. Make sure you are following him on Twitter and Instagram at TrueSonicTV.
Round 1:
Give us an introduction to who you are and the in and outs about your broadcast. Share with the class about your Twitch channel and your community.
Yo yo yo! What's going on everyone? My name is Trenell but you can call me TrueSonic. I've been on the interwebz for some time now. I started off on Youtube with a channel called The YTOS. I created it with a few of my high school friends, but have since taken full control and rebranded it TrueSonicTV. I started streaming on twitch when I came back home from overseas with the military. I try to be as genuine and knowledgeable as I can when streaming. I like to try and invoke conversation about what I'm passionate about, and video games have always been a passion of mine. I'm 31 years old from Virginia and I'm currently streaming 6 days a week. Smash Bros Monday through Friday 9 to 5. My Gaming Podcast goes live on Saturdays at 9 PM.
Twitch is all about games and creativity. What type of content do you stream on your channel?
Traditionally, I'm a variety streamer. I play a wide selection of games and genres. My favorite games are hack-n-slashers, kart racers, action/adventure arcade sport (NBA Jam), and platformers. Lately I've been focused on Smash Bros. Ultimate in response to the global pandemic. I currently stream Monday through Friday from 9AM to 5 PM with my Quarantine and Chill open arena. I try to create a chill environment for my followers to hang out while we're all sitting in the house lol. On Saturdays, I'm the co-host of the podcast A Weekly Gaming News Show with my good friend Todd. We cover the gaming industry's top trending topics and give our feedback. It's an opinion podcast that gives the perspective of the seasoned consumer. I've been playing games since the NES and Todd have been playing even longer.
What made you start this journey in streaming and when did you start?
As I mentioned, I started off as a YouTuber and was looking for better ways to interact with others. The first time I saw a video game stream was back when Justin TV was still a thing. I think someone was playing StarCraft and I wondered if there were any streams for games that I liked. At the time I didn't see any, so with the help of a friend, we created my twitch channel in 2012 but didn't really start streaming until 2014 when I moved my girlfriend in with me. We started off playing Mario Kart 8 with viewers and it just took off from then.
What are some of the issues and challenges that you've faced on Twitch and how did you overcome them?
Call me lucky but I've had mostly positive experiences on twitch. When I started, I didn't use facecam. I remember reveling both my face and my girlfriends to twitch when we played the final chapter of a game called The Evil Within. It was such an amazing moment and I'll never forget it. Sometime after we would get racist or sexist comments in the chat and we'd just block them. No point in giving trolls the attention they desperately crave.
What are some of the resources and support that you use, that's out there for creating a broadcast on Twitch?
I have no idea what I would do If I didn't have my stream deck from Elgato. My girlfriend got it for me as a birthday gift and it has made streaming so much easier. It is a must buy in my opinion.
Blerd is all things nerd and geek through a people of color culture lens. What makes you a blerd?
I live for nerd and geek culture. I take pride in my vast knowledge of video games and comic lore. I've never missed a marvel movie premier. I own all 3 consoles from this generation. I listen to video game music in my car and I have way too many Sonic t-shirts.
Round 2:
You've only been given 3 games to play for the rest of your life, what are you playing and why?
Yikes! only 3?….ok! Sonic Unleashed because it is my all-time favorite Sonic game. God of War (PS4) because the combat, music, story, lore, and voice acting is so amazing. Rayman Legends wasn't as good as Rayman Origins but had most of the best levels imported. It's a solid platformer with awesome music and level design.
Which video game character is bae?
Cammy from Street Fighter. Her damaged pass and redemption arch was handled very well. and she was one of my SF4 mains.
What's a game that you absolutely hate but everyone else might like?
I made a Youtube video about how I didn't like the Splatter house series of games when the remake was announced. I took it down due to how much hate I got in the comments.
Your favorite person is making your favorite dish, who is it and what is it?
My girlfriend Vanessa making me a tender, juicy rib-eye steak with mashed potatoes.
If you could be any superhero who would it be and why?
I've always said that teleportation would be the all-time best superpower. So I'd have to go with Nightcrawler.
Round 3 Final Boss Battle:
-Playstation or Xbox?
Xbox because of the gamepass and backward compatibility
-Pepsi or Coke?
Coke because Pepsi is too sweet.
-Night or day?
I'm a night owl. –
Summer or Winter?
Summer. I love the night time during the summer. You can't beat it.
-Cat or dog?
Love dogs.
-Nickelodeon or Cartoon Network?
This is tough. Current day? CN. My childhood, Nick
-Fresh Prince or Martin?
Martin for sure. I remember staying up late to watch it on HBO with my grandma.
-McDonald's or Burger King?
Neither if I can help it. McDonald's if I can't.
-Super Mario or Sonic?
Sonic, he can really move. Sonic, he's got an attitude. Sonic, He is the fastest thing alive!